The first day of the month saw me return to the Wyre Forest for the first time this year. Another dusting of snow didn't appear to be an obstacle initially, but proved troublesome as the day wore on. More of that later.
Three
goosanders
on the River Severn opened the day's account quite nicely, and a very vocal
marsh tit
as soon as I stepped out of the car gave me hope that this was going to be a productive day. Having set eyes on the
marsh tit
, I continued along the old railway line before heading into Knowles Coppice in the hope of a
lesser spotted woodpecker
.
Sadly, the forest was very quiet. A few
great spotted woodpeckers
were seen, but not their more diminutive cousins. After a lengthy walk around the forest and along Dowles Brook I had little to show for my troubles, save for a second
marsh tit
near Lodge Hill Farm, a
dipper
, a single
lesser redpoll
and this attempt at an arty-farty picture of icy leaves.
Leaves - rubbish
Heading out of the forest, I encountered a traffic jam on the A456 heading into Bewdley. Not being particularly keen on joining it, I headed instead in the direction of Cleobury Mortimer. This turned out to be a wise decision, as the traffic stretched back some four miles or so! I had to negotiate some rather nasty roads in tricky driving conditions in order to get back to Bewdley. A pair of
ravens
and Eddie Stobart truck
Aimee Leigh
seen along the way did little to console me.
My next destination was Trimpley Reservoir, where I spotted a large
siskin
flock, several
goldcrests
and heard another
marsh tit
. Six
Mandarin ducks
were noted on the River Severn behind the reservoir, but not much else.
I had planned to hit a few more sites in the afternoon, but a combination of some dreadful navigational skills worthy of Mark Thatcher and a lack of news flow on Birdguides rendered the remainder of the day a write-off. I had hoped to visit the Lickey Hills in search of the
common crossbills
that had turned up there at the weekend, but I just didn't have time.
All in all, a frustrating day.
Gulls Just Wanna Have Fun
There was a complete turnaround of birding fortune the following Saturday, however, when my Dad and I paid a visit to Stubber's Green. I have been keen to tick
Caspian gull
for some time now, and being aware that
Iceland
and
glaucous gulls
were in the area, it seemed a good time to have another bite at the cherry.
The first hour or two bore similarities to previous visits - in other words lots of fruitless searching through the assembled gull flock, punctuated by the occasional bit of excitement when a gull with a beady eye or pear-shaped head was spotted. Sadly, every time we thought we had a candidate for
Caspian gull
there was always some other evidence to rule it out - wrong shaped bill, short legs, streaky head and so on.
We were pleased when we were joined by Paul Jeynes a little before midday. We've met Paul here a few times previously and it's not too much of an exaggeration to say that he is he on first name terms with most of the gulls that frequent the area. He had a quick scan of the birds and declared that he couldn't see anything other than the usual suspects, so he suggested we pop down the road to have a look at the nearby landfill site.
With Paul's help we were soon ticking
Iceland gull
[lifer!] and
yellow-legged gull
, and after a while we had a
Caspian gull
[lifer!] and a
glaucous gull
too [another lifer!]. Now, I don't claim to be the world's biggest lister, but I have reached a stage where bagging three lifers in a day is something of a champagne moment. Sadly, we had no champagne to hand, so the ubiquitous Islay malt was produced instead.
Setting off for home, we stopped again at Stubber's Green so that I could relieve myself in the bushes. As luck would have it, the
Iceland
and
glacuous gulls
had also arrived, giving me a few photo opportunities. A tremendous bit of gulling in my opinion, though probably just a normal day in the life of gull-meister Mr Jeynes!
Thanks to Paul's master class, I think that I would now be able to recognise a second-winter year
yellow-legged gull
in the field [or at Stubber's Green!], even though
Caspian
will still probably remain something of an enigma to me!
Second-winter yellow-legged gull
Iceland gull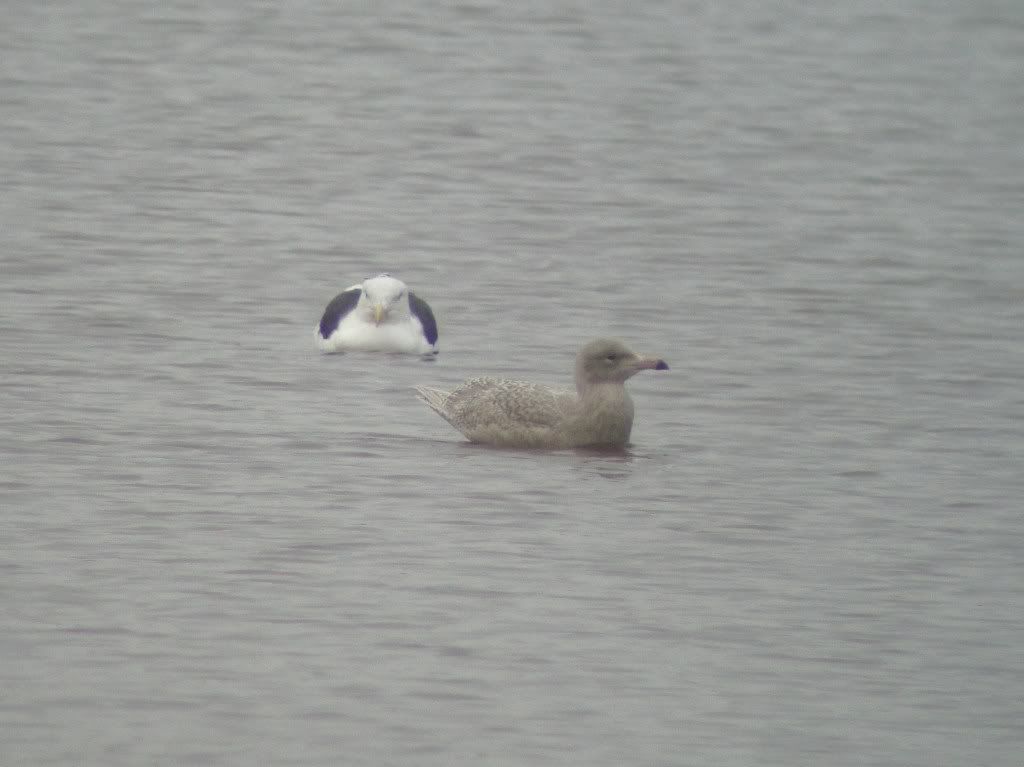 Glaucous gull
Monday 8 February saw
siskins
in the garden and a
raven
in the field opposite the house. The
siskins
continued to put in regular appearances throughout the month, though numbers never got above five.
On Sunday 14 February I paid a visit to Morton Bagot to see the
great grey shrike
that had turned up there on the preceding Thursday. I was able to locate the bird quite easily and had good views for ten minutes or so. Unfortunately, it took flight whilst I had my eye off it and I was unable to relocate it.
Whether I'm year-listing or not, I think a
great grey shrike
is a bird that I will always be happy to put the leg work in to see. A real stunner.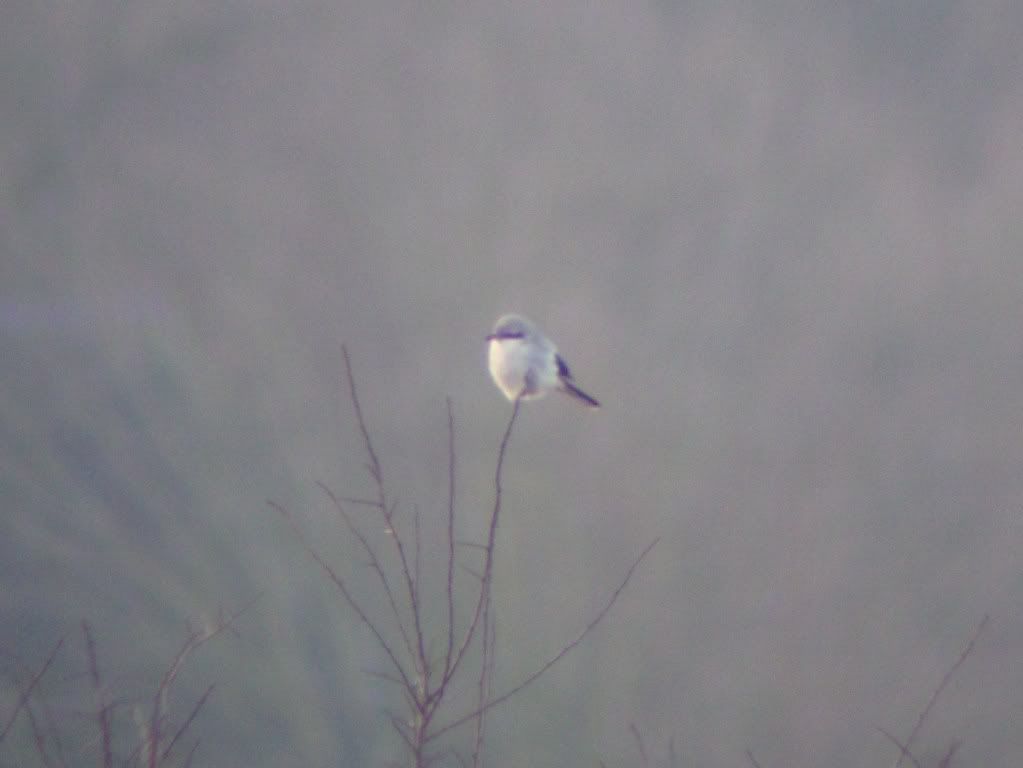 Great grey shrike at Morton Bagot
Time for a big, unashamed twitch on Monday 22 February - a visit to Gigrin Farm with my Mum and Dad, to see if we could connect with the juvenile
black kite
that has been around for a few weeks. The spectacle of so many
red kites
promised to me memorable in its own right, but even so, it would have been pretty galling to come away without seeing the
black kite
. Fingers were duly crossed.
Before we reached Rhayader, we had already seen a good number of kites patrolling the hills and mountains of mid Wales, plus a few
common buzzards
and a healthy sprinkling of
ravens
.
We killed half an hour or so at nearby Gilfach, but didn't really have time to do the place justice. Fantastic habitat though, worth a visit in its own right one day perhaps. Could be something of a butterfly haven too later in the year.
Come 2.00pm we were safely ensconced in the hide at Gigrin Farm. The meat was strewn across the grass and the kites descended upon it, along with a good number of corvids, some
common buzzards
and even a
grey heron
or two. Silly devils!
Red kites at Gigrin Farm
After ten minutes or so, the
black kite
showed up and, to my delight, proved easy to pick out from the crowd [lifer!]. It stayed in the vicinity for a while then disappeared, returning later on for a short encore.
It was certainly worth the effort to go and see the bird, and I can heartily recommend the Lamb & Flag Inn in Rhayader for a pint and a spot of lunch if anyone is thinking of going. Roast beef with all the trimmings for less than a fiver, and a
black kite
for dessert. Not a bad day, all in all!
Looking ahead, let's hope March brings with it some better weather. I'm excited about the imminent arrival of birds such as
chiffchaff
and
wheatear
. There is a little spot close to home where I think the latter might be worth hunting for. It would be great to see one on the patch.
I'm also hoping to see a few butterflies on the wing. I've been doing plenty of research in this area and I have high hopes of seeing several new species in 2010. I've even set up a spreadsheet to help me keep tabs on what to see and where to see it.
Spreadsheets and butterflies. Utopia!