I think it's fair to say that January 2010 will be remembered mainly for
The Big Freeze
. As a direct result of the snow and ice, I was unable to get out and do any serious birding until the middle of the month, but despite this I had a number of good ticks from the warmth and comfort of the house.
I've already talked about the unexpected double whammy of
sparrowhawks
that opened my birding account for the year, but New Year's Day also brought
goldfinch
,
redwing
,
nuthatch
and
jay
my way, and a
house sparrow
was a rare visitor to the damson tree in the back garden, albeit for a matter of seconds. As the first day of the year drew to a close, I had 18 birds on the list.
Over the next few days there was a steady trickle of decent sightings, no doubt aided by the cold snap.
Mistle thrush
,
long-tailed tit
and
goldcrest
all fell, and walking to and from work on 6 January added a
wren
and a
kestrel
to the list.
Feral pigeon
was duly noted, but won't be counted this year. Having seen the real McCoy on Islay last year I just don't have the appetite to tick them in 2010.
A picture taken at work with my phone follows. You can now click on my images to open a larger version in a new window.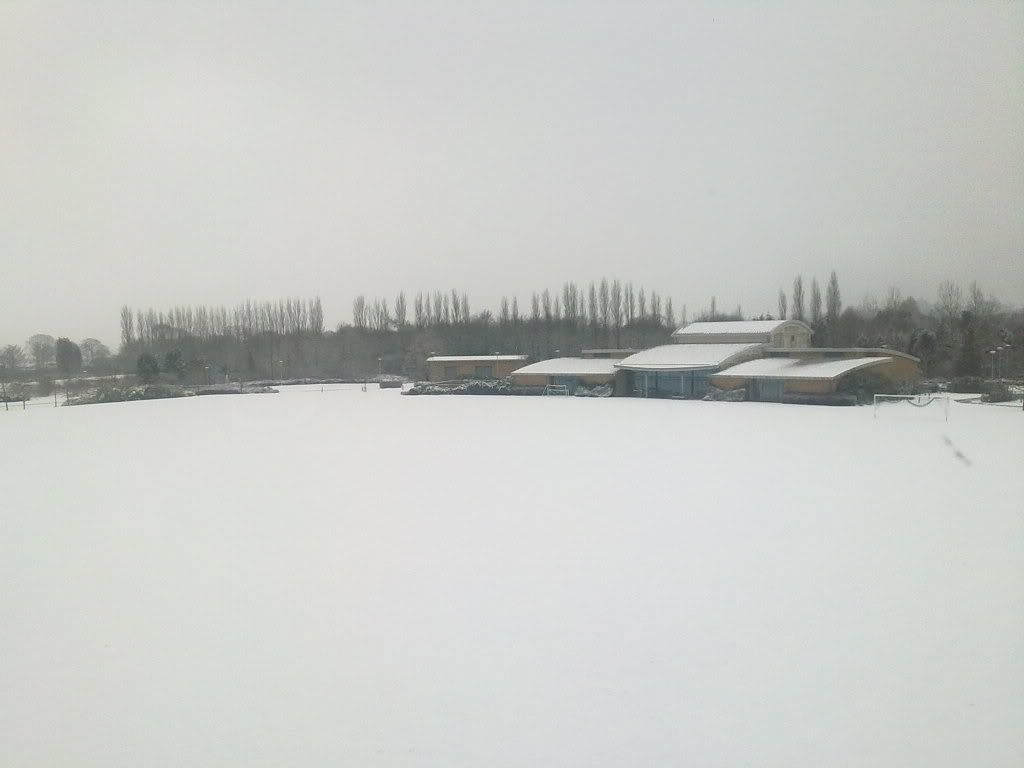 A white-out at Pearl Group plc
On 9 January I had a rare
song thrush
in the garden and another
sparrowhawk
flew over the house. This turned out to be a mega weekend for garden birds. The snow brought a few
redwings
down and a couple of
siskins
turned up in the alder later that day. But it was Sunday 10 January that brought the biggest surprise. Whilst sat in the study, I noticed a large bird drifting over the A435. Quickly ruling out
common buzzard
, I watched as the bird passed across the field opposite the house -
red kite
! Amazing!
I finally clocked a
common buzzard
whilst having my lunch at work the following Tuesday.
Sparrowhawk
the first bird on the year list?
Red kite
before
common buzzard
? A chance of
honey buzzard
and
Montagu's harrier
in Norfolk in the summer? This is turning out to be a raptor-tastic year, I thought to myself! That evening, my Dad rang and proposed a trip to Upton Warren on the Sunday. As the week wore on the snow finally relented and we made it out into the field as planned.
Before heading for Upton Warren, however, we paid a visit to Bredon's Hardwick to look for the
red-crested pochards
that had been seen there the previous day. I wasn't exactly sure where to view from. I understand most people scan from the B4080, so I did a bit of research and with the aid of Google maps I identified a spot that looked promising.
On arriving, we set up the scopes and had a look down towards the sailing lake. A few more year ticks were noted, including
fieldfare
,
wigeon
and
great crested grebe
, then before I knew it, several
red-crested pochard
appeared in the scope [lifer!]. I think we were a bit lucky to see them as we were only able to scan a limited part of the lake. If I pass that way again I shall have to see if there are any better places to view from.
I suspect these ducks are part of the feral population from Cotswold Water Park, which I believe have been pushed northwards into the Midlands due to the freezing conditions. I'm sure Martyn Yapp will have an opinion on their plasticity! Either way, they have been ticked and added to the life list. I hadn't been particularly excited about seeing them, but I actually found it much more enjoyable than I thought I would. In fact, I can honestly say it was duck-mongous!
Upton Warren produced excellent views of a
bittern
, both on the Moors Pool and the North Moors Pool. A record shot taken by my Dad as the bird ventured out onto the ice follows. An even better picture taken by
Pete Walkden
now graces the
Worcestershire Source
blog. Thanks, Pete.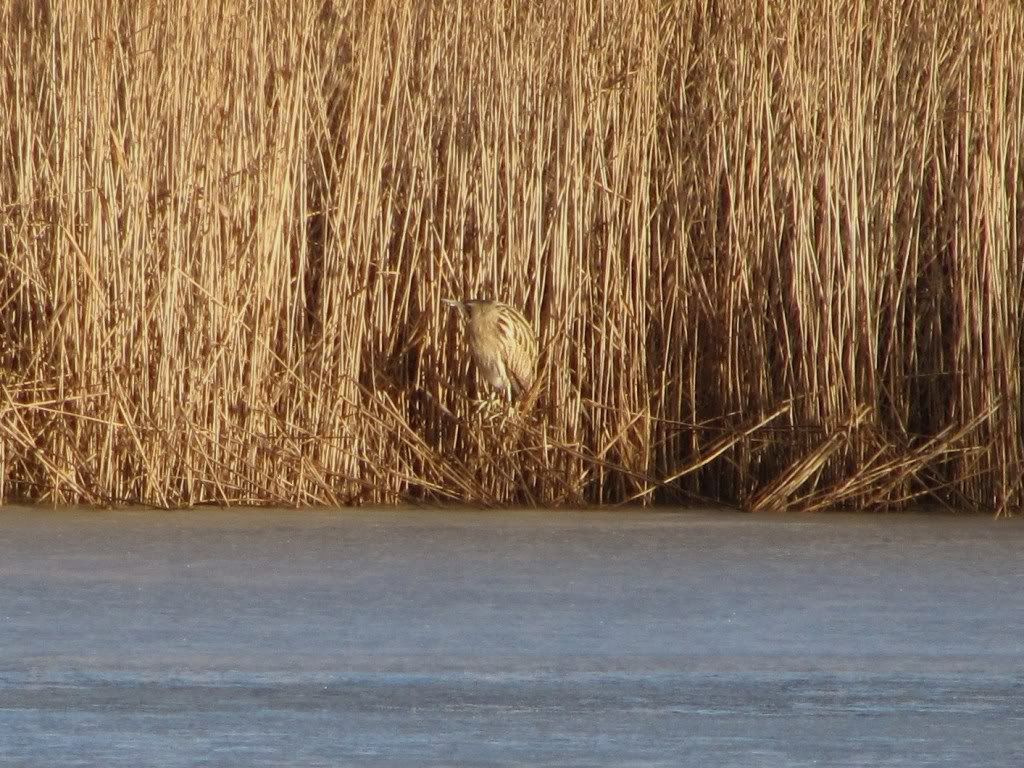 Bittern at Upton Warren
Also seen at Upton Warren were
bullfinch
,
water rail
,
snipe
,
shoveler
,
teal
,
pochard
and
reed bunting
. On a negative note, we didn't see or hear any
Cetti's warblers
. I hope these charismatic little birds have survived the inclement weather. We abandoned plans to visit The Flashes, opting instead to pay a quick visit to Shenstone where we thought the birding opportunities might reap better dividends.
Water rail at Upton Warren
Despite our optimism, we had slim pickings at Shenstone, but
great spotted woodpecker
,
stock dove
and
skylark
were added to the year list. Sadly, there were no sign of any
corn buntings
or
grey partridge
, Shenstone's jewels in the crown so to speak. I did have a probable
yellowhammer
, but not good enough views to warrant a tick.
We bumped into a couple of birders who had spotted a single
brambling
, but despite a quick search we couldn't relocate the bird. Heading home, we passed through Hopwood to have a look for a
little owl
, which posed obligingly for my Dad whilst he took a photograph. A good morning's birding, with three Eddie Stobart trucks life-ticked too!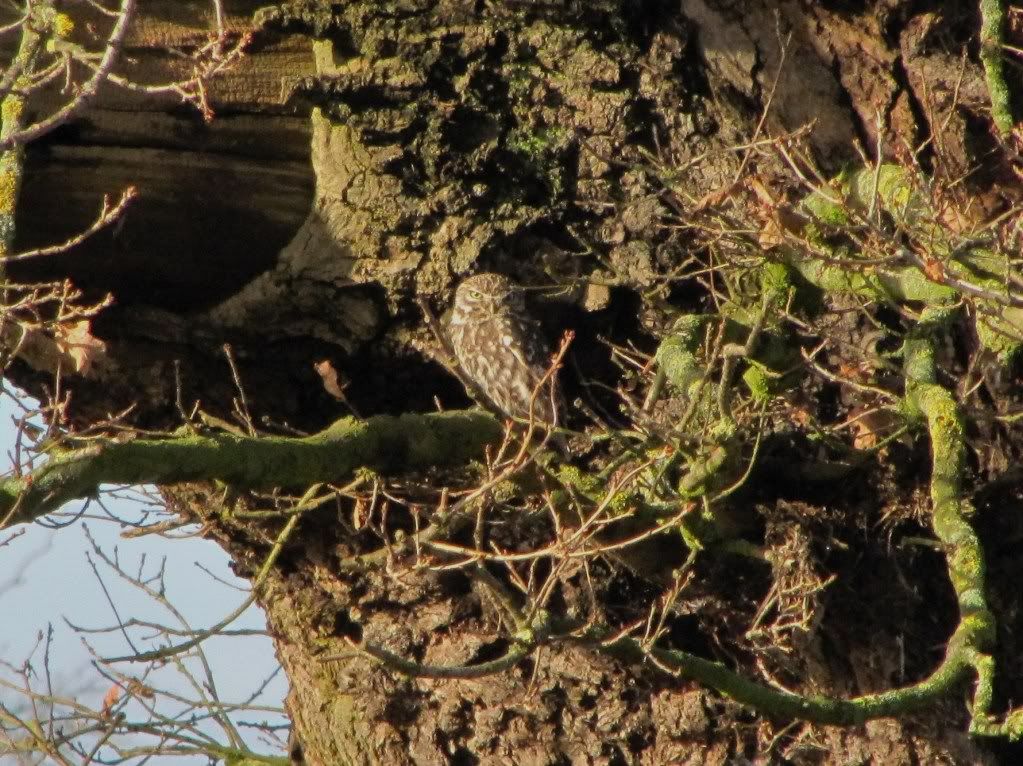 Little owl at Hopwood
On 25 January Mrs Reg and I paid a visit to Brandon Marsh and Ryton Woods, the latter being an intended venue for a bit of butterflying later in the year. I was keen to suss it out in advance, which proved to be a good idea as the country park, Ryton Pool and the woodland all cover a sizeable area. I'll definitely have to get some good gen before I think about returning in the summer.
Brandon Marsh added a
green-winged teal
to the year list and I had good views of a
bittern
in flight, thanks to Mrs Reg's quick reactions. Perhaps we'll make a birder of her yet!
Cetti's warbler
was heard, but remained hidden in the reeds. At Ryton Woods I connected with at least one
lesser redpoll
amongst a large flock of
siskins
and
goldfinch
, plus a couple of
common gulls
on Ryton Pool.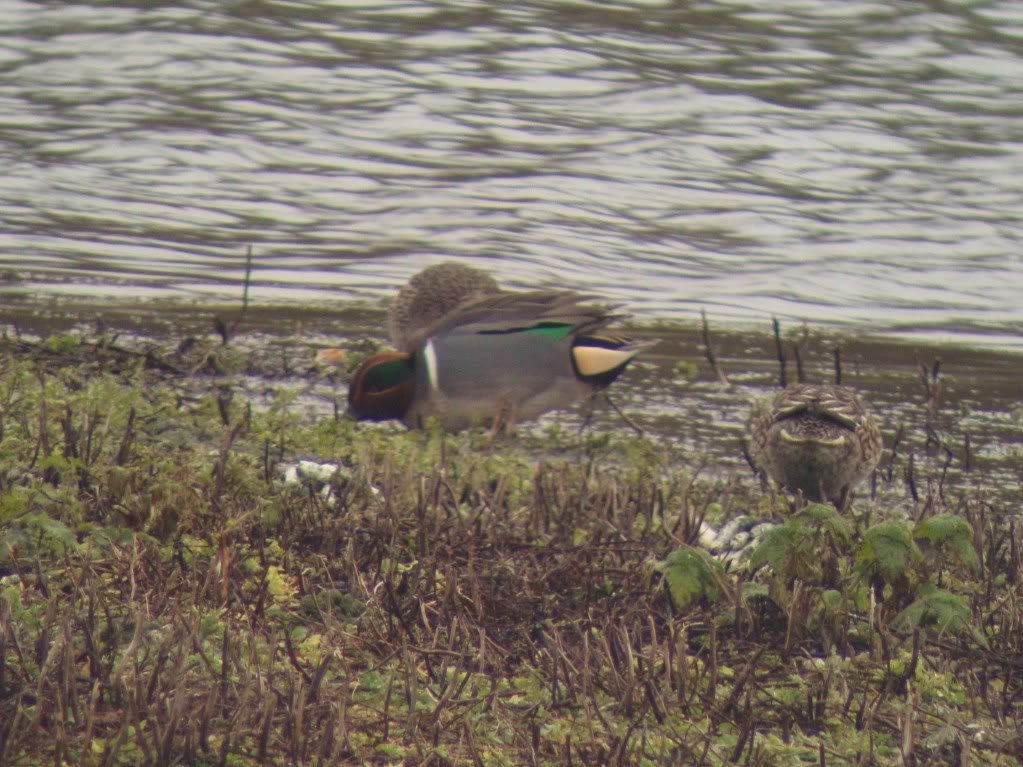 Green-winged teal at Brandon Marsh
The last hurrah of the month was a trip to Pitsford Reservoir in Northamptonshire with my Dad, Dave 'Leapy' Lyons and my burgeoning birding chum Boyley. Before heading east we paid a quick visit to Leapy's local patch to bag
red-legged
and
grey partridges
. These birds were lifers for Boyley, as were a lot of the goodies that fell later in the day.
The main quarry was
great white egret
, which we were able to spot within five minutes of arriving [lifer!], but the reservoir held a wide range of good birds. These included year ticks for me in the shape of [I
must
stop saying that!]
goldeneye
,
goosander
,
yellowhammer
,
tree sparrow
[loads of them!],
ruddy duck
,
smew
,
marsh tit
and
redshank
.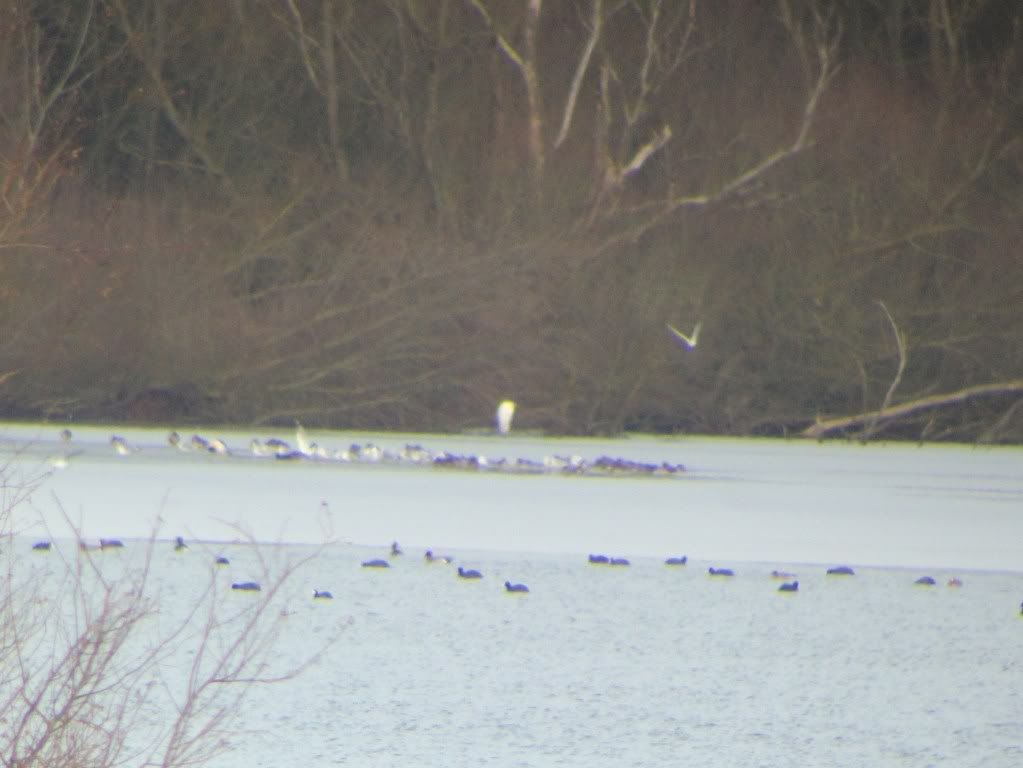 Dreadful record shot of the great white egret
On the way home we took a detour through Grandborough to have a go for a
great grey shrike
that's been there for a while, but alas, the bird hadn't been seen since 11.00am. A nice flock of
linnets
provided another year tick, but was scant consolation for dipping out on one of my favourite birds. I had really wanted Boyley to see it too. Oh well, I suppose there'll be others.
A nice soak in the bath was just what the doctor ordered after a long day out in the chilly conditions. Even as I write, I am safely enveloped in my jim-jams and dressing gown, looking forward to a nice Islay malt to celebrate the lifer, and an evening in front of the telly with Mrs Reg and Holly Willoughby. Read into that what you will!
Looking ahead, February should see me return to the Wyre Forest. There's always a good range of birds to see there and it's a beautiful place to walk around. Who knows, I might even run into a naked lady again?
I'm particularly keen to catch up with a
lesser spotted woodpecker
again after missing this elusive species in 2009, and the Wyre seems a good a place as any other to start looking for them. I don't think I can rely on one turning up on my peanut feeder again!
Until next time, enjoy your birding.