It was 4:20am, Sunday 22 February. The dawn chorus was already in full flow, but I certainly wasn't. The alarm clock on my phone had just gone off, signalling the start of a two-day excursion to Norfolk with my Dad, Dave 'Leapy' Lyons and Steve Jones. Bright-eyed and bushy-tailed I wasn't, but things seemed much better after a nice warm shower. Once dressed, I hastily packed my stuff together, knocked up a flask of coffee, grabbed the scope and bade Mrs Reg farewell.
I arrived at my Dad's house at about 5:10am, where I was greeted by Steve. Dad seemed to be running a bit late, but it wasn't long before he appeared. After loading up his car with our gear we zipped up the M42 to pick up Leapy, and we were well on our way to May Day Farm by the time the sun finally put in an appearance in the sky.
It saddens me to say that our first true birding experience of the trip was not a pleasant one. A bird shot out of the hedgerows alongside the A14 and straight in front of the car, hitting the windscreen with some force, despite the fact that we weren't travelling particularly quickly. It appeared to me that it was a
woodcock
, but to even contemplate ticking a bird under such circumstances seemed wholly inappropriate.
We arrived at May Day Farm at about 7:45am. It didn't take long to track down our target bird of
woodlark
and we were back on the road within 20 or 30 minutes. That was Steve's first lifer of the day, and a solid year tick for everyone else.
We travelled the short distance to Lynford Arboretum with the intention of bagging
hawfinch
. After a patient hour's birding we had to admit defeat, although we had been reliably informed that the birds had been seen only minutes before we arrived. Other species of note in the arboretum were
redwing
,
siskin
,
green woodpecker
and
mistle thrush
. We heard a few
common crossbills
around the car park, but despite Leapy eyeballing three likely suspects in flight, we couldn't definitively say we had seen any.
As we were making good time, we decided it was worth popping into nearby Lakenheath, where a
great grey shrike
had been reported. We didn't have to spend too long there before we met another group of birders, who kindly pointed out a distant bush that held the shrike. It was a long way away, but we all managed to get onto the bird. Another sound year tick and a British lifer for Steve.
Next up was a potential mega at Strumpshaw Fen - a
penduline tit
that had turned up there a few weeks ago and had continued to be seen ever since, albeit sporadically. Despite the odds being against us, we simply had to put in some time to try to see this bird. The news from the visitor centre was that it had been seen at 10:20am, associating with
bearded tits
. Walking through the woodland to the hide I latched onto a
marsh tit
, quickly followed by a female
brambling
.
On reaching the hide it was clear that it was not going to be an easy task to spot the
penduline tit
. The wind had got up a bit and in my experience this suggested any
bearded tits
would be less likely to show. During our vigil we were entertained by a few
marsh harriers
and a
bittern
flying over the reeds, but otherwise we had to amuse ourselves with a few
teal
,
coots
and
gadwall
. We heard
Cetti's warbler
and a
water rail
, which lifted our spirits a bit, but after much patient scanning we had to move on. As far as I know the bird wasn't seen again that day, so we didn't feel too disappointed.
Stubb Mill was our last port of call. We had an entertaining couple of hours here, watching about a dozen
marsh harriers
, two
barn owls
, a male
hen harrier
and a
sparrowhawk
, before enjoying the spectacle of about 28
common cranes
coming in to roost as the light slipped away. Aside from the birds, I spotted my first
Chinese water deer
, which was extremely pleasing. Shots of one of the owls with some of the harriers in the background follow, although they are far from brilliant.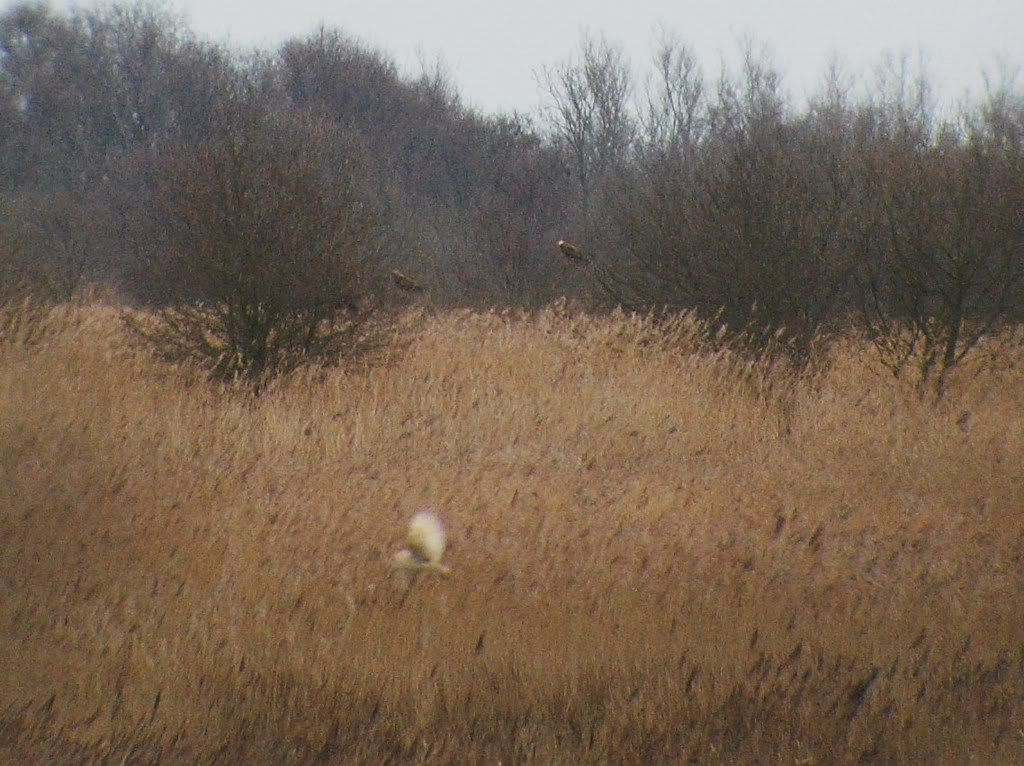 We didn't have a high species count at the end of day one, but there was no doubt that we had seen some quality birds. After taking a couple of wrong turns we eventually arrived in Sheringham and enjoyed a bit of pub grub and a few pints of the local ale before hitting the sack. After 18 hours on my feet it was no surprise that I was out like a light.
Sheringham was a pleasant and convenient place to stop. Not only that, it is also home to the largest duvet machine in North Norfolk, as evidenced by the following photograph.
We had drawn up our battle plans for day two during our meal the night before. First up was the
cattle egret
at Matlaske, just 15 minutes drive from Sheringham. We had some good gen regarding this bird, but after half an hour scanning the fields we drew a blank. However, we did spot another
barn owl
, an
Egyptian goose
and a
common gull
during our search.
Not wishing to waste too much time, we travelled to Salthouse, where we hoped to connect with
snow bunting
. This site threw up plenty of decent birds and year ticks, including
turnstone
,
skylark
,
little egret
,
redshank
and
ringed plover
, and I also noted four
seals
in the sea.
We agreed to invest an hour of our time looking for the buntings. News that they had been seen earlier on gave us hope, but the hour passed surprisingly quickly and we begrudgingly headed back to the car. However, as I walked along the shingle I heard excited voices behind me. I wheeled around to see a very animated Steve and Leapy, and about a dozen or more
snow buntings
on the deck. Dad was further ahead, but I signalled to him and he was able to get his bins on the birds. We watched them for about ten minutes or so, then got back on the road, though not before the hip flask had been produced.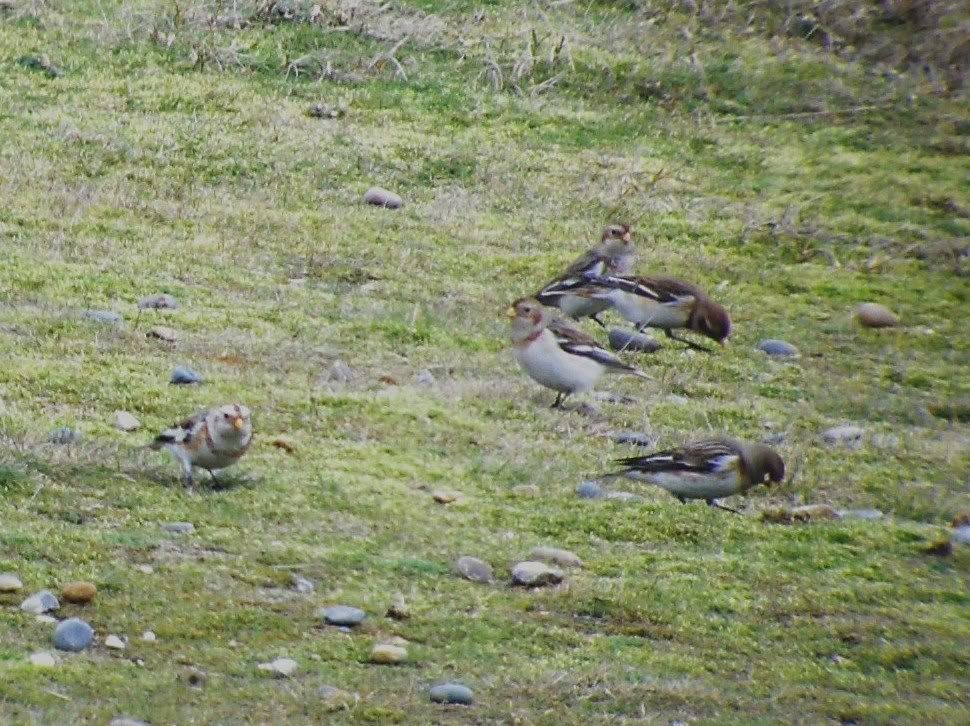 A brief stop at Holkham added a few more birds to the list, including
black-tailed godwit
and
snipe
, but we had bigger fish to fry and we were mobile again before too long. We had heard that the
black-necked grebe
remained at Gypsy Lane, so we felt this had to be worth a look. The bird behaved impeccably, showing well just as we arrived and allowing close views and some reasonable photos. The bird's ability to dive just as Steve was about to take a shot provided some light relief.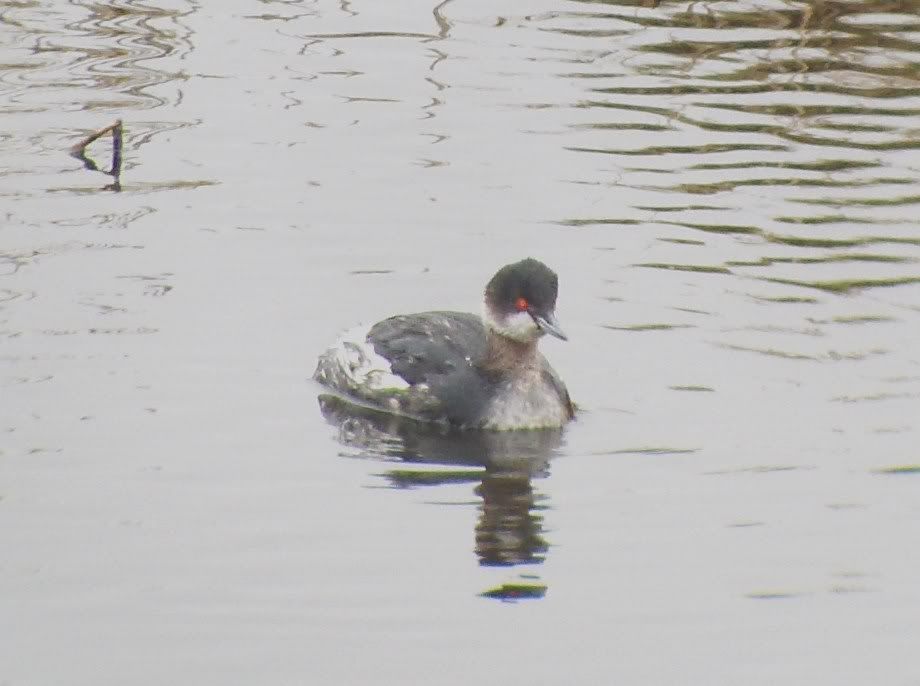 We paid a brief visit to Choseley Barns, getting
yellowhammer
,
corn bunting
and
stock dove
for our troubles, then it was onto Titchwell. The best of the birds here included
avocet
,
spotted redshank
and
sanderling
. With the light beginning to fail we paid a brief visit to the Island Hide and were reliably informed that a few
Mediterranean gulls
had been around for most of the day. Leapy managed to land straight on one and I too got it in my scope just before it flew off. Luckily, my Dad located another bird and we were all able to see this one before it also took flight.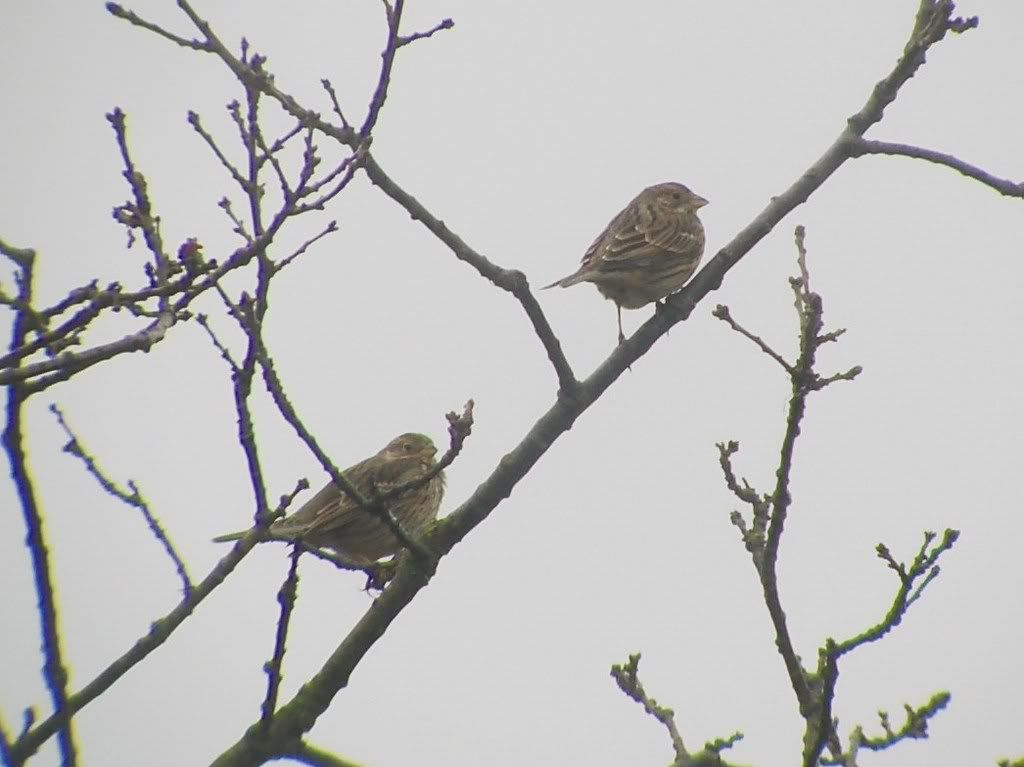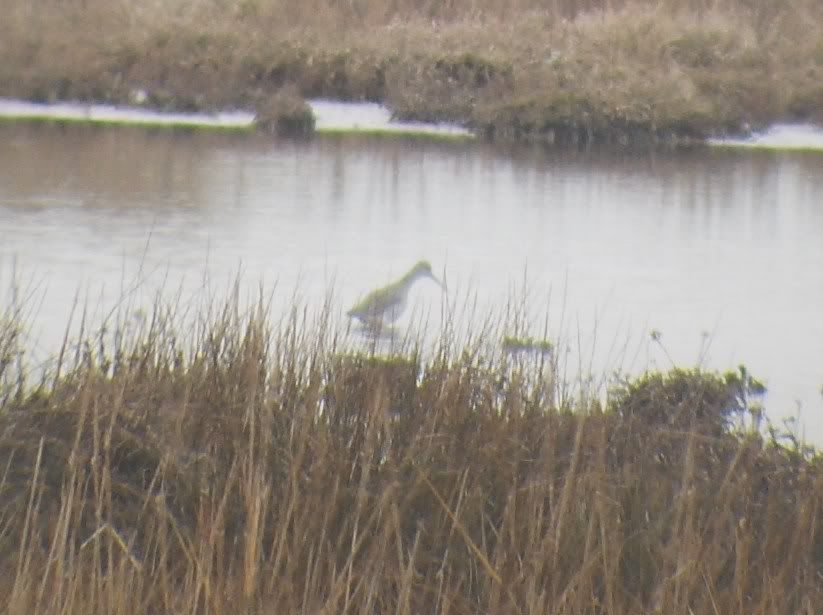 Hunstanton got everyone a year tick in the shape of
fulmar
, but the visibility was appalling and we hit the road. Our final adventure was a circuit of the Wolferton Triangle. We spotted several deer and one
common pheasant
, but no
golden pheasant
as hoped.
This is the bit where I normally summarise the trip, and not wishing to disappoint I'd like to say thanks to the old boy for notching up approximately 500 miles behind the wheel. Thanks also to Steve and Leapy for the company, the banter and the jokes, none of which I can possibly repeat here. It was another memorable trip, something of an appetiser for the main course that will be the trip to Islay in May. Until then, I guess I'll just have to feed on the scraps of my local patch again.