My loyalty was put to the test again on Saturday when England played Wales in the Six Nations. I'm about one-quarter Welsh, which means that I really should have been cheering on the men in white, but I have such admiration for the way Wales are playing their rugby at the moment, that I couldn't help but celebrate their deserved victory.
Yesterday, I headed to Earlswood Lakes, though when I arrived home you might have been forgiven for thinking that I had returned from the Millennium Stadium, judging by the amount of mud that I was covered in. If you're a fan of the mucky stuff, I suggest you get down there pronto. I think it's safe to say that I might be giving it a miss now until the spring!
Earlswood Lakes is key to me hitting my target of 75 species seen on foot this year. Fellow birder Matthew Griffiths dedicates much of his time to birding the lakes and the surrounding area and has recently had a number of sightings that would make useful additions to my list, notably
raven
,
kingfisher
,
common gull
,
water rail
,
shoveler
and
pochard
. Matthew's blog can be found
here
.
Sadly, none of these birds were seen yesterday morning, but the lakes and surrounding woods and fields did produce two
song thrush
,
long-tailed tit
,
grey heron
, many
mallard
, one male
goosander
, a handful of
tufted ducks
, two
greenfinch
, one
cormorant
, a small flock of presumed
siskins
, a few
pied wagtail
, around 20
great crested grebe
, a few
redwing
, about a dozen
meadow pipits
and at least four
nuthatch
.
I managed a solitary patch tick when a
greylag goose
flew in from the fields behind Windmill Pool with a single
Canada goose
. Throw in a lone
stock dove
that I spotted in the flooded field along Station Road as I set off and that was it in terms of ticks for the day.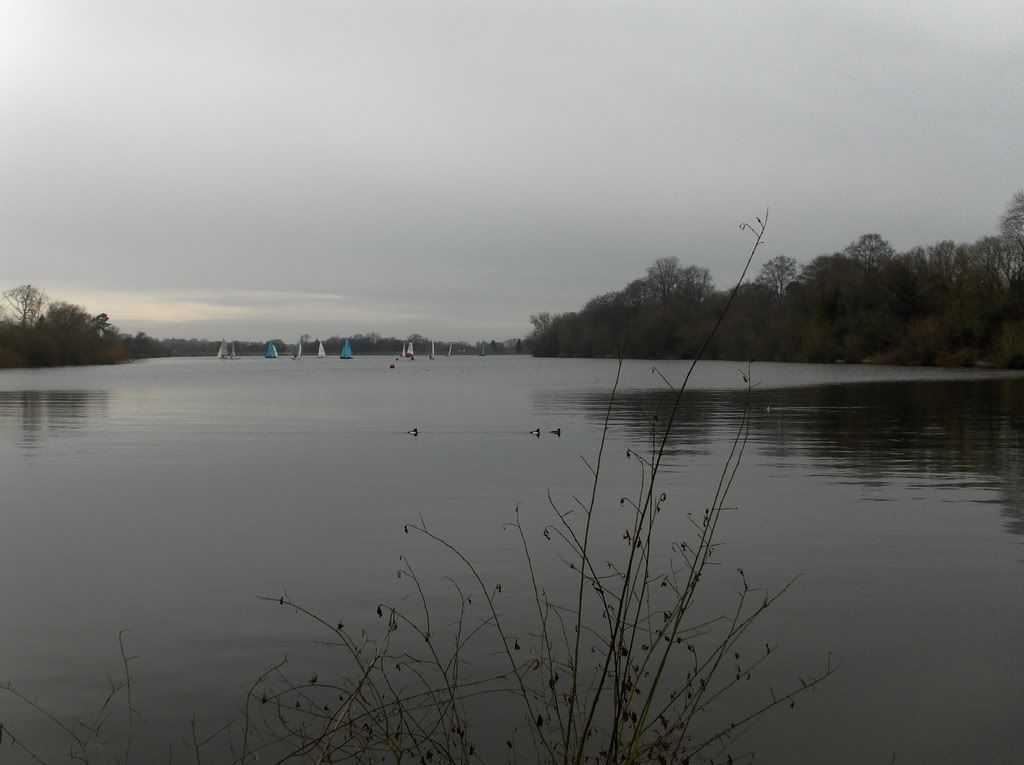 On a more positive note, there are real signs that spring is on its way, even though we're only halfway through February. The
dunnocks
,
chaffinches
and
greenfinches
were all particularly vocal yesterday, and some of the
black-headed gulls
are already acquiring their brown heads. If any non-birders are reading this, then yes, I appreciate that you will find that last statement somewhat odd!
Black-headed gulls
are quite possibly the worst-named bird in the world, though there could be some Telescope Points on offer for anyone who can suggest any others.
The best bit of the outing was probably the sight of many
redwings
and
fieldfares
in the field adjacent to Earlswood Station on the way home. I really struggled to put numbers on the flock, but I reckoned there were at least 80
redwing
and 20
fieldfare
.
So, in summary, another two ticks for the list and a leg-busting 7.6 miles onto the total distance covered. My crude estimations also tell me that I've lost an inch or two off my waist. Keeping fit is one of the fringe benefits of birding, although I've still got some way to go before people start mistaking me for one of the legs off my tripod!
Birds Seen On Foot 2009: 56
Distance travelled: 35.8 miles
Down To The Wyre
This morning, Mrs Reg and I took a wander down the old railway line in the Wyre Forest, followed by a stroll along Dowles Brook. Following up a bit of first-class gen from
Martyn Yapp
, we were fortunate enough to see a roosting
tawny owl
- only my second one and great views too.
Lesser redpolls
were also seen, as were a pair of
marsh tits
and a
dipper
, along with several displaying
sparrowhawks
, a
great spotted woodpecker
, three
bullfinch
, a year tick in the shape of
kingfisher
, and a deer of some description. Possibly fallow?
Welcome Break
In all honesty, the patch birding has been a bit tough going recently. The trip to Norfolk next Sunday couldn't come at a better time and I'm really looking forward to it.
Once I return I will be back on the patch. I don't expect the month of March to throw too much my way and I will most likely restrict my birding to the more traditional haunts near to home. I don't think my legs can take another trek to Earlswood, although once the
chiffchaffs
and
willow warblers
show up I may find it difficult to stay away!