Until last Saturday I could count the number of
Woodcocks
I had seen on one hand and still have two fingers left over. My first was at Titchwell in February 2007, where I had crippling views of one just off the path by the visitor centre. My second was also in Norfolk, in April this year, and my third was on Cannock Chase in June, when I went looking for
Nightjars
with Kay, Max, Pete and Richard 'The Producer' Powell.
I was back in Wales last weekend and although the main reason for the trip was to help my Dad with some work in the garden, there were, unsurprisingly, a few birding matters to take care of. First up, as daylight fell on Saturday we drove up to the Glasfryn Estate, whose
Pheasants
have found their way into my Dad's casserole pot on a number of occasions over the years. Earlier this year, my Dad found out that this is a prime spot to watch
Woodcocks
coming in to roost and it promised to be a spectacle not to be missed.
With the kind permission of the resident gamekeeper, we parked up as it was getting dusk and waited. Before too long our first
Woodcock
flew over. In a short space of time we counted about seven, but it quickly got too dark to see properly so we called it a night.
Sunday saw us completing most of the jobs in the garden, which meant that on Monday afternoon my Dad and I were able to get down to Porthmadog for a spot of seawatching. We positioned ourselves on the headland not too far from where I had my
Great Skua
sighting in July.
There was an enormous flock of
Common Scoter
on the sea. There must have been something better amongst them, but they were a tad distant to sort out easily and it was frightfully cold, so we weren't too keen to spend any longer than we had to exposed to the Welsh elements. We clocked a few
Great-Crested Grebes
and
Red-Breasted Mergansers
on the water, plus a
Red-Throated Diver
, then headed back to the car.
My Dad had seen
Water Pipits
off Porthmadog Cob in March and we were keen to see if we could find any. Sadly we were unsuccessful. A
Little Egret
, a
Grey Heron
, some
Ravens
and a few
Redshank
were the best we could manage. Finally, I bagged a guaranteed year tick when we popped down to Prenteg to see the
Whooper Swans
[year tick 217!] that arrive like clockwork each winter.
Tuesday had always been pencilled in as our birding day proper. A comprehensive itinerary had been prepared and shortly after 8:00am we were on our way to Rhos-On-Sea, quite simply one of the best places to see
Purple Sandpiper
at this time of year. These scarce waders didn't disappoint us - there they were, on the rocks with many
Turnstones
,
Redshanks
,
Ringed Plovers
and a few
Dunlin
[year tick 218!].
You can get really close to the birds at high tide here. So much so, that my attempts at digiscoping were hindered only by the fact that I needed to be further away from them! A few shots follow.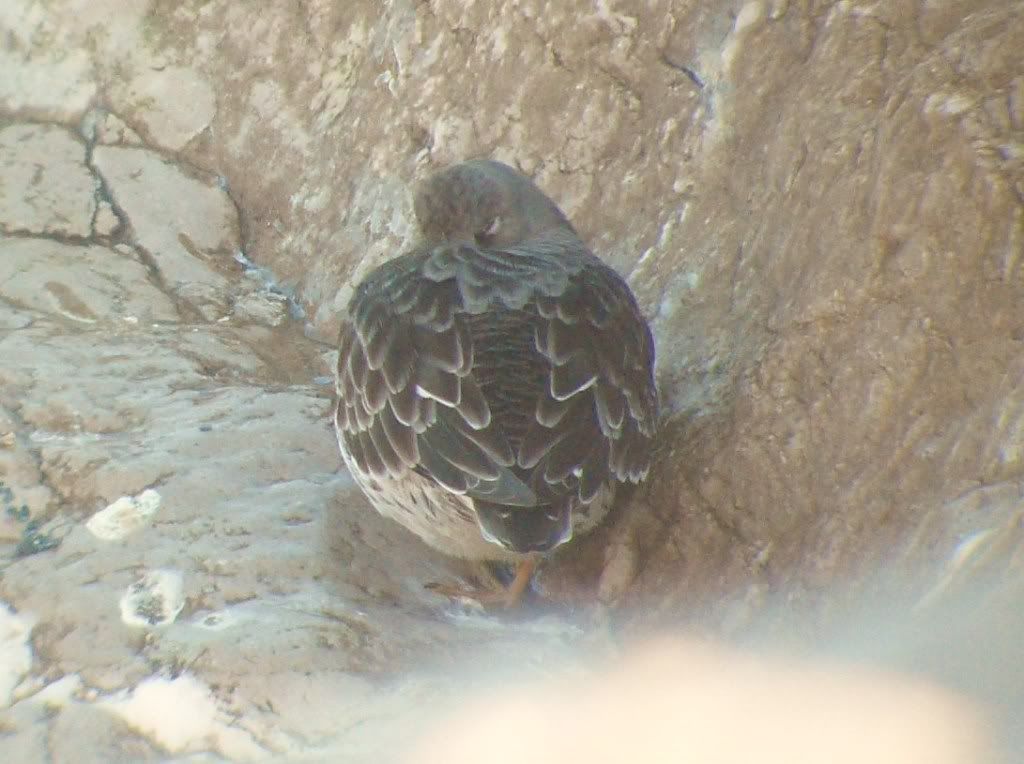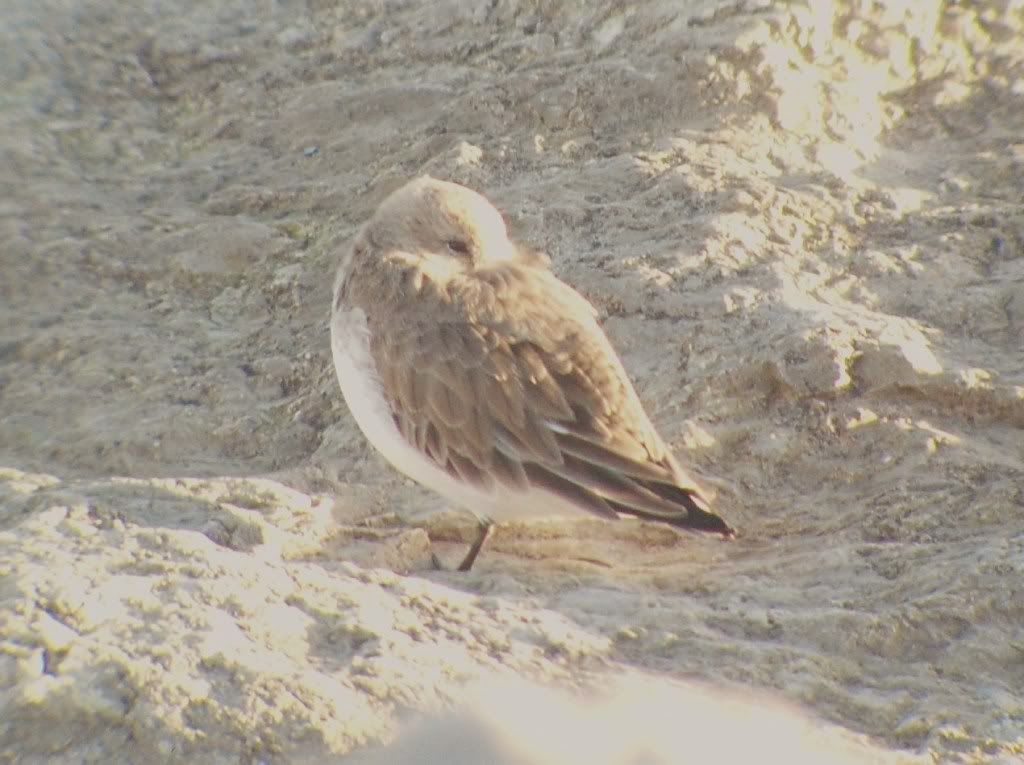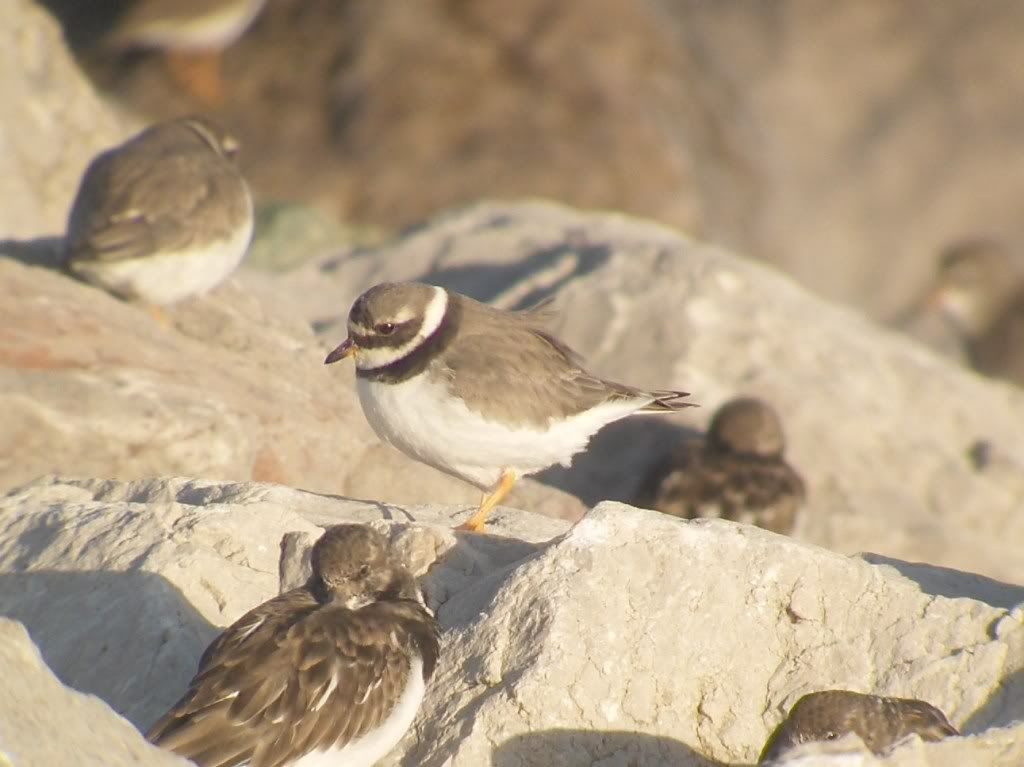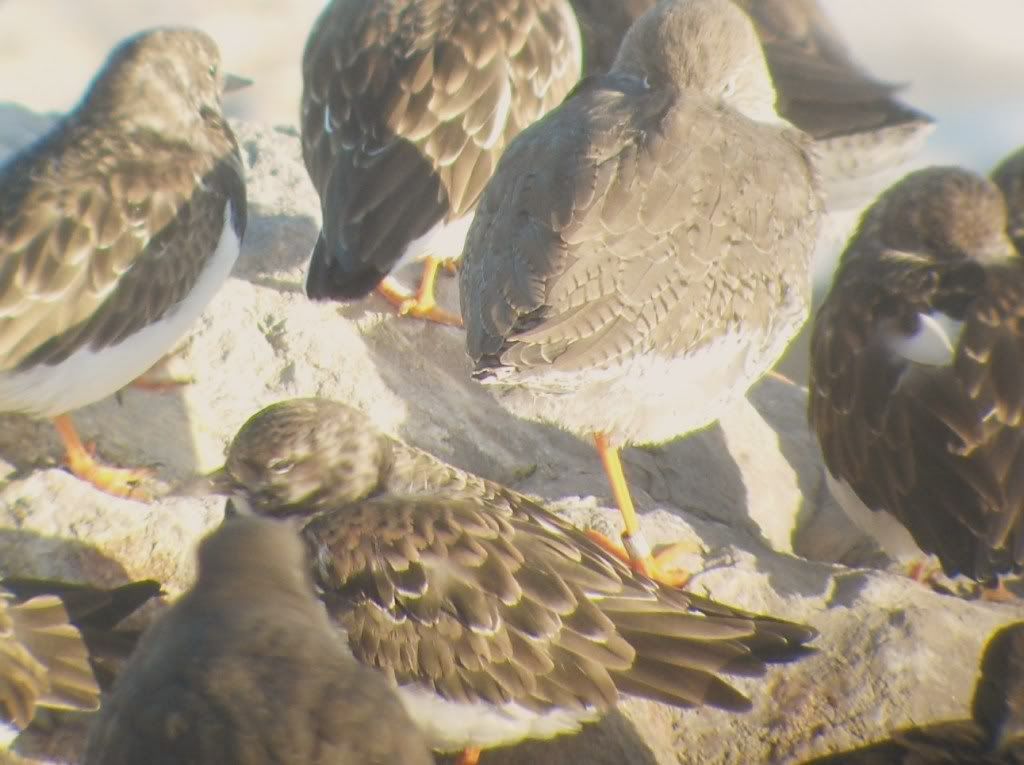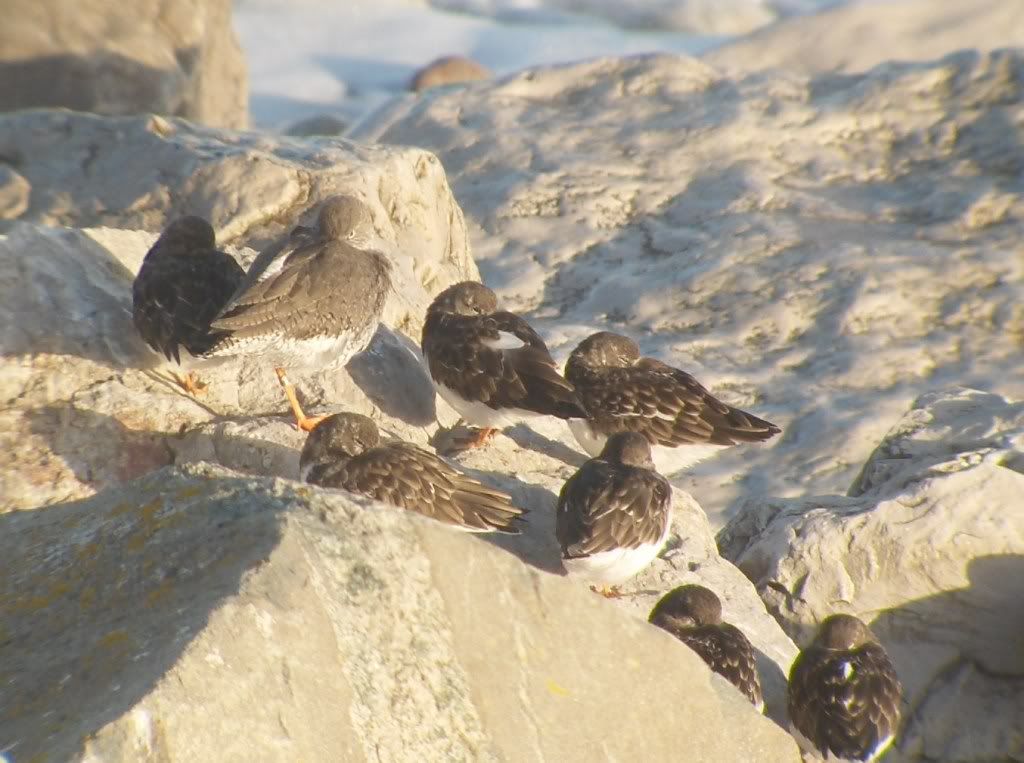 Next stop, Pensarn. This is reported to be a veritable mecca for
Snow Bunting
. Indeed, I thought it was another lifer in the bag, but maybe it's still just a bit too early for them to be around in any great numbers? We had a lengthy walk up and down Pensarn beach, but couldn't manage anything better than a
Redshank
or a
Turnstone
.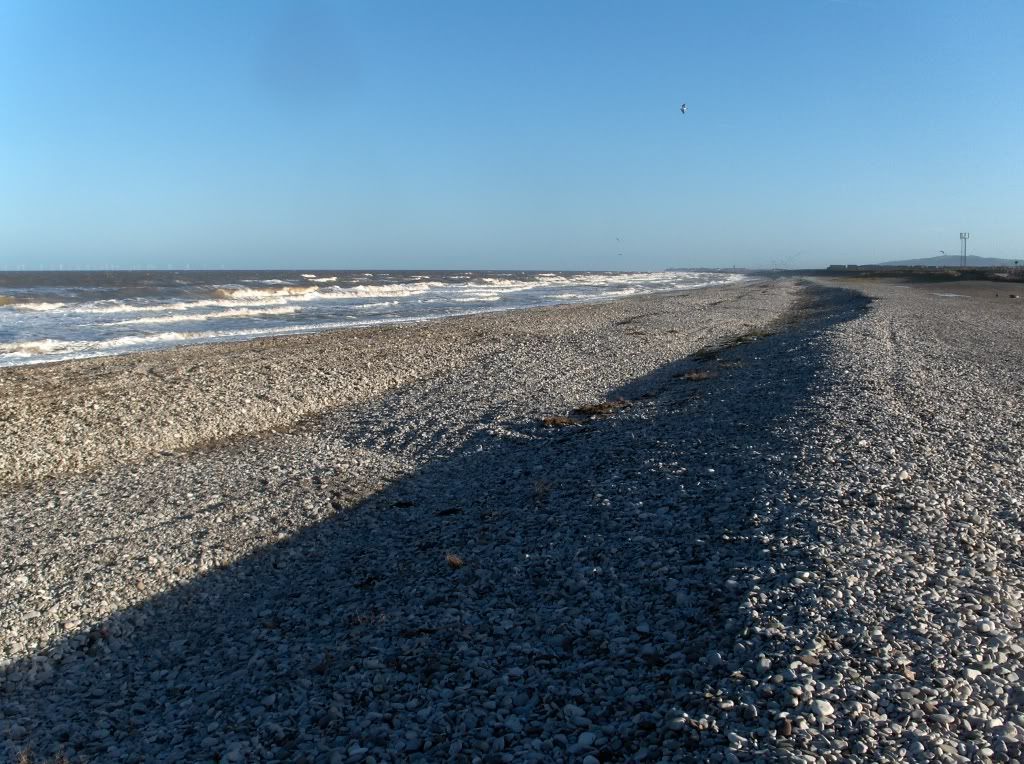 Aber Ogwen was our next port of call. We scanned the estuary and noted some nice birds, namely
Goldeneye
,
Goosander
and
Little Egret
, then found our way to the hide overlooking a small pool. Another
Little Egret
was poking around in the shallows and there were a good variety of common birds on the feeders. Shortly before we left, a
Great Spotted Woodpecker
and a
Marsh Tit
both showed up. The latter was a very pleasing day tick.
We spent the last few hours on Anglesey. Firstly, we checked out Llyn Coron. This is a lovely little spot. We didn't worry too much about the lake itself, concentrating on the wonderful habitat that borders the road. Scrubland and dunes to the left of us, and stubble fields to the right. Here we were able to tick
Goldfinch
and
Chaffinch
in good numbers, and
Stonechat
and
Reed Bunting
too. The relentless cronking of many
Ravens
served to remind us that we were on the outskirts of Newborough Warren.
As the sun dropped in the sky, we relocated at Maltraeth. This is a prime spot to see raptors coming in to roost, and we were optimistic of bagging an owl or two, plus a
Hen Harrier
if we were lucky. We had not long found a decent place to view from when my Dad spotted something perched on a post out on the estuary. We both had a good look at it through the scopes and quickly identified it as a female or juvenile
Merlin
[lifer 230!] [year tick 219!]. Magical!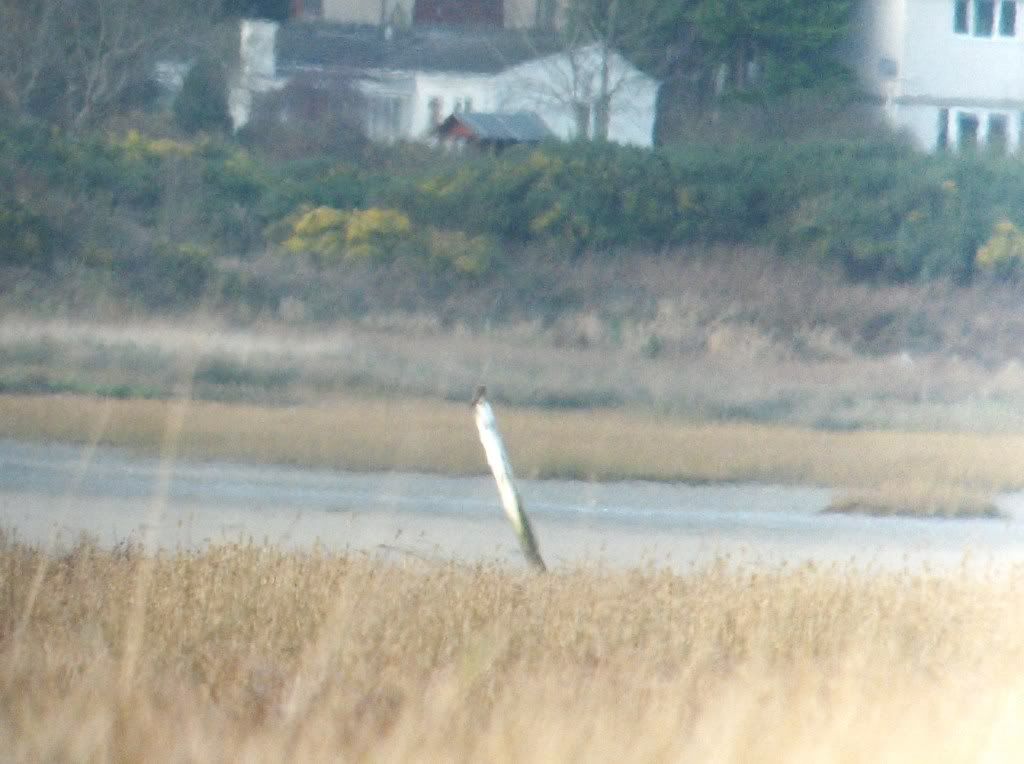 The
Merlin
was flushed by a
Raven
within a few minutes, but reappeared on another post a little bit later. This time, a
Carrion Crow
saw it off and stole its perch, but once again it returned and showed well for a few minutes. I'm glad we saw the
Merlin
. We hadn't had that much luck during the trip, but this made it all worthwhile.
Only a few weeks to go to now until the end of the year and I think I'm just about birded out! I remember feeling like this when I went to Slimbridge last December and I had been fortunate enough to see the
American Golden Plover
. It just sort of felt like the birding year had drawn to a fitting end. I have, however, a couple more things pencilled in before I can hang the binoculars up until the New Year.
More about that in the next instalment of Eye To The Telescope ...