Some people don't like gulls. Come to think of it, some birders don't like gulls, which tells its own story really. The winter months, however, bring a few scarcer species into our country, so if you're prepared to brave the cold, now is a good time to consider becoming a larus lover.
It's inevitable that at some point I will pluck up the courage to immerse myself in the dubious pleasure of a gull roost at one of our reservoirs. As a kind of preparation for this daunting task, my Dad and I headed to Stubbers Green yesterday morning to see if we were ready for the challenge. This site is pretty reliable for
Caspian Gull
and
Yellow-Legged Gull
and both seemed a distinct possibility according to recent news.
As you may recall, I've had a bit of experience with
Yellow-Legged Gulls
. The first time I thought I had one was in Wales last year, but unsatisfactory views denied me a life tick. When I went to Slimbridge in September, I photographed what I believed to be a
Yellow-Legged Gull
and confidently upped my life list accordingly, but then somebody threw doubt upon the bird. Whilst I remained pretty sure about its identification, I was keen to see another one, perhaps when more well-versed gull fans were present.
As it turns out, this is exactly what happened yesterday. For starters, Kay and Max had joined us for the morning and Steve Jones, one of the guys who went to Islay with us in 2006 also came along. Also present was a chap called Martin, who is responsible for the enjoyable blog
Blurred Birding
. Martin's knowledge of gulls was very impressive and it was he who eventually spotted a third-winter
Yellow-Legged Gull
amongst the more usual species.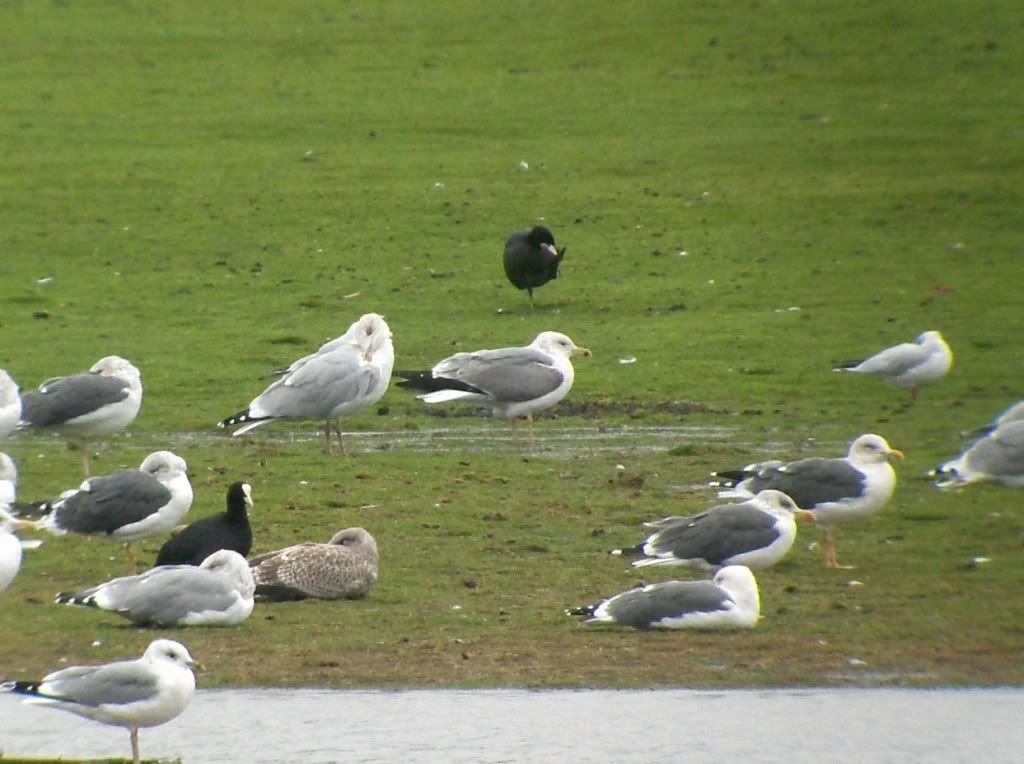 It was nice to get this confirmation tick under my belt and my Dad was doubly excited as it was a lifer for him. I saw him reach into his bag and expected him to produce the famous hip flask, but was a little taken aback when he produced a small yoghurt pot. For a moment I thought he'd given up the drink and resolved to get some good bacteria inside him instead, but lo and behold the bottle contained a mixture of whisky and ginger wine. The smell of Christmas filled the air as we toasted the sighting.
Unfortunately, the
Caspian Gulls
never showed, but it was an enjoyable morning nonetheless. There was plenty to laugh about when the birding got a bit quiet - Kay treading on my Dad's pork pie, Max's all too brief impression of Richie Benaud and an impassioned discussion regarding kebabs spring to mind. Okay, so there was no pork pie in my Dad's bag, but we had Kay going for a few enjoyable minutes.
With feet that felt like blocks of ice, we headed home around midday. I'm sure we'll be back at some point to look for those
Caspian Gulls
again. I certainly felt like I learnt something from the experience and I can now think about that gull roost with a bit less trepidation. I must get some warmer underwear though.