Like March, April has been another relaxed affair, but there have been some superb spots along the way.
Taking the foot off the birding pedal this year has meant that certain sightings have been all the more rewarding due to their unexpected nature. My first
swallow
of the year seen on the way to work on 6 April was one such example. Also heard my first
blackcap
of the year that morning.
The butterfly sightings started to roll in at the start of the month too.
Peacock
,
small tortoiseshell
and
comma
were all seen for the first time between 7 and 10 April.
Peacock in the garden
Comma in the garden
Finally, a bit of proper birding on 11 April. My Dad and I went to Titterstone Clee Hill to have a look for
ring ouzel
. A bit of a bogey bird this one for me. I had rubbish views of one on top of Caingorm in May 2008 and a few unsuccessful forays for it since. I'm pleased to say we had great views of it and had bonus spots of
black redstart
,
peregrine
and
wheatear
. A fairly terrible record shot of the
ring ouzel
taken with my phone follows.
Ring ouzel at Titterstone Clee Hill
Later that day, Mrs Reg and I paid a visit to Upton Warren. Mrs Reg has just purchased a new Canon camera and was keen to try it out. Birds seen included
avocet
,
little ringed plover
and
green sandpiper
. Unfortunately, Mrs Reg neglected to extend her zoom lens properly, so didn't end up with many decent shots. What a silly billy!
Still, Mrs Reg's blunder meant I was able to persuade her to accompany me to Earlswood Lakes for a second bite at the cherry on 16 April. We had a nice walk around the lakes, seeing
common tern
,
willow warbler
and also my first
treecreeper
of the year. This time the other half got some nice photos and I bagged a few decent shots of the terns.
Common terns at Earlswood Lakes
Also, these
great crested grebes
getting all lovey-dovey.
Grebes - amorous
Saturday 17 April proved to be a mega day on the patch. I hadn't planned to go out, but it was such a lovely day that Mrs Reg and I decided to take advantage of the weather and have a walk to Weatheroak Hill. At the magic field we enjoyed views of the
lapwings
and a
skylark
- all very nice, but regulation stuff.
Before long, the ante was well and truly upped when a pair of
ravens
turned up. Great birds. I amused myself by calling to them using a slight variation on my Chewbacca impersonation, though it wasn't long before Mrs Reg told me to shut up. Spoilsport.
However, even the
ravens
paled into insignificance on this fine day as I had heard a
lesser whitethroat
in full song not too far away. This was a first for the patch and with a lot of patience and a fair amount of pishing, I was eventually able to track down the bird. Mrs Reg kindly lent me her camera again and I was able to get the following shots. None of them are perfect, but I don't care. This is one of my favourite birds and there was much fist-pumping on the way home.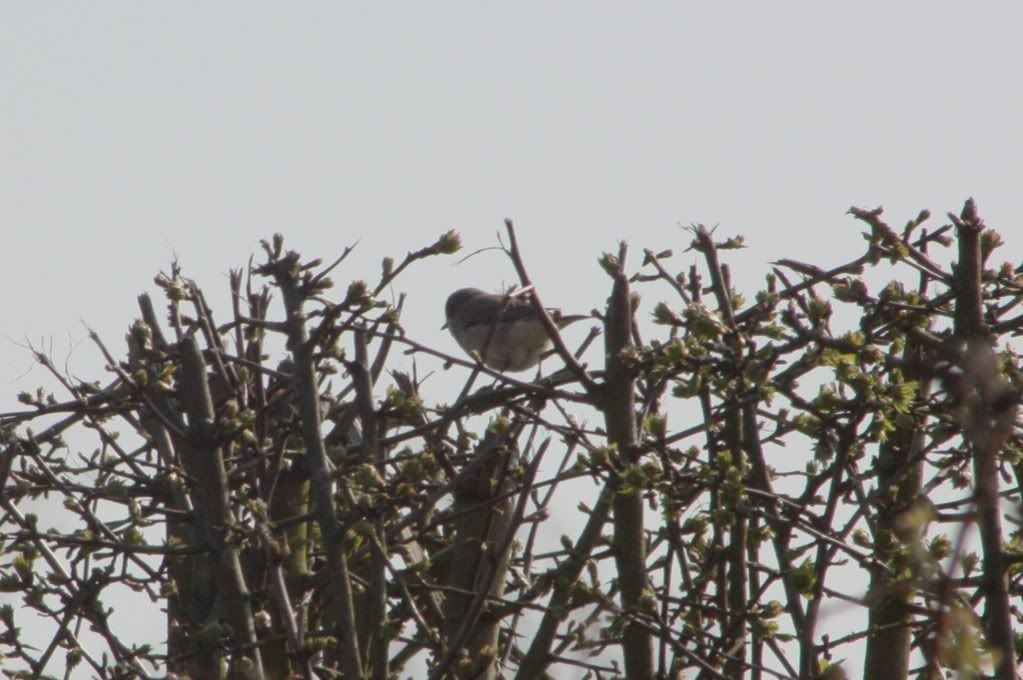 Lesser whitethroat - hell yes!
Another peacock, snapped by Mrs Reg
Also spotted a female
orange-tip
in the magic field. It was distant, but I was happy with my diagnosis.
To top off a good weekend, I saw a pair of
peregrines
high over the house on Sunday afternoon, and a
willow warbler
was heard in the trees behind our garden. Another was heard at work the day after.
The first
speckled wood
butterfly of the year was seen at work on 20 April, and I managed to clap eyes on a
willow warbler
there the day after. Not technically on the premises, as it was just on the other side of the fence on Kings Norton golf course, but the first I have ever seen at work.
On Friday 23 April it was my 40th birthday. Mother Nature's present was a male
orange-tip
in the garden. It turned up at about 4.30pm and settled on the ornamental grass. I dashed upstairs to get the camera to take some pictures, one of which follows, but I needn't have rushed - it remained in situ until Saturday morning, not flying off until nearly midday. Lazy beggar!
Orange-tips - sleepy!
Obviously, there are several days left until we are into May, but I am now off to Scotland on holiday. Hopefully there will be a few more decent observations before the month is out. I will include these in my next round up, which should be in about five weeks' time.