Day 7 - Findhorn Valley / Lochindorb
Friday was another travelling day. We kept our eyes peeled for birds as we drove over the mountains. We managed some
Raven
and another
Osprey
, but nothing better. We decided to visit the Findhorn Valley and picked up a
Peregrine
for our troubles, but had no luck with
Golden Eagles
.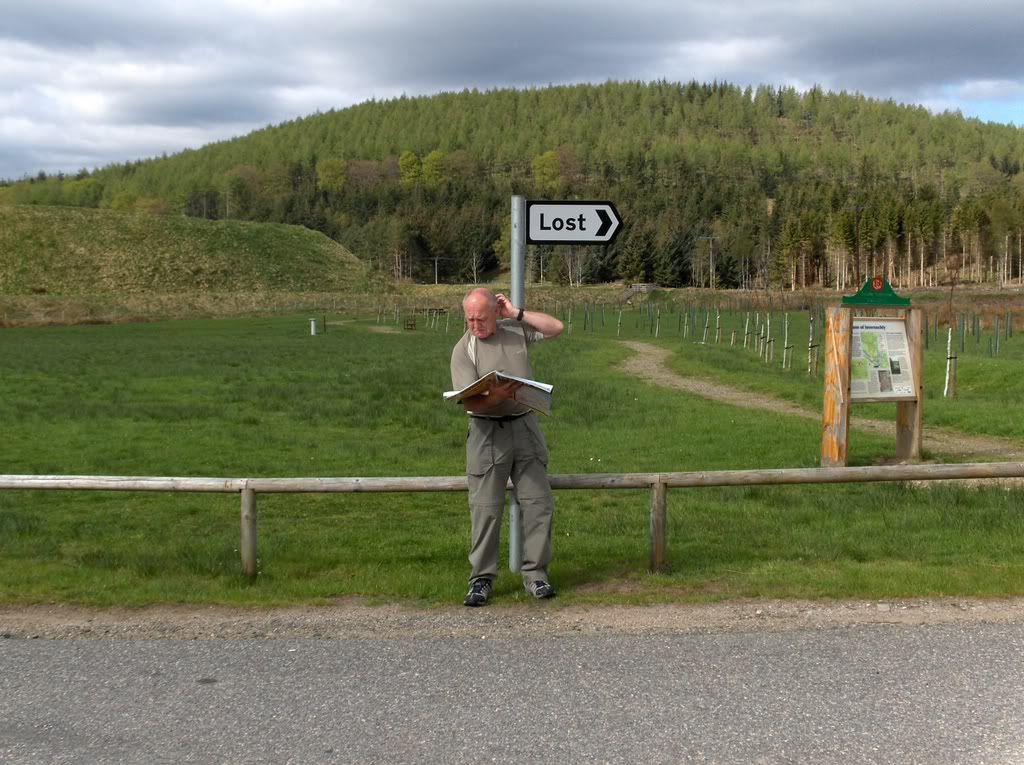 A bit of good gen from a fellow birder saw us visit Lochindorb. Another
Hooded Crow
was noted on the way, then we had a pair of summer-plumaged
Black-Throated Divers
[year tick 197!], after much frantic scoping of the water. We didn't manage much else that day, but had plenty to look forward to on Saturday and Sunday in and around Boat of Garten.
Bird of the day -
Black-Throated Diver
Day 8 - Loch Garten / Glen Feshie / Loch An Eilean / Loch Vaa
It was almost inevitable that at some point we would have one of those days where nothing goes right. Saturday was that day. My Dad and I rose at 5:00am and made our way to Loch Garten for the
Capercaillie
watch. Sadly, it didn't show, but this was not a huge surprise so late in the year. Apparently, mid-April to early-May is the prime time to see these birds.
May I say a big thank you to the person who dropped their guts during our spell in the hide. Dipping on the horse of the forest was bad enough, without having to deal with your stench too! Shame on you, whoever you are!
Afterwards, we had a short walk down to nearby Loch Malachy and picked up more
Spotted Flycatchers
and
Redstarts
, but no
Crested Tits
, which were our prime objective.
After breakfast, we had another look for
Crested Tits
in the forest, but to no avail. We had scant consolation in a couple of trip birds near Boat of Garten, namely
Wigeon
and
Little Grebe
. Then disaster struck. The boot of my Dad's car wouldn't shut properly and we were grounded for an hour or two until a mechanic armed with some WD40 was able to fix the problem. We still made it to Glen Feshie, picking up another
Osprey
on the way, but had to abandon any serious birding due to time constraints. A quick stop off at Loch An Eilean yielded a
Goldcrest
for the trip list that didn't exist, but Loch Vaa, which is reported to hold breeding
Slavonian Grebes
turned up nothing better than the by now mundane
Goldeneye
and
Common Sandpiper
.
Relatively speaking, it was a pretty dismal day. On the other hand, it seems daft to declare any day a disaster when you have seen
Osprey
,
Redstart
and
Spotted Flycatcher
!
Bird of the day -
Goldcrest
[Oh dear!]
Day 9 - Loch Garten / Nethy Bridge / Cairngorm
Another early morning vigil at the peanut feeders at Loch Garten failed to produce any
Crested Tits
. News that the
Capercaillie
had showed that morning didn't help to lighten the mood either. A bit of gen took us to Nethy Bridge where a walk through the forest brought us more
Redstarts
,
Spotted Flycatchers
, a
Treecreeper
,
Willow Warbler
,
Yellowhammer
and
Common Buzzard
, but no
Crested Tits
. We had one last punt on the feeders outside a small cafe that smelt like a bacon sandwich, but our luck was not in. It was a pity we didn't need to life tick
Chaffinches
as they're were hundreds of them outside this putrid eatery! We finally had to admit defeat. A pity, as I had thought this was one of the Scottish specialities we were very likely to pick up.
We decided to spend the remainder of the day up Cairngorm. We drove the majority of the way up, then caught the funicular railway to the summit. Here we saw many more
Ptarmigan
and what could only have been a
Ring Ouzel
[lifer 221!] [year tick 198!] flew over, but we did not get good views of it. I was in two minds whether to tick it or not, but there was no doubt as to what it was so I did, though it made me feel a bit grubby. It didn't really feel like a lifer to be honest.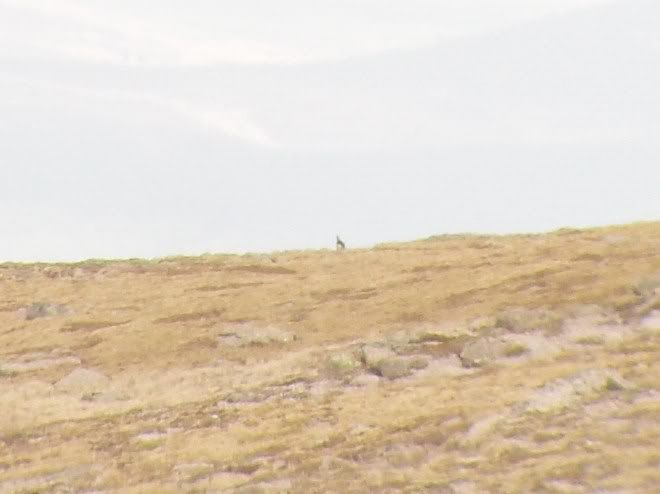 Apparently, several people had had good views of
Ring Ouzel
from the train so were quite vigilant on the way back down, but we didn't see any. We had a short walk to see if we could get better views of this elusive bird, but failed to do so.
Once again, we conceded defeat and set off for Carlisle and our last day of birding. It was at this point that I took up my new hobby - spotting Eddie Stobart trucks. For those that don't know, each cab brandishes a woman's name, like
Rhona Virginia
and
Caitlin Morgan
. The blame for this new dirty habit lies solely at the feet of Dave 'Leapy' Lyons who pointed out this fact on the way back from Devon earlier in the year. As a result, I now have an Eddie list comprising some thirty-something names! I'm sure Leapy has many more.
Day 10 - Solway Firth / Neumann's Flash
The Solway Firth added nothing other than a few trip birds, namely
Great Black-Backed Gull
, presumed female
Bar-Tailed Godwits
and some
Common Tern
. Other than that it was just the standard gulls and
Oystercatchers
in the main, but we noted a few first-summer
Grey Plover
, a few more
Whimbrel
and one or two other things. The hoped for
Pomarine Skuas
did not show.
Many thanks to Kay for keeping us posted regarding the
Black-Winged Stilts
at Neumann's Flash in Cheshire. We decided this was worth a look and it turned out to be one of the most efficient pieces of birding on the trip. We went to the wrong hide initially, but were able to add a
Reed Warbler
to both my Dad's year list and our trip list, which, as I have said many times before, we were not doing!
Once in the right spot, we had no trouble viewing the birds [lifer 222!] [year tick 199!]. I even got some reasonable pictures. Definitely a good way to end the trip.
Bird of the day -
Black-Winged Stilt
It was only whilst sitting in my local curry house that evening, waiting for my Prawn Bhuna, nursing half a pint of Cobra, that it really began to dawn on me all that we had done and seen during the past week or so. A wry smile spread across my face as I sat there in quiet contemplation. Amazing scenery, some monumental birding, good food, good wine and a fair few swigs from the hip flask.
The fact that we dipped on a few things means we have good reason to go back some day too. Oh, and for the record, here's that trip list that we didn't do!
Bar-Tailed Godwit
,
Black Grouse
,
Blackbird
,
Blackcap
,
Black-Headed Gull
,
Black-Tailed Godwit
,
Black-Throated Diver
,
Black-Winged Stilt
,
Blue Tit
,
Brent Goose
,
Buzzard
,
Canada Goose
,
Carrion Crow
,
Chaffinch
,
Chiffchaff
,
Coal Tit
,
Collared Dove
,
Common Gull
,
Common Sandpiper
,
Common Scoter
,
Common Tern
,
Coot
,
Cormorant
,
Cuckoo
,
Curlew
,
Dipper
,
Dunlin
,
Dunnock
,
Eider
,
Gannet
,
Goldcrest
,
Goldeneye
,
Goldfinch
,
Goosander
,
Great Black-Backed Gull
,
Great Crested Grebe
,
Great Spotted Woodpecker
,
Great Tit
,
Greenfinch
,
Grey Heron
,
Grey Partridge
,
Grey Plover
,
Grey Wagtail
,
Greylag Goose
,
Guillemot
,
Hen Harrier
,
Herring Gull
,
Hooded Crow
,
House Martin
,
House Sparrow
,
Jackdaw
,
Jay
,
Kestrel
,
Kittiwake
,
Lapwing
,
Lesser Black-Backed Gull
,
Linnet
,
Little Grebe
,
Long-Tailed Duck
,
Long-Tailed Tit
,
Magpie
,
Mallard
,
Meadow Pipit
,
Mistle Thrush
,
Moorhen
,
Mute Swan
,
Osprey
,
Oystercatcher
,
Peregrine
,
Pheasant
,
Pied Wagtail
,
Ptarmigan
,
Raven
,
Red Grouse
,
Red Kite
,
Red-Breasted Merganser
,
Red-Legged Partridge
,
Redshank
,
Redstart
,
Red-Throated Diver
,
Reed Bunting
,
Reed Warbler
,
Ring Ouzel
,
Ringed Plover
,
Robin
,
Rock Dove
,
Rook
,
Ruddy Duck
,
Sand Martin
,
Sandwich Tern
,
Scottish Crossbill
,
Sedge Warbler
,
Shag
,
Shelduck
,
Siskin
,
Skylark
,
Song Thrush
,
Sparrowhawk
,
Spotted Flycatcher
,
Starling
,
Stock Dove
,
Stonechat
,
Swallow
,
Swift
,
Teal
,
Temminck's Stint
,
Tree Pipit
,
Tree Sparrow
,
Treecreeper
,
Tufted Duck
,
Turnstone
,
Velvet Scoter
,
Wheatear
,
Whimbrel
,
Whitethroat
,
Wigeon
,
Willow Warbler
,
Wood Sandpiper
,
Woodpigeon
,
Wren
,
Yellowhammer