Day 4 - Dinnet Oakwoods / Loch Kinord
We stayed at Kildrummy Castle Hotel for four nights and enjoyed good views of
Red Squirrels
on the lawn most mornings and evenings. The owner has asked me to email him any reasonable photos that I was able to snatch, with a view to adding them to their website. I managed to get a few decent shots, so hopefully some of them will be used.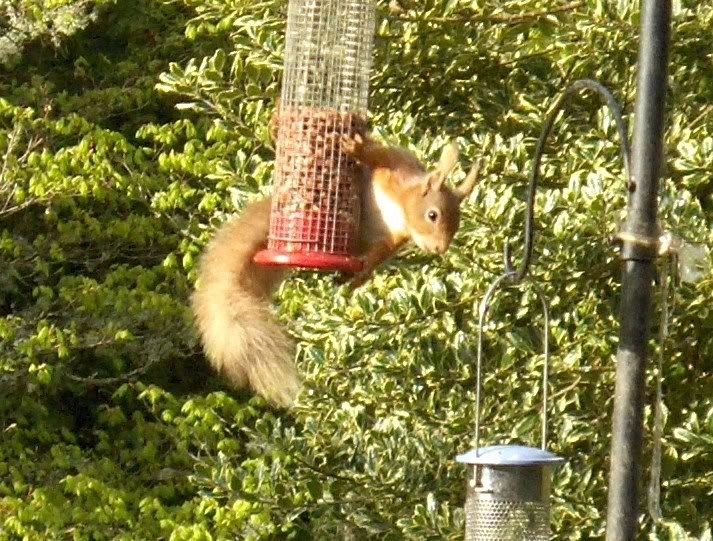 Having unexpectedly ticked
Long-Tailed Duck
on Sunday, we dispensed with the idea of travelling up to the Moray Firth and instead took things relatively leisurely on Tuesday. We travelled over the moors towards Tomintoul and checked out some good
Ring Ouzel
habitat, but to no avail. Despite there being no trip list, we did manage to add
Siskin
,
Dipper
and
Common Sandpiper
to it!
On the non-birding front, I spotted some tadpoles in a puddle at the side of the road. In view of the excellent weather, those little critters had better hurry up and turn into frogs, as I fear that puddle won't be there for much longer! Further up the road and back into the moors, we had better views of
Red Grouse
, another
Wheatear
and some
Mountain Hare
, which were nice to see.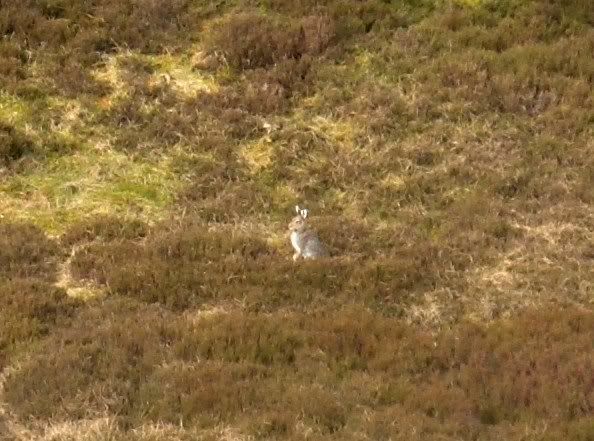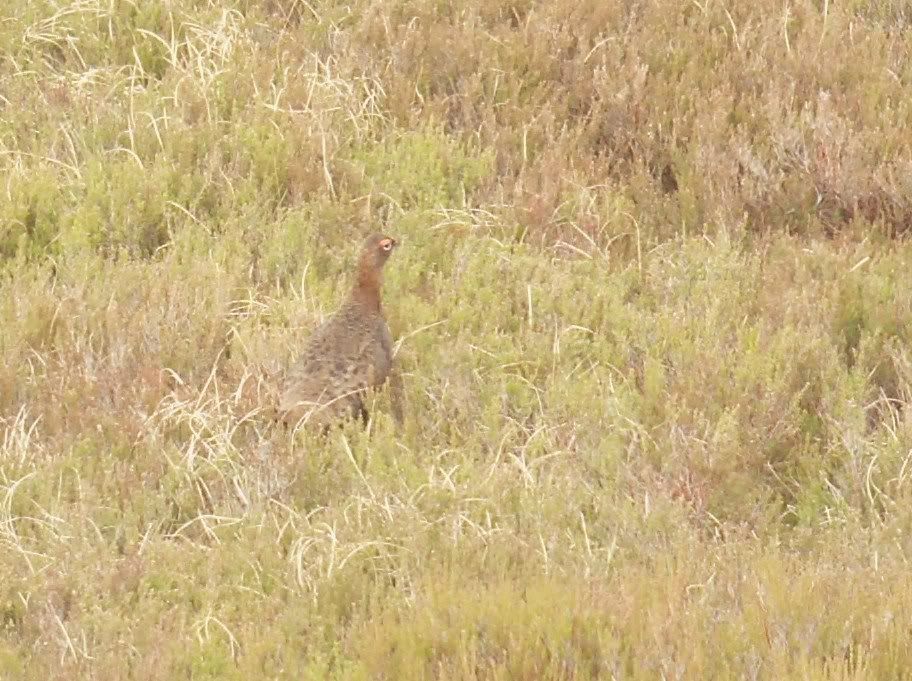 Dinnet Oakwoods are supposed to be excellent for
Spotted Flycatchers
, a potential year tick. We managed a
Redstart
, but nothing else of note. Loch Kinord was also fairly quiet, but we heard
Cuckoo
, saw
Tree Pipits
, which are quite numerous in Scotland as it happens, and
Goldeneye
on the loch itself.
Ironically, the best moment came that evening as my Dad and I enjoyed a drink on the balcony of the hotel. There was quite a bit of bird song and as we were quite high up I was able to scan the tree canopy. Suddenly, up popped the bird that had eluded us earlier in the day - a
Spotted Flycatcher
[year tick 190!]! Birding at its best!
Bird of the day -
Spotted Flycatcher
Day 5 - The Cabrach / Bennachie
We had always intended to set Wednesday aside as a non-birding day. However, despite continuing at a somewhat more leisurely pace, we continued to take advantage of some good habitat not too far from base camp. Our first excursion was around moorland, where we added a
Stonechat
to the non-existent trip list. There was a real champagne moment when a male
Hen Harrier
[year tick 191!] flew in front of us and showed well for several minutes as it quartered over the fields to our right. A hastily grabbed photo didn't turn out too bad either. What an exceptional bird!
Still reeling from this chance encounter, we continued down the road and stopped again near a river. We listened for
Ring Ouzel
, but heard a
Cuckoo
instead, which I picked up in a tree not too far away. After a few minutes it was flushed by some
Chaffinches
that took offence to its being there.
We carried on a bit further, spotted some more ideal habitat and listened again. This time I picked up a
Ring Ouzel
singing to our right. It didn't sound too far away, but we couldn't spot it. We made our way along the river and through a few fields and got closer and closer to the bird, but I think it must have seen us and stopped singing. The next time we heard it, it was on the other side of the river and we had to give up the chase. Frustrating. We did have another
Cuckoo
overhead, however.
One of the locals was intrigued to know what we were looking for. As we chatted to him, he gave us some interesting gen regarding another of our target species. More about that later.
That afternoon we had a pleasant walk around Bennachie. Here we saw
Roe Deer
and a
Tree Pipit
or two. A
Hooded Crow
[year tick 192!] was a pleasant surprise. We initially thought it might be a hybrid, but could see nothing to suggest that it was.
Bird of the day -
Hen Harrier
Day 6 - The Cabrach / Loch Muick / Lochnagar
It was an early start on Thursday. My Dad and I rose at 6:00am and were soon back along the road we had travelled the day before. We were following up the gen that we had received the previous morning, which turned out to be spot on when we picked up a few
Black Grouse
[lifer 218!] [year tick 193!] along the road, then spotted in the region of 20 more enjoying a lek further back in the fields.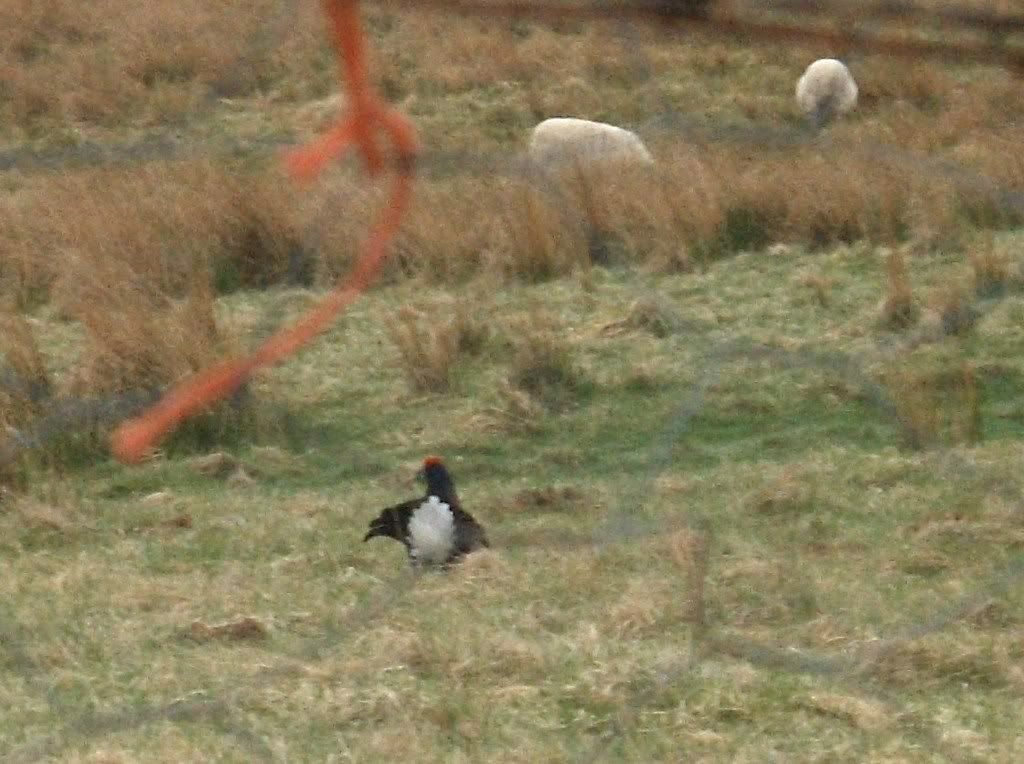 That morning, we headed for Lochnagar. We took the minor roads via Loch Kinord again and as we rounded one corner, I noticed two or three bright red birds drinking from a puddle at the side of the road. I managed to blurt out, "Crossbills!" and we parked up a bit further down the road. Dad got his scope whilst I dashed back to see if they were still around. Fortunately, they were still there in the trees bordering the road. They looked good for
Scottish Crossbill
and their calls were quite different to
Common Crossbill
as far as I could make out.
Dad arrived with the scope and we were able to get pretty good views, despite a speeding white van sending a large part of the flock into hiding. We were confident enough that these were
Scottish Crossbills
[lifer 219!] [year tick 194!]. Having compared the following pictures to those of
Common Crossbills
taken in Devon in February, I am even happier regarding their identification. Other birders who saw the pictures agreed that we had been fortunate enough to locate this Scottish speciality.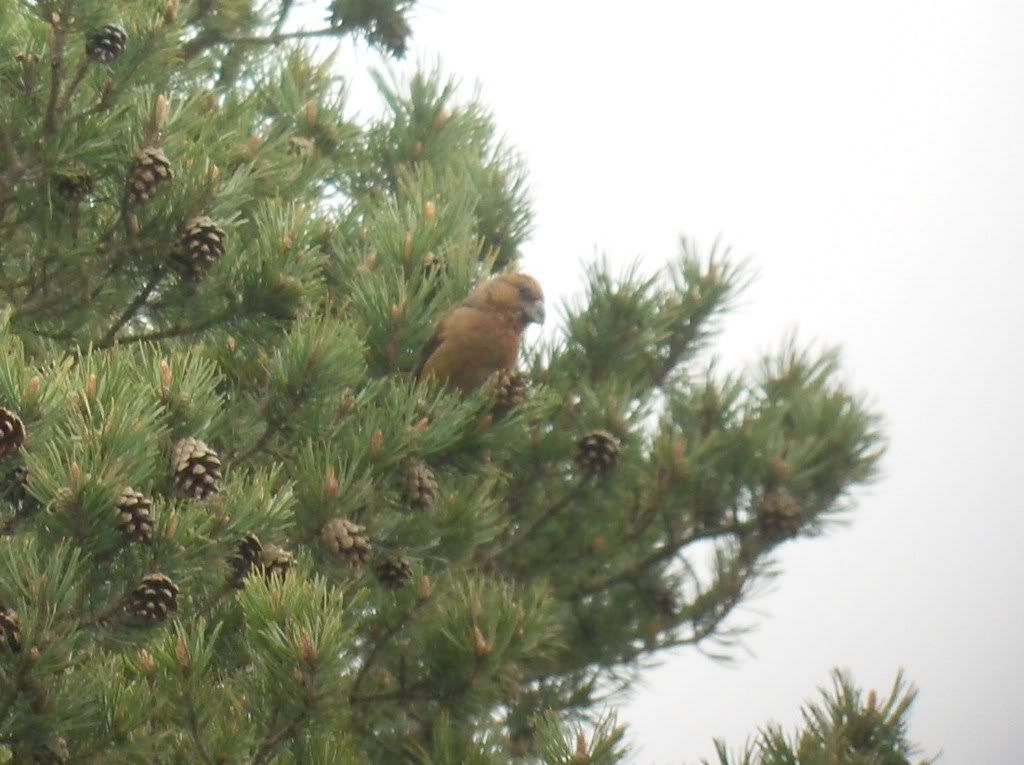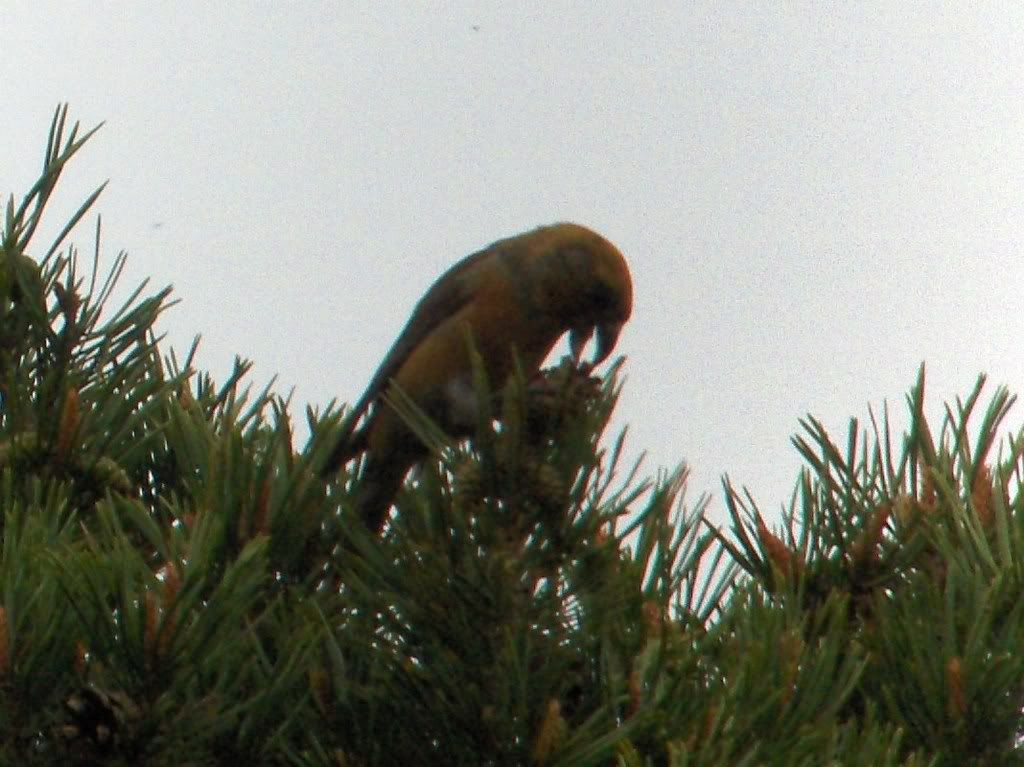 With our spirits buoyed, we continued to Lochnagar. Ironically, we had another
Black Grouse
on the way there, so we could have had a lie-in after all!
Before you begin the ascent to Lochnagar, you walk alongside Loch Muick for a mile or two. This yielded us a summer-plumaged
Red-Throated Diver
and an
Osprey
[year tick 195!] fishing in the loch. The
Osprey
was mobbed by several
Common Gulls
, but still continued to plunge into the water after a fish, before heading off down the valley. The first
Osprey
I have witnessed out in the wilds, away from the nest.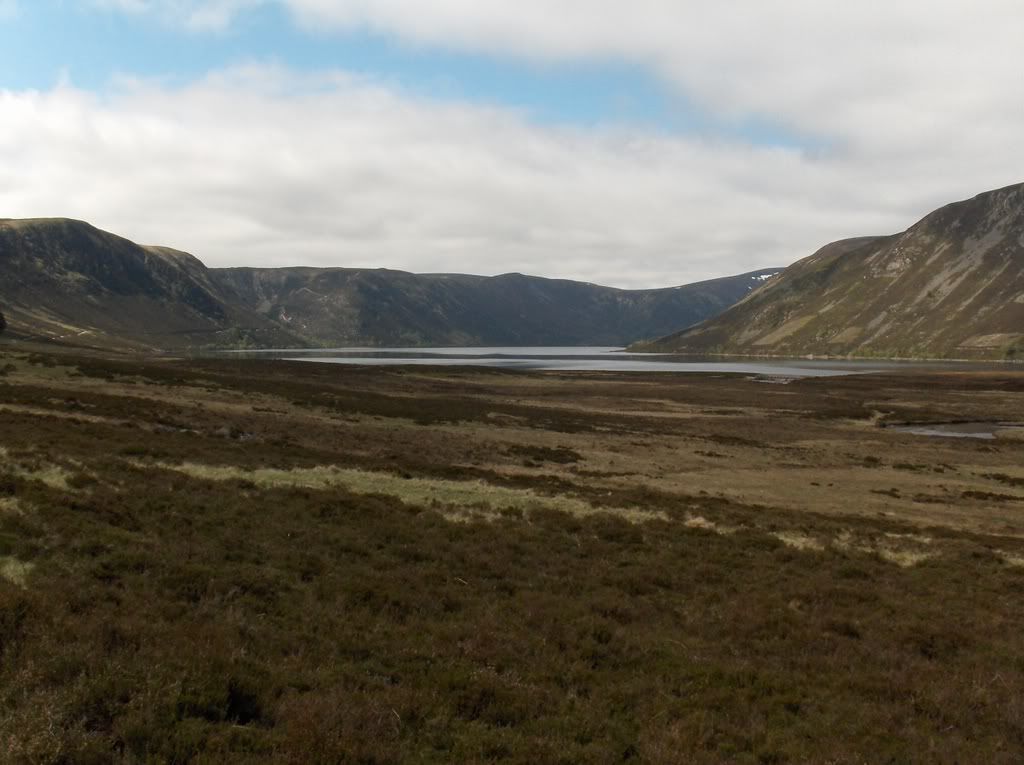 My Dad and I headed up towards the dizzy heights of Lochnagar. This area is supposed to excellent for breeding
Dotterel
, but we were unable to find any. However, we decided it was worth a scan of the ridge and I picked up a pair of
Ptarmigan
[lifer 220!] [year tick 196!] flying right to left, which made the journey more than worthwhile.
On the way back along the loch, the
Osprey
flew over my head, posed momentarily in a tree for me, then disappeared once more as the
Common Gulls
gave it a hard time once again. Two more
Red-Throated Divers
were also seen and I was able to get reasonable shots of them too.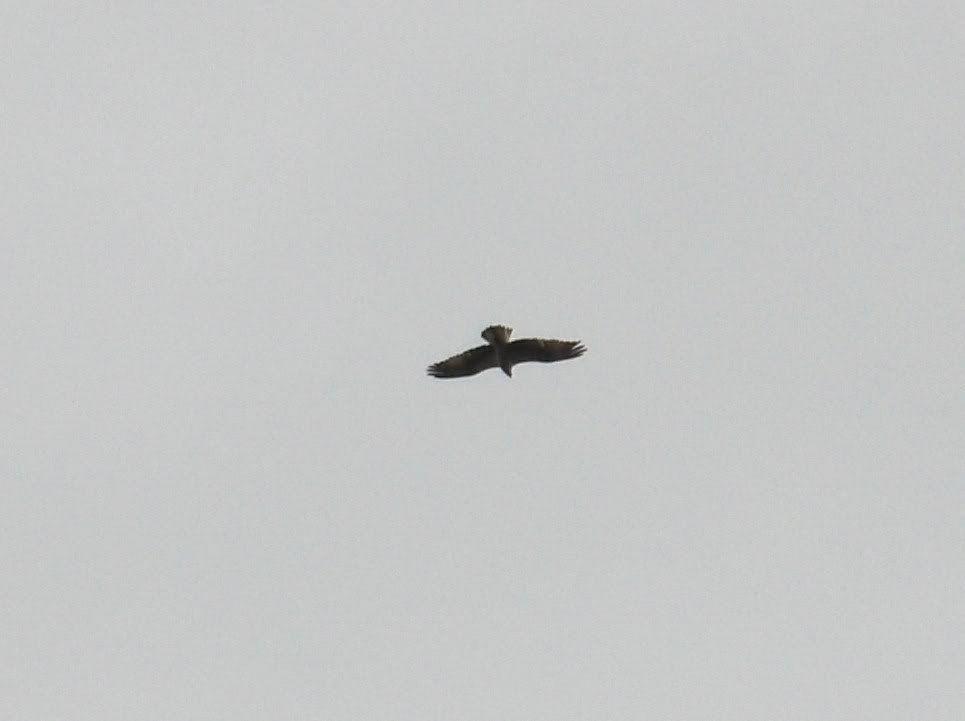 Look out for the final instalment of ...
The Great Big Scotland Trip
, coming soon to a screen near you!