Sunday saw temperatures plummet across the country, but the cold snap failed to put a damper on our big day out in Staffordshire. Present were Kay and Max, Pete Walkden aka Duck Pond, Richard 'The Producer' Powell and Stuart from Alrewas Birder. Undoubtedly, everyone will have their own unique take on events, so here are a few links to my fellow birders' blogs where alternative versions of the day's proceedings will no doubt appear:
Kay and Max -
Brightside Birding
Pete -
Pete's Birding Blog
Richard -
Local Birding For Local People
Stuart -
Alrewas Birder
But for now, here's my blow by blow account of the trip.
We left Stirchley at about 8:40am. I travelled with Kay and Max, and Pete followed behind. An easy run up the M6 saw us arrive at Doxey Marshes well ahead of schedule, despite an unintended detour in the direction of Eccleshall once we left the motorway.
We had a cursory scan of the marshes whilst we waited for Richard and Stuart to arrive. In this time we saw nothing truly out of the ordinary, although
shoveler
and, believe it or not,
mute swan
were somewhat embarrassing additions to my year list. A
water rail
was seen for a few fleeting seconds near the viewing hide, then Kay spotted a few
barnacle geese
amongst the
Canada geese
in front of us. After a bit of debate as to whether these were tickable or not, we voted in favour of them being legitimate.
Richard arrived shortly afterwards, just in time to see a
common snipe
rise out of the marshes and pass over our heads. On the way back to the car we caught up with the
white-fronted geese
that we had hoped to see, although the views we had were anything but crippling. There were no more exceptional sightings, but other birds of note included
fieldfare
,
bullfinch
,
goosander
,
wigeon
and
teal
, plus a further
water rail
, which was heard, but not seen.
Onto Cold Meece, where Richard had seen an
Iceland gull
only the day before. Viewing conditions were tricky to say the least, with the sun directly behind the flotilla of gulls that were present. When the sun did disappear behind a cloud, I checked carefully for any birds lacking black wing tips, but I didn't see any.
Mistle thrush
,
song thrush
,
common buzzard
and
redwing
were noted, but we didn't consider it worth hanging around any longer and made our way to Park Hall Country Park.
Our first targets were the
long-eared owls
that roost in the woodland here. Richard knew exactly which tree to look in, but sadly we couldn't spot anything in it. As Richard pointed out, the owls were probably not too far away, but if they're not in their favourite perch, you could spend hours staring up at the canopy trying to find them. A chap turned up with his border collie and he had a good search too. Yes, it was official - everyone and his dog was looking for them! A very vocal
raven
passed over during our vigil, another addition to the year list.
With time slipping away, we made our way down the into the quarry to look for
little owl
. Unfortunately, the only sighting of note was a rather crude image of a phallus etched into the rock, drawn in the classic schoolboy style. At least that's what I thought it was, until Max pointed out that it was in fact a picture of a lighthouse with some waves crashing around its base. Silly me!
A scan of the fields added a flock of around 30
golden plover
to the day list, but it was time to move on. There had been some debate as to whether it was worth a visit to Swallow Moss in view of the cold wind and occasional snow flurries. In the end, we couldn't resist it. Worryingly, several cars travelling in the opposite direction already had a considerable dusting of snow, but we ploughed on and arrived on the moors at about 3:30pm.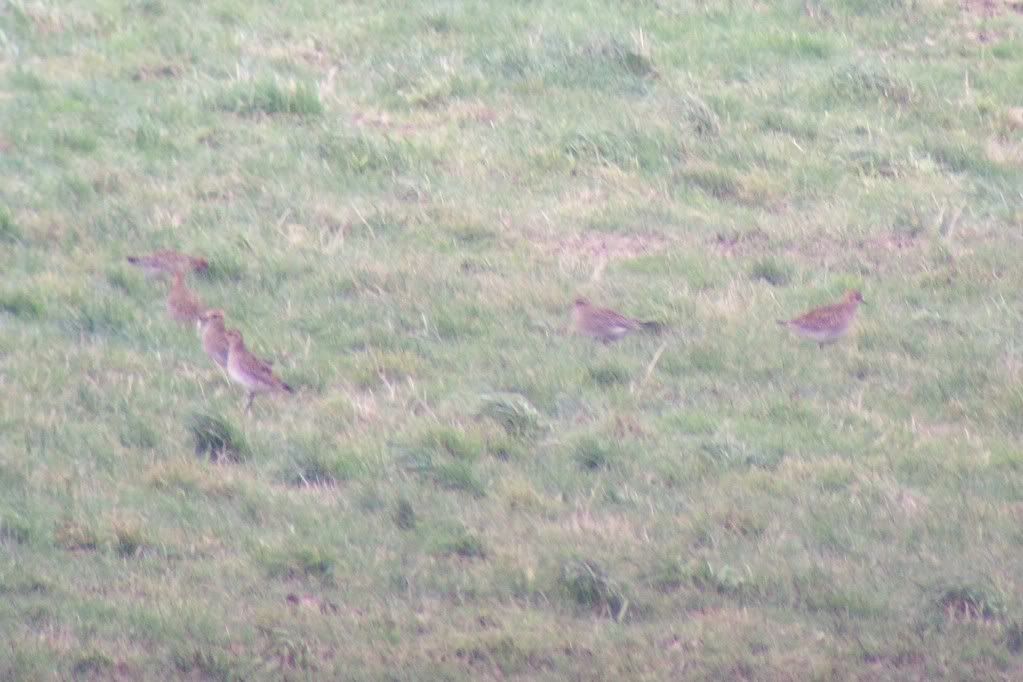 The biting wind forced us to stay in the cars whilst we scanned the moorland for anything and everything that revealed itself. A
common snipe
was first to show, followed by a distant, unidentified bird that only I spotted. Probably a
red grouse
, but not good enough views to warrant a tick. Richard and Max had seen three
red grouse
whilst driving up to Swallow Moss, and I didn't have to wait too long before a
carrion crow
flushed two more grouse from the heather. They took flight and wheeled around in an arc before settling back down in the vegetation.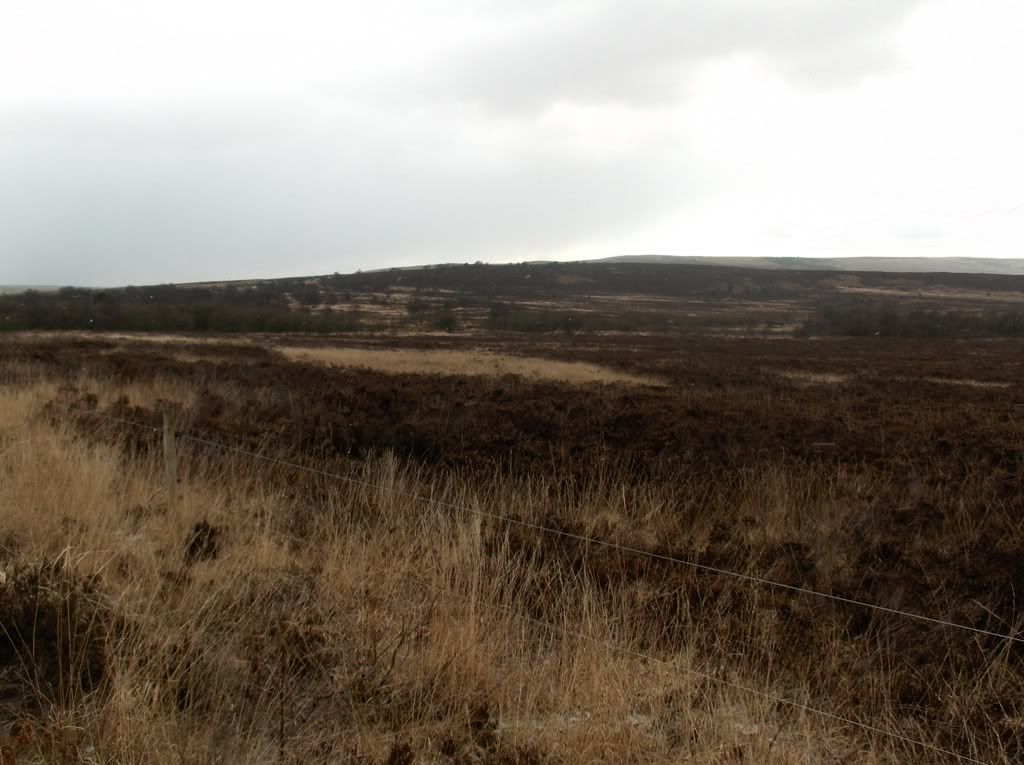 Finally, just before 5:00pm, we heard Richard pip his horn and we knew something good was on offer. Richard pointed frantically behind us and to our left, where a fine male
hen harrier
was coming in to roost. It gave good views before dropping into the heather. A minute or so later it came up again, then disappeared once more never to be seen again.
Stuart and Richard then headed off. We waited for a few more minutes, but didn't see anything else. As we set off, Kay received a text from Stuart - he'd just seen a
merlin
from the car. Although we were losing the light we kept an eye out for anything perched on the fence posts as we drove back towards Leek. Suddenly, I spotted something. A
short-eared owl
was quartering the moors to our left. Kay and I had reasonable views, but Max had struggled to see it properly from the driver's seat. We turned around and got out of the car to have another look, but we couldn't see it. I have to say, the wind at this point was probably the coldest I have ever experienced! Owl or no owl, I was back in the car pretty smartish!
So, despite the freezing cold weather and the occasional blizzard it was all worthwhile. I got my first lifer of 2009 in the shape of the owl and we had some other good birds, despite dipping on a few. It was good to catch up with everyone again, and to meet Stuart for the first time. As discussed, we shall have to return the favour and have a day out in Worcestershire sometime soon.
Perhaps we'll wait until the weather improves a bit though, eh?