On Saturday I headed to Wales for a few days and took the opportunity to catch up with a few species that aren't so easy to see in the Midlands. My first port of call was the moorland between the villages of Llangynog and Bala. As you may know from previous blog entries, this is one of my favourite sites and I was able to add a
Whinchat
[year tick 202!] to my year list on this occasion.
That evening we went to have a look for the
Nightjars
near Penrhyndeudraeth. Although we were able to hear them, they didn't show for us, which was a shame. Whilst we were waiting for the light to drop, we also heard a
Grasshopper Warbler
, but this too proved elusive. I did, however, see my first ever
Slow Worm
, which delighted me no end.
On Sunday we spent the day on Anglesey. At South Stack we were lucky enough to see
Choughs
[year tick 203!] and
Puffins
[year tick 204!] as well as the usual
Guillemots
,
Razorbills
,
Fulmars
and
Kittiwakes
. The
Puffins
weren't terribly easy to find as I understand there are now only about five pairs that nest there. Patient scanning of the water eventually reaped dividends, however. Attempts at a photograph weren't terribly successful, but the best of a bad bunch appears below, along with a few snaps of the
Guillemots
.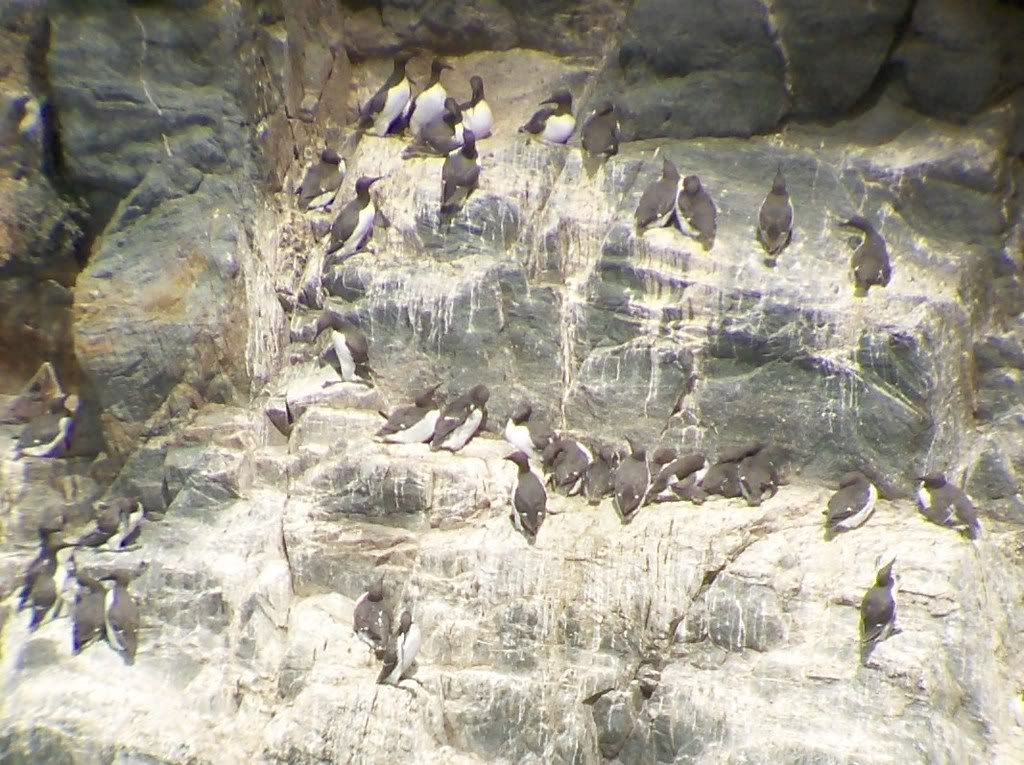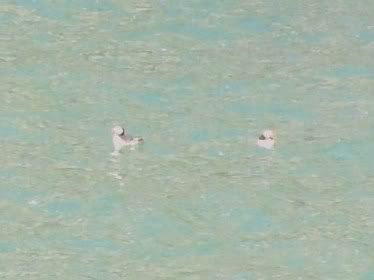 On to Cemlyn Bay, which up until recently was renowned for its tern colony. Unfortunately, many of the birds have been predated in recent years and the number of birds present was significantly low.
Sandwich Terns
and
Common Terns
were pretty easy to see, and I thought I saw at least one
Arctic Tern
, but I wasn't absolutely sure. After an ice cream in Beaumaris we headed to Fedw Fawr to see
Black Guillemots
and managed to pick up a couple on the water [year tick 205!]. Great birds.
Monday's birding comprised of a walk up the lanes in the evening, with a view to seeing
Grasshopper Warblers
in the 'magic field', as I like to call it. A
Spotted Flycatcher
on the way was a bonus. Once at the 'magic field' we were able to hear the birds, but apart from what I think was the briefest glimpse, we failed to see them. I wasn't prepared to add a tick to the year list based upon the quick view that I had had, but it was nice to know that they are still there. I think there were at least three birds singing that evening. On the way back to the bungalow we heard a distant
Tawny Owl
and witnessed reasonable numbers of what I presumed to be
Pipistrelle
and
Noctule
bats.
On Tuesday we put in a bit of time looking for
Pied Flycatchers
near Tan-Y-Bwlch. Unfortunately, the closest we got was the bird pictured below. However, whilst walking around the surrounding woodland we heard a
Wood Warbler
and a female
Blackcap
, plus a few other more common woodland species. On the way back we stopped off at Pont Croesor to see the
Ospreys
. I have to say, I wasn't actually certain I could see them on the nest, but I did see a
Red-Breasted Merganser
and a pair of
Grey Wagtails
on the river, which was nice.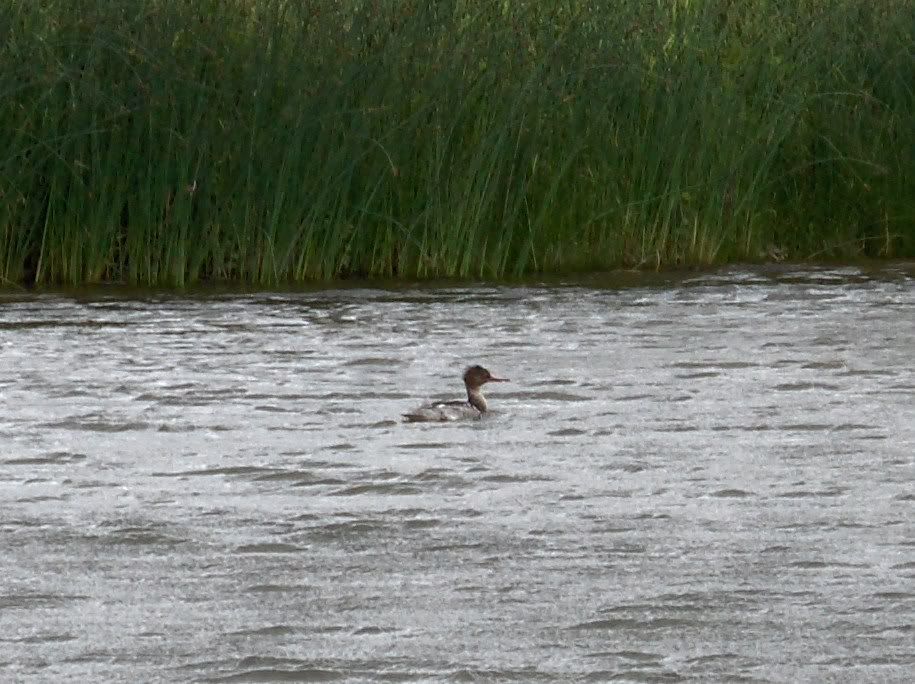 Finally, we paid a visit to Criccieth. There were about a dozen
Gannets
fishing closer to the shore than I have ever seen them before. Having gorged myself on these beauties, I turned my attention to a thorough scan of the water and had good views of many
Manx Shearwater
[year tick 206!] a little further out to sea.
All in all, a few nice spots. I'm heading back there for a week's holiday soon, so I might be lucky enough to catch up with a few of the species that we dipped on then.
Owl Update
Owling in the garden has continued since I got back home. Last night my patience paid off when a
Barn Owl
ghosted over the house and came to rest in my alder tree. It was a magical moment and it inspired me to sit up until well after midnight hoping for another sighting, or maybe even a glimpse of a
Tawny Owl
, but I didn't strike lucky.
Worcestershire Source
My absence coincided with a flurry of reports to the
Worcestershire Source
blog, which you can read
here
. A big thank you to Kay for looking after the site so capably whilst I was away. Things appear to be gaining momentum and so long as everyone continues to provide us with news, we will keep reporting it. Thank you to everybody who has contributed sightings so far.