That is the question. Whether 'tis nobler in the mind to suffer the
Lapwings
and
Sparrows
of outrageous fortune, or to stand in the freezing cold on a Saturday afternoon at Stubber's Green trying to sort out a
Caspian Gull
, with only a flask of coffee and a scotch egg to keep you going.
If Shakespeare had been a birder, perhaps this is how Hamlet's soliloquy would have turned out?
Anyway, as promised, I made the return journey to Stubber's Green this weekend with my father, and Kay and Max to see if we could strike gull gold and locate the
Caspian Gull
that had eluded us at the beginning of November.
For Kay's take on events, please pay a visit to her
blog
.
Despite the rain and the freezing cold, we managed to stick it out from about 10:45am until about 1:15pm, but failed to spot anything other than the normal
Black-Headed Gulls
,
Common Gulls
,
Herring Gulls
,
Lesser Black-Backed Gulls
and
Great Black-Backed Gulls
. Although
Common Gulls
are not always easy to spot in the Midlands, these are essentially your classic five gulls that you expect to see without having to put too much effort in.
Other birds present were
Lapwing
,
Pied Wagtail
,
Little Grebe
,
Canada Goose
,
Mallard
,
Tufted Duck
and
Starling
. Again, all par for the course. A
Red-Breasted Merganser
was around early on, but had flown by the time Kay and Max joined us. Also, four
Goosander
flew overhead during the morning.
That was about as good as it got, until just as we were turning our thoughts to leaving, Kay spotted a dark-eyed, clean-headed gull on the water's edge. On closer inspection we agreed that it showed enough features of a
Caspian Gull
to be worth photographing and I reeled off a few record shots before the bird took off and headed north, possibly to nearby Chasewater.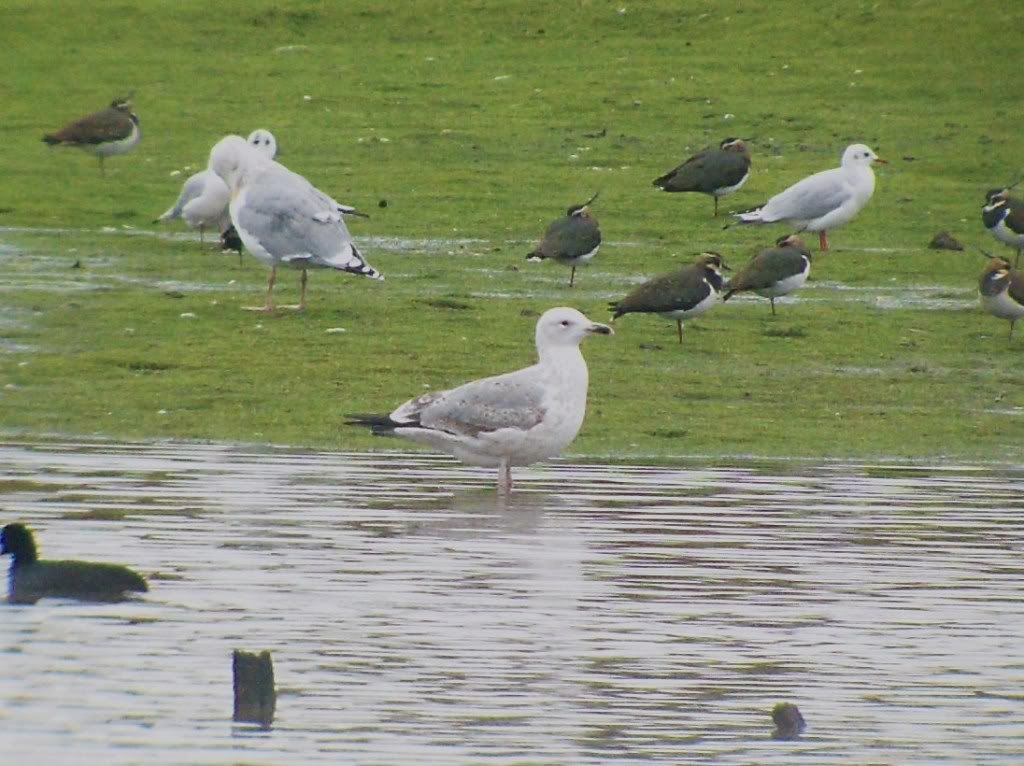 We were optimistic that we might have found our target bird, although we felt this was a second-winter individual and we were aware that the
Caspian Gulls
seen at Stubber's Green recently were older birds. For those that are interested, there has been some lively debate around the bird's identification
here
.
The general consensus seems to suggest that it is not a
Caspian Gull
, but a
Herring Gull
. Definitely worth a shout, however, and credit to Kay for spotting the bird.
After Stubber's Green, Kay and Max were off to look for
Waxwings
in Codsall, but with feet like blocks of ice, I decided to head home instead.
And so my birding for 2008 is at an end. I had planned to include my review of the year in this blog entry, but I think I will hold that back now for a couple of weeks.
Therefore, can I take this opportunity to wish everyone a very merry Christmas. Have a good one, and don't eat too many mince pies!