Regular readers of this blog will know that I have a couple of special birding places that are particularly dear to my heart. Confusingly, I refer to both as the magic field, and each has delivered its share of decent birds over the years. In conjuring terms, however, the one close to home is a little bit Paul Daniels when compared to the Siegfried and Roy of the one in North Wales.
Last Friday we headed up to North Wales for a short break. We stayed in the sleepy village of Llangybi, where Mum and Dad have a bungalow. The main goal was to help them with some work in the garden, but it would be foolish not to take advantage of the excellent birding opportunities whilst up there.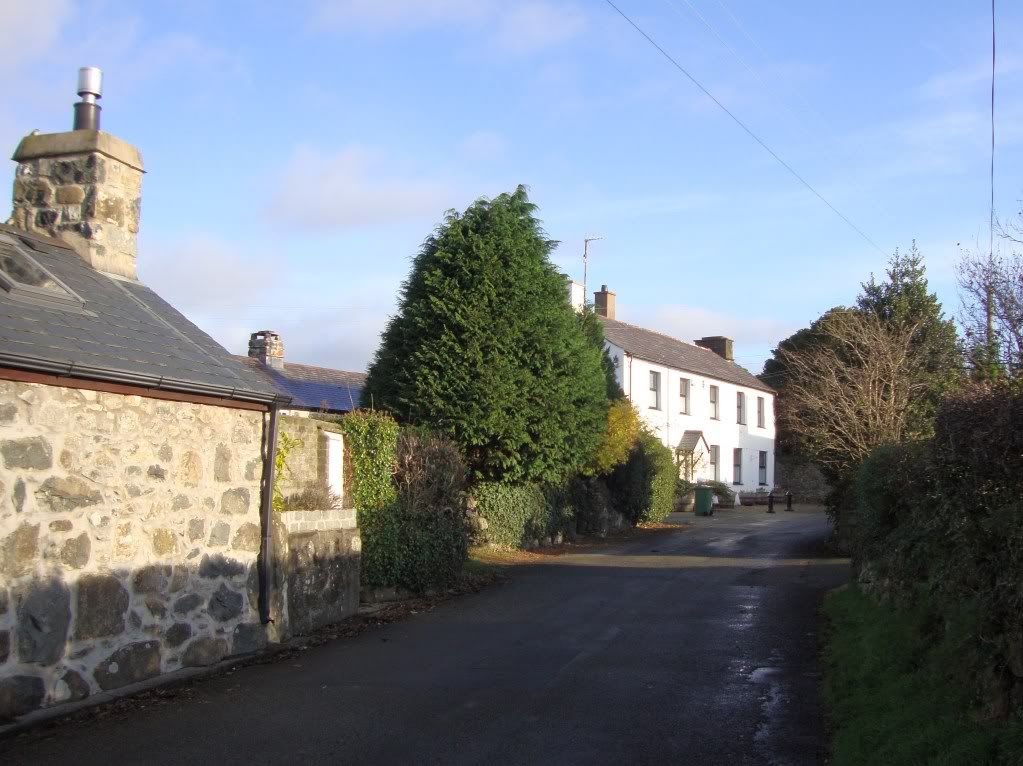 Llangybi
The bungalow
Snowdon as seen from the bungalow
On Saturday afternoon we managed to get down to Criccieth, where we undertook a spot of seawatching.
Common scoter
,
shag
, and a
guillemot
were the pick of the birds.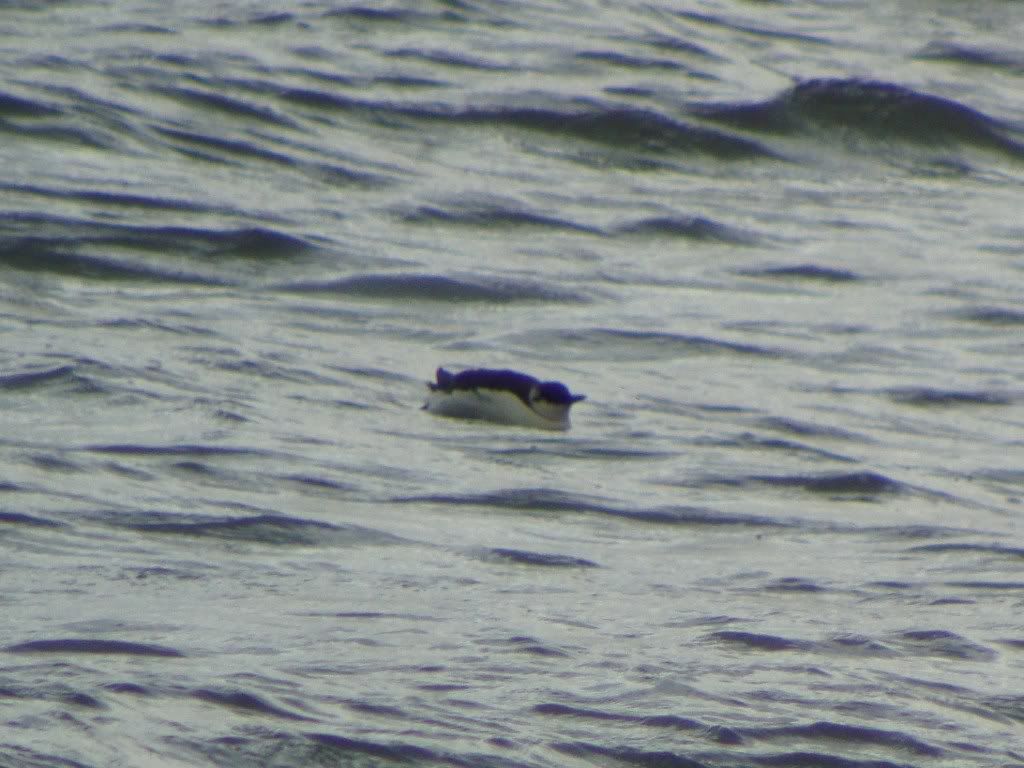 Guillemot at Criccieth
Also of interest was this splendid double rainbow.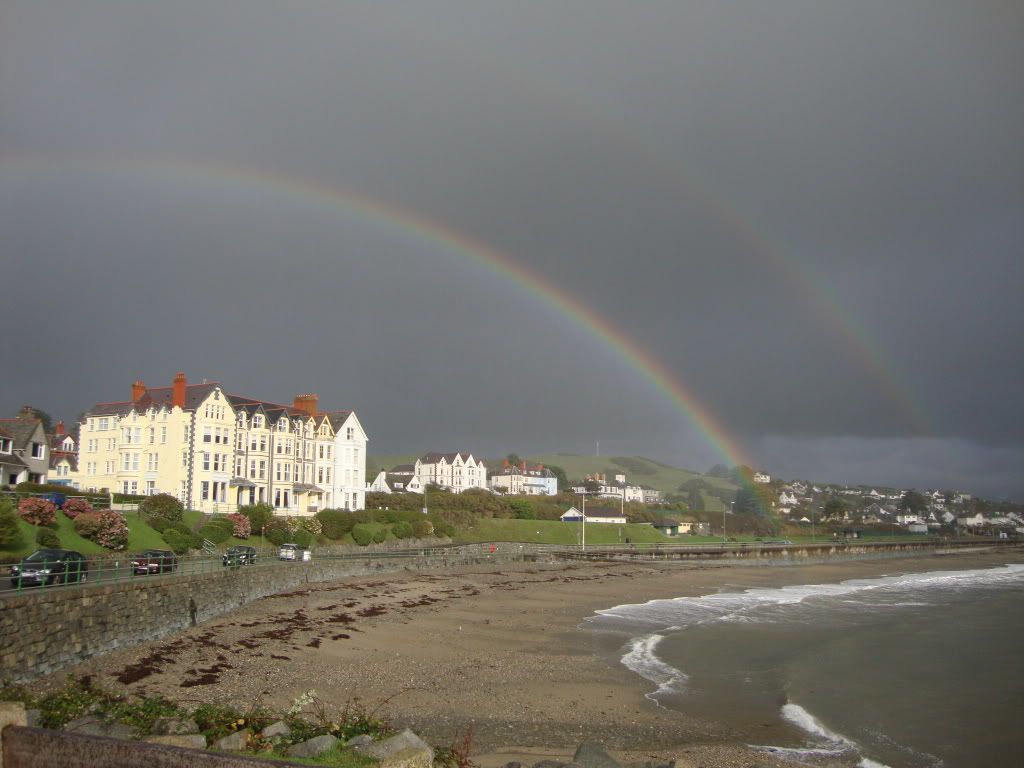 Twice as nice!
Sunday morning saw me make my first venture to the magic field.
Things were quiet on the way up, with just a few
redwing
and
fieldfare
to liven the spirits, and a dead sheep in one of the fields. Just before I reached the magic field I spotted a single goose flying right to left. I took in as many features as I could, though the light wasn't brilliant. There seemed to be an argument for it being a
pink-footed goose
, but also sufficient evidence to say that it could have been a
greylag
instead. One thing was for sure -
pink-footed goose
is already one of the stringiest birds on my life list, and I wasn't about to try to string another. I hate stringing, me.
Once the goose had disappeared from view, I continued to the magic field. It was uncharacteristically quiet, but I planned to stick around for a bit anyway. This plan was abandoned, however, when a
red kite
suddenly emerged away to my right. Wow! This is the first one I've ever seen in this area. Another tick for the magic field.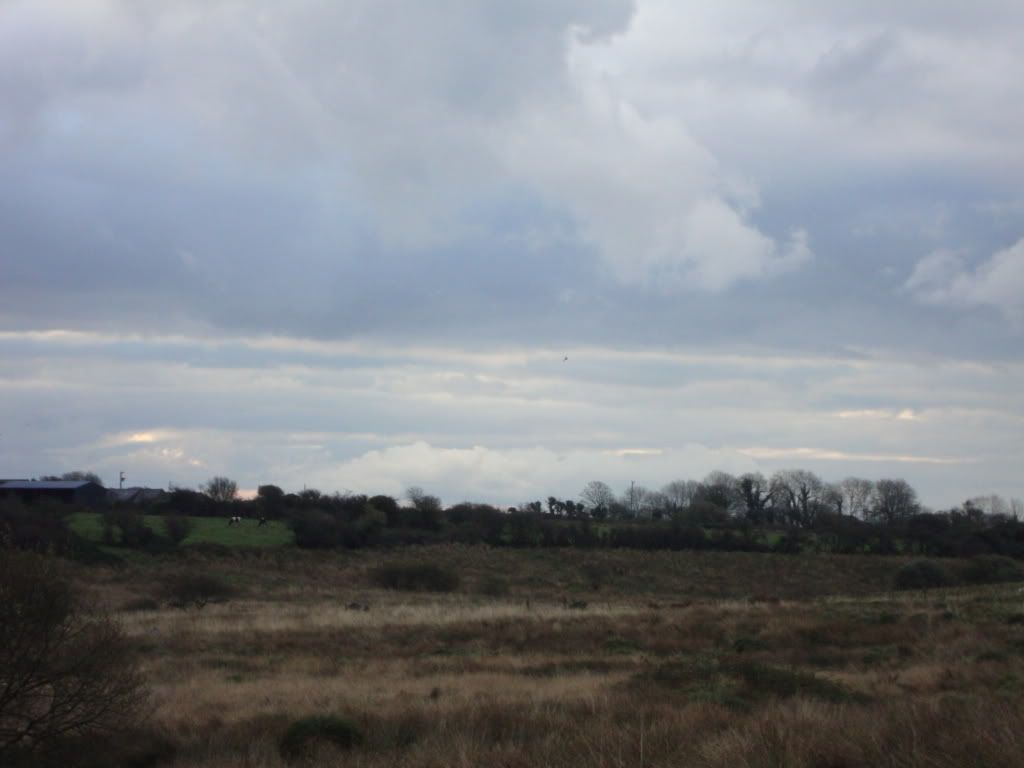 A distant red kite near the magic field
The kite drifted right, roughly in the direction of the dead sheep I had seen earlier. I reasoned that there was a good chance it might come down near the carcass, so I made my way back down the lane. Sadly, I had no further sightings of the kite, but a
raven
floating over the small conifer plantation nearby was a consolation.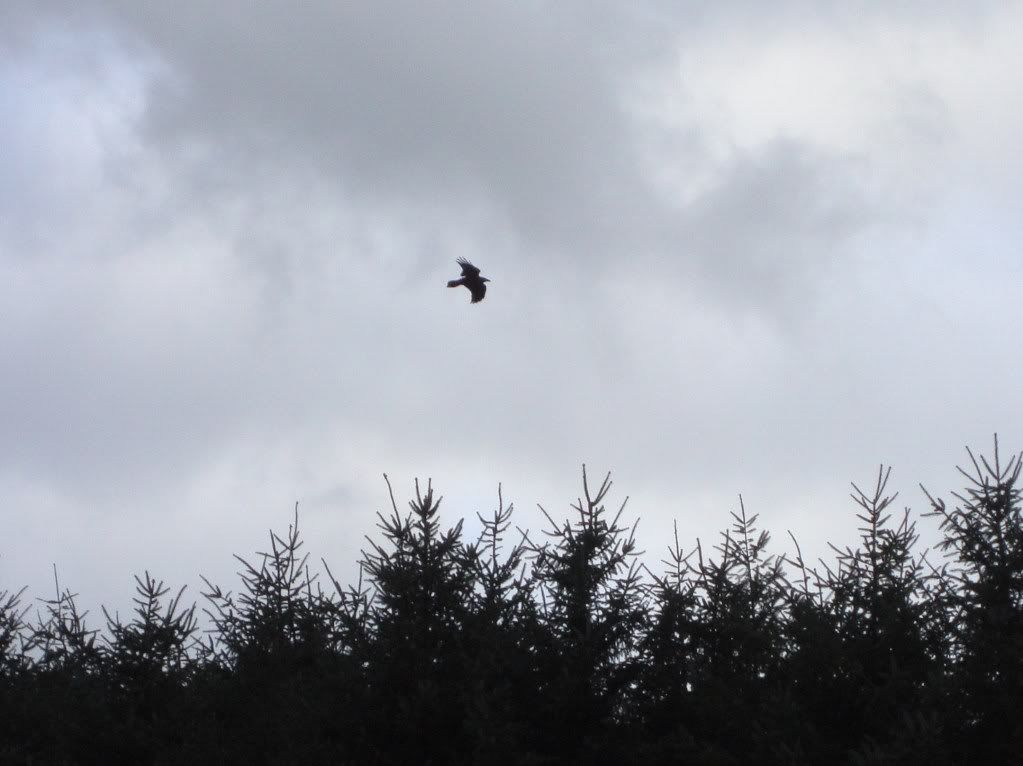 Raven
After working in the garden, we all took a stroll back to the magic field. A
raven
was seen again, along with a
stonechat
, but nothing better.
Other forays during our stay took us to Porthmadog and Foryd Bay, plus a visit to a local spot for
woodcock
. Sightings of note included
whooper swan
,
curlew
,
redshank
,
dunlin
,
brent goose
,
rock pipit
,
black-tailed godwit
,
wigeon
,
teal
and
little egret
. Another seawatching session at Criccieth produced a
turnstone
and a
red-throated diver
.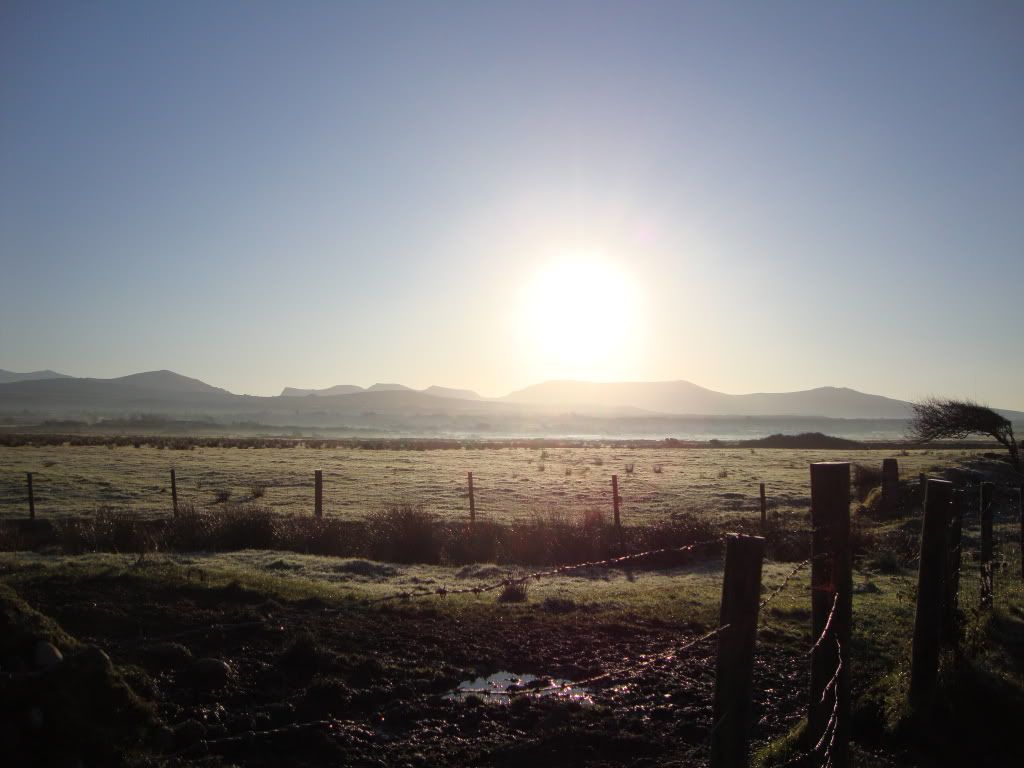 Foryd Bay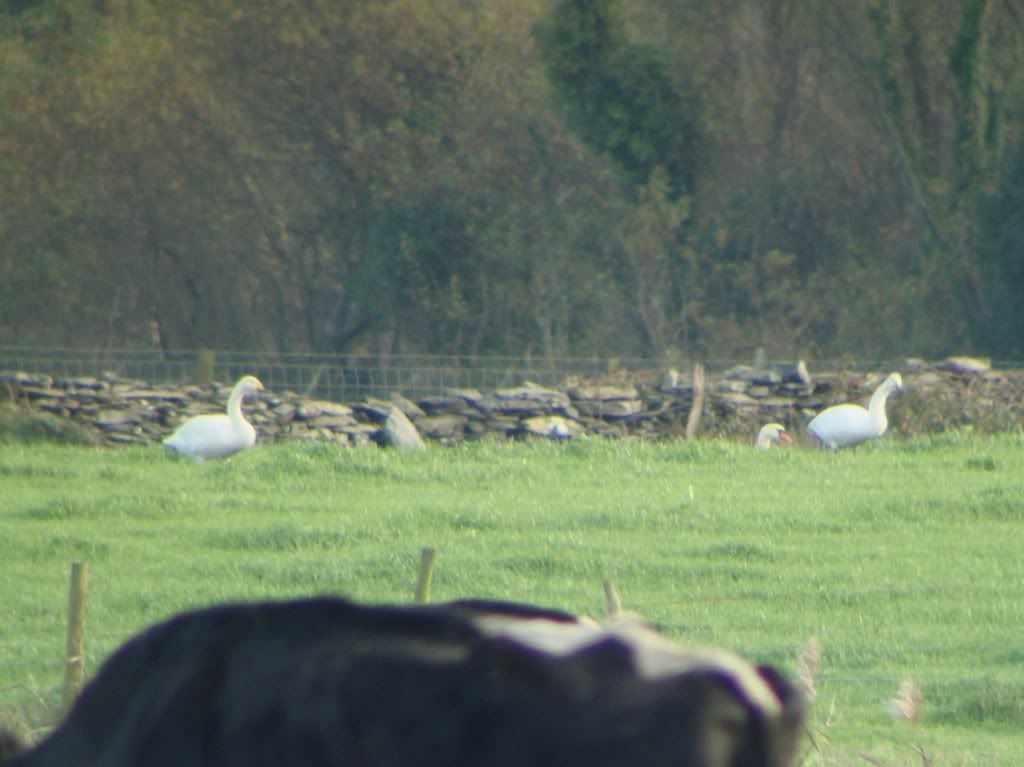 Whooper swans
On the way home on Wednesday afternoon I spotted another
red kite
near Bala. Great to see these beautiful raptors beginning to expand their range.