For those of you who found last month's Kerouac-inspired blog entry a tad bizarre, you'll be pleased to here that my promise to base August's missive on Dylan Thomas' Under Milkwood was just a joke. So rest assured - there'll be no mention of the fishingboatbobbing sea, Captain Cat, nor any references to neddying among the snuggeries of babies, whatever the hell that means!
Dylan Thomas - berserker
Having said that, I have been down to Grafton Wood this month. Grafton Wood ... Milkwood - I'm sure there must be some puns to be had somewhere in there. Glancing through the first few paragraphs of the Welsh scribe's prose, I also see mention of
Curlew
,
Skylark
and
Cormorant
, and I distinctly recall a line that goes,
"... sung like a linnet"
.
A missed opportunity maybe? Oh well, another time perhaps ...
So, back to Grafton Wood then. No Telescope points for guessing that I went there in search of
Brown Hairstreaks
, this being one of
the
places in the country, let alone the Midlands, to see them.
The number of butterflies in the wood was truly amazing. More
Common Blues
than you could shake a stick at, plus all the other usual species you'd expect -
Gatekeepers
,
Green-veined Whites
, that sort of thing. Then I picked out my first ever
Brown Argus
, which I always thought I'd struggle to ID correctly, but which in the field is actually quite easy once you know what to look for.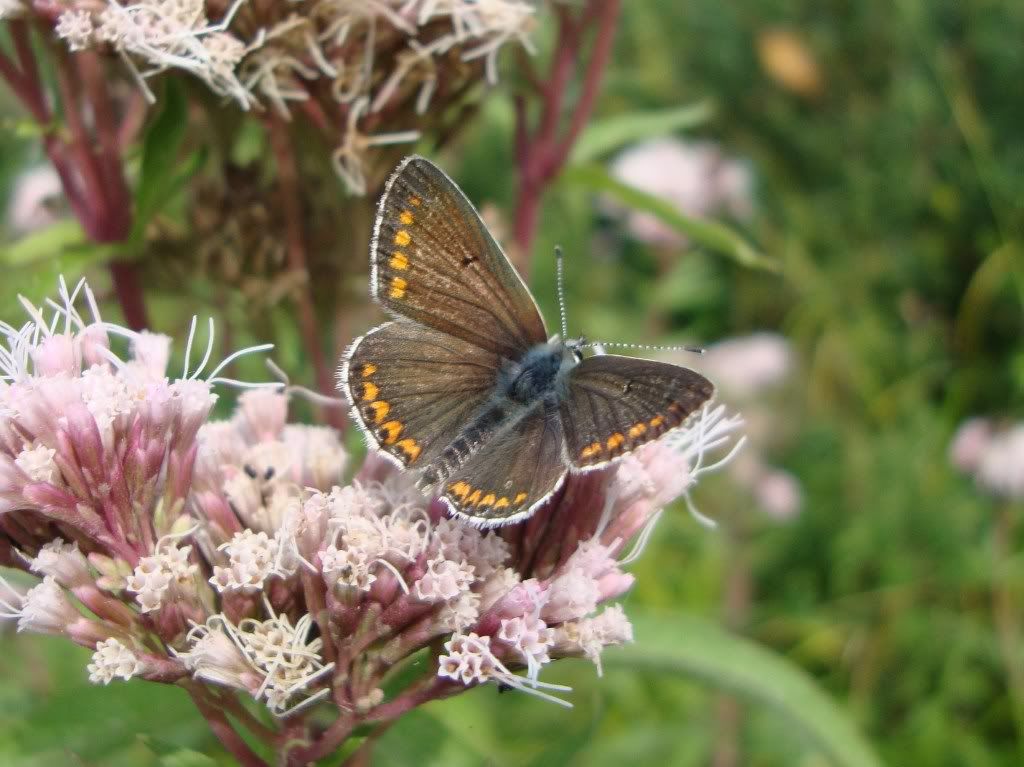 Brown Argus
They're a bit smaller than
Common Blues
[though female
Common Blues
are pretty titchy themselves] and they have a distinctly different kind of flight. I could try and describe it, but I'd end up using words like
flitty
, so I won't bother.
I also think they look a shade paler on the underwing in flight. Once you get a proper look at the wing markings, there should be no doubt - the
Brown Argus
, as its name suggests, is brown, lacking the blue colouration on the upperwing that a female
Common Blue
has.
Female
Common Blues
also have some white mixed in with the orange marks on the edge of the hindwing. The following photo shows this well.
Female Common Blue
I haven't got any great shots of the underwing, but if you get a good look at this you'll see that the
Common Blue
has an obvious extra spot on the underside of the forewing. There are other subtle differences, but the ones I've mentioned are those that helped me sort them out.
Shortly afterwards I discovered my first ever
Purple Hairstreak
, which had come down from the oak trees and was loafing around on some beech. Out of camera shot unfortunately, but it afforded half-decent views for a minute or so, before disappearing back up towards the canopy.
I continued on, noting more and more species, like
Brimstone
and
Peacock
. It might be easier to list those that I didn't see. Also, there were several
Southern Hawker
dragonflies and a few
Common Darters
, plus some day-flying
Silver Y
moths. I was in my element.
However, still no sign of any
Brown Hairstreaks
...
I bumped into another butter-nutter, who said he had had no joy with the hairstreaks either, but he had seen a
White Admiral
and a
Dark Green Fritillary
[
... the butterfly we never found
], so I went off in search of those [two more potential lifers, I might add!].
I found the
White Admiral
without too much trouble, but the
Dark Green Fritillary
eluded me once more. I did, however, find this extremely tatty
Silver-washed Fritillary
, apparently of the form
valesina
, as it had no orange colour to it at all. It still flew quite well despite missing large portions of its wings, but certainly wasn't as flighty as those that I've seen in their pomp in the Wyre Forest.
Silver-washed Fritillary [presumed valesina form]
White Admiral
I left without having seen any
Brown Hairstreaks
, but I was content with the three lifers. I will be back again next year for another go. There is an organised walk in a couple of weeks' time, but I'd rather find them myself to be honest. Whilst having one last search for the elusive insects, I did spy a
Migrant Hawker
dragonfly though. A nice bonus.
I had intended to do a bit of twitching the following day, but there was little on offer in the way of birds, so I hatched a plan to go out butterflying again. This time I went down to Aston Rowant, which is a stronghold for the
Silver-spotted Skipper
. The
Chalkhill Blue
also frequents this site, and there was always the possibility of a late
Essex Skipper
, so hopes were high.
Silver-spotted Skipper
and
Chalkhill Blue
were relatively easy to spot once the sun came out, and one of each species was even kind enough to pose for some photos. Also on site, more
Common Blues
,
Brown Argus
,
Small Copper
and a
Brimstone
or two, but no sign of any
Essex Skipper
. Plenty of
Red Kites
in the area too - a bird that I always enjoy seeing.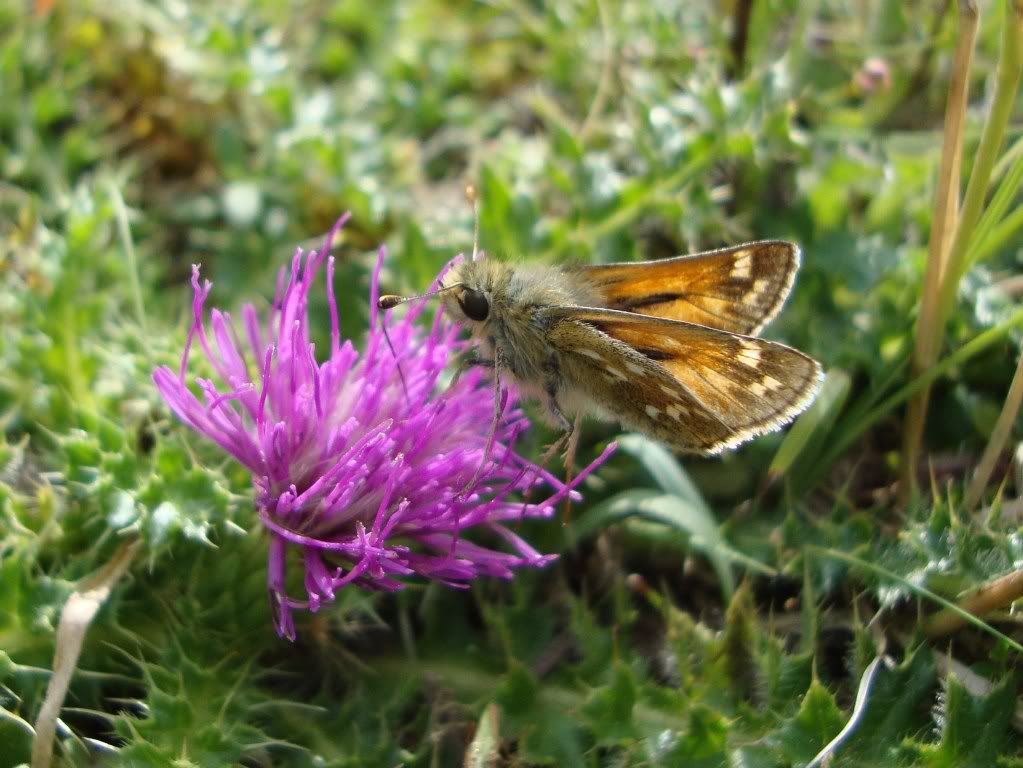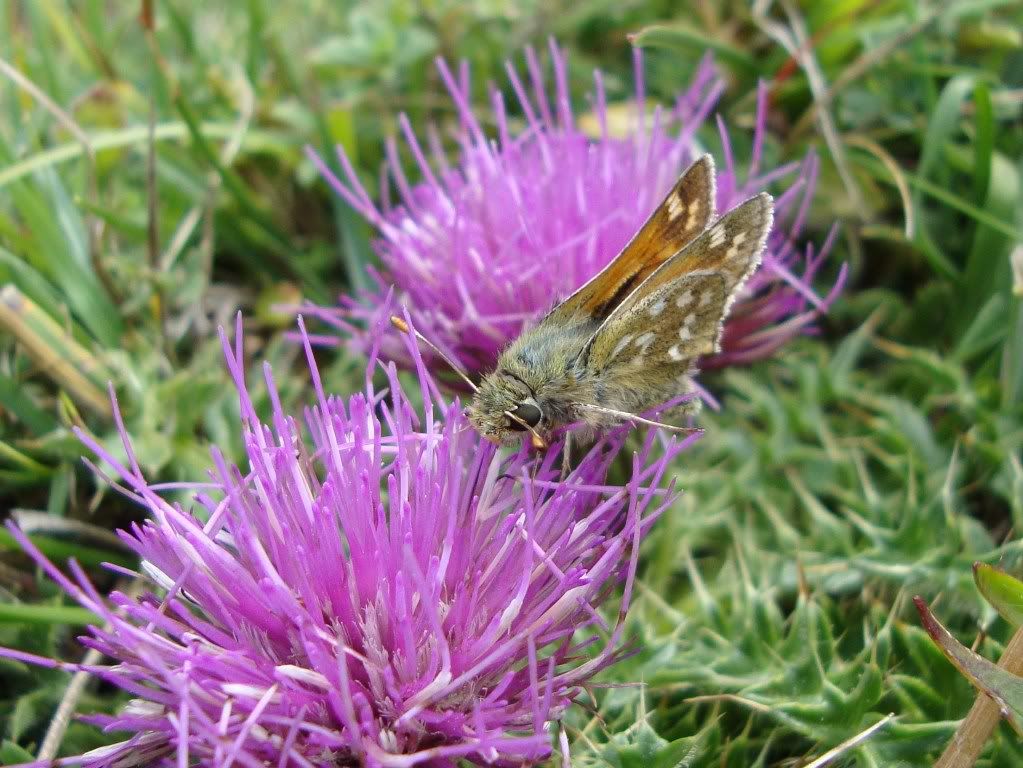 Silver-spotted Skipper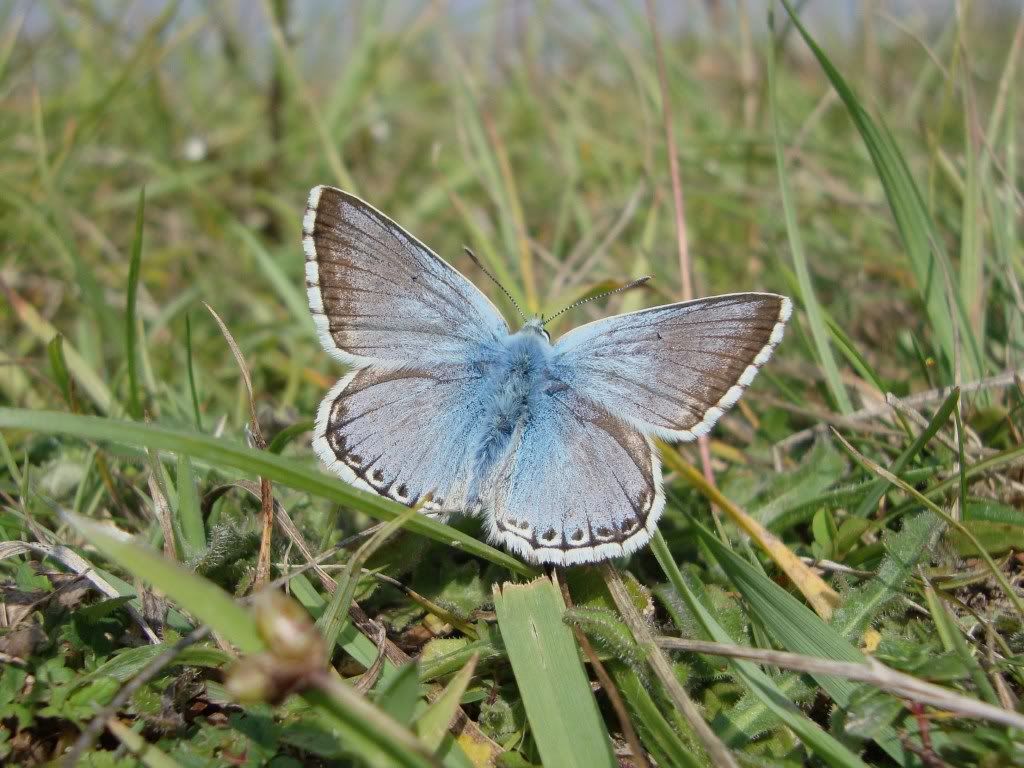 Chalkhill Blue
Ironically, what I think may have been a
Dark Green Fritillary
flew through the car park as I was munching on a piece of pork pie. It had gone before I could get the bins up to get a closer look.
It seems that this species is turning out to be my bogey - albeit one that I intend to pick next year in Devon.
Until then, it remains ...
the butterfly we never found.
Snake, Rattle & Roll
I had hoped to include a short video that I took at work of a
grass snake
. I've seen two or three over the past few years, but this is the first that I've managed to catch on camera. Sadly, I can't seem to get the file into a workable format, but if you meet me out in the field, I'll be happy to show you the footage!
The grounds at work have been delivering the goods on a regular basis recently -
Banded Demoiselle
,
Azure
,
Common Blue
,
Blue-tailed
and
Large Red Damselflies
have all been present this summer, along with
Southern
and
Brown Hawker
dragonflies and a
Common Darter
or two. The better butterflies have included
Common Blue
,
Marbled White
and
Small Skipper
.
Speaking of damselflies, I must take a minute to mention Graham Sherwin. Graham has produced an excellent DVD, available from his website:
http://www.gswildlife.co.uk/index.html
The DVD was reviewed in a recent edition of Birdwatching magazine and I became the proud owner of a copy this month. If you are into dragons and damsels, then this really is a treat - excellent footage and loads of tips to help ID the various species in the field. Heartily recommended.
The dragonfly equivalent should be out next year and already looks like being another essential purchase.
News From The Trap
The mothing has continued this month, although the weather has meant the trap has been out a bit less than usual. Still, I have bagged a few more lifers -
Copper Underwing
,
Svensson's Copper Underwing
,
Broad-bordered Yellow Underwing
,
Chocolate-tip
and
Sallow Kitten
.
I'm not really sure how long the moth season lasts for, but I will keep putting out the trap until numbers tail off. I have manufactured a rain guard now, so I am more inclined to do a bit of mothing even if there is a threat of rain.
Next month I hope to have more bird news. There should be some goodies moving through the Midlands in the next few weeks and I am keen to bag a few more lifers if they present themselves.