If someone had mentioned the word skua to me a few years ago, I would probably have thought they were talking about a sheek kebab or something. It is only since I began birding seriously that I became aware of these elusive seabirds, and in that relatively short space of time I have never been fortunate enough to run into one - until now!
The story began a week last Sunday. Having arrived in North Wales for my annual vacation with Mrs Reg, we headed to our favourite spot on Criccieth beach - an enormous stone that we like to call our rock. This rock is like an old friend to me and Mrs Reg and I have enjoyed birdwatching from it, sleeping on it, throwing stones at it and doing the Telegraph crossword whilst sat upon it for a few years now. It provides splendid views over Cardigan Bay and down the years has yielded many
Gannets
,
Manx Shearwaters
,
Ringed Plovers
,
Turnstones
and, a couple of years ago, even a few
Purple Sandpipers
turned up here.
Anyway, there I was sat on our rock, scanning the sea with my binnies. All of a sudden I spotted something out at sea heading towards Black Rock beach. "I think I've got a skua here!" I exclaimed to Mrs Reg, then continued to watch as the bird was jostled by a few gulls, before landing at the very end of Criccieth beach. I watched it for a bit, but I couldn't positively identify it without the scope from that distance. Sadly, the scope was back at base camp so I had to admit defeat. I contented myself with excellent views of
Gannets
, which were closer to shore than I have ever seen them before. Blimey, I even managed to get a half-decent pic - something I have never managed before.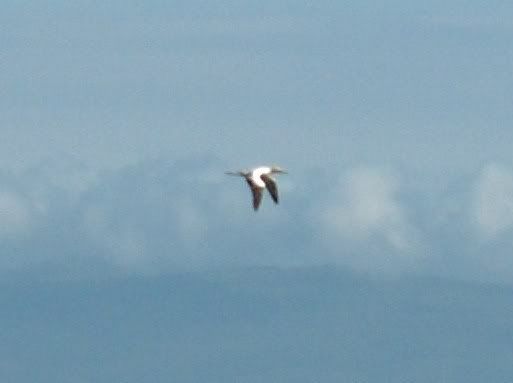 I expected that would be the last I saw of that skua and imagined I would have to peruse the excellent
North Wales Birding Forum
on my return to see if anyone else had latched onto the bird. However, Wednesday saw us back on our rock and this time I was armed and ready with the scope. I began a search of the sea and was very nearly bowled over when what appeared to be the same skua flew into my field of view. History repeating, as Shirley Bassey sang. Actually, I've just checked the lyrics of that song and there's no mention of skuas in there, but you get my drift.
I spent a bit of time looking at the bird perched on the shingle, but it was distant. Even with the aid of the scope I struggled to pick up all the features. I got a few record shots, but as you can see they weren't much help either. When I got back to the bungalow I spent an age going through the Collin's bible, but ended up more confused than a hungry baby in a topless bar!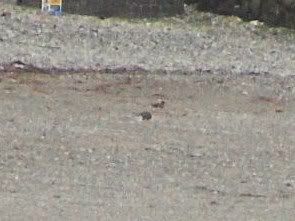 Later that afternoon, Mrs Reg and I dined in Nefyn [that's where Duffy comes from, you know!] then, as it was a pleasant evening, we headed back to Criccieth beach. Once again I had the scope and, almost unbelievably, the skua was sat in the same place again. We decided to head towards the bird in order to try and get better views. After what felt like an eternity ploughing through the shingle, we finally got as close as 30 feet away. Sod's law dictated that I didn't have my camera with me - we had only intended to grab something to eat and head back to the bungalow to put our feet up before Big Brother!
Finally, we spooked the bird sufficiently to cause it to fly out into the sea. Now I had seen it so well, both on the ground and in the air, as well as bobbing about on the ocean, I had no doubt that it was a
Great Skua
[lifer 224!] [year tick 207!]. The bird didn't appeared to be injured, but it certainly seemed a bit subdued. The only slightly odd thing about it was the way it moved its legs in flight - as though it was trying to get something off them. In fact it was this action that first drew my attention to it. The reason it appeared to have taken a liking to this part of the beach was what looked like a dead
Porpoise
, which had been washed up on the shore. Nice.
Aside from that incredible adventure, the rest of the birding in Wales was fairly quiet. I had a go for the
Grasshopper Warblers
in the magic field, but was unsuccessful. I didn't even get to hear them sing. On Friday we headed up to Gronant Beach to see the breeding
Little Terns
[year tick 208!], which was very pleasant, and we also had a walk up Aber Coed, which turned up three
Redstarts
, a
Peregrine
and a few
Linnets
, but alas no
Pied Flycatchers
. I might need to return to the Forest of Dean if I want to catch up with these smart birds before the year is out.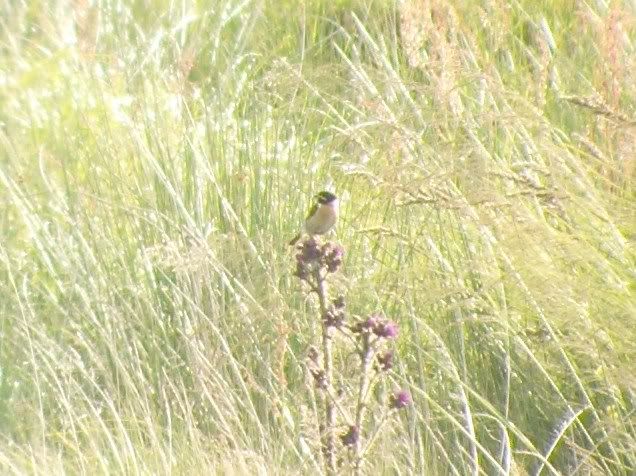 Other birds noted at Criccieth during the week were
Common Scoter
,
Oystercatchers
nesting precariously on the small cliff face,
Sand Martin
,
Rock Pipit
and
Ringed Plover
. Elsewhere, we saw plenty of
Common Buzzards
and a few
Ravens
, plus
Whitethroat
,
Sedge Warbler
and
Skylark
at Gronant.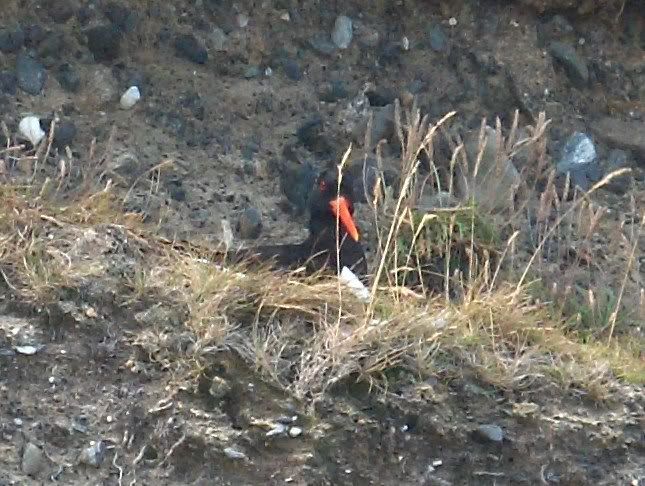 On Saturday I had crippling views of
Manx Shearwaters
, again from Criccieth beach. At one point, one of the birds came right over the breaking waves, something I have never witnessed before. Even Mrs Reg was impressed, and when Dr Who defeated the Daleks later that evening she was impressed all over again, especially when he failed to regenerate into James Nesbitt. Now that would have upset her immensely!