On Sunday morning I headed out onto the patch with the intention of adding
little owl
to the list. That meant a three mile walk to an oak tree somewhere round the back of the Peacock pub. This area has plenty of good species on offer. Aside from the owl, I was fairly confident I could bag two or three more patch ticks during my visit.
Things got off to a good start when a
cormorant
flew over the A435 - the first patch tick of the morning. A flock of
long-tailed tits
and a pair of
jays
were seen in Hill Lane, then a male
chaffinch
delivered its song from the top of a tree - the first that I have heard singing this year. Sadly it was a slightly half-hearted, garbled effort, as though the poor fellow was practicing for the main event in a month or two's time.
There were plenty of
collared doves
around too, including two on my feeders before I set off. It's tempting to make a lazy comparison between them and buses, but I shall stifle the urge.
A small flock of
siskins
were spotted and checked carefully for
lesser redpoll
, but without success. However, not long after, I spotted the latter species where Watery Lane meets Weatheroak Hill. A patch tick and a year tick, no less.
Minutes later and just a few hundred yards from the owl tree, I was passed by a group of joggers. Not a welcome sight as the
little owl
is a bit skittish when approached on foot, though generally unfazed when viewed from the car. I feared that the joggers may have flushed the bird and sure enough, when I reached the tree there was no sign of it. I didn't want to give up on it so I hung around the area for a bit to see if I could find any
yellowhammer
. No joy, which meant I had a difficult decision - turn round and go home, or continue on and return to the tree a bit later. I chose the latter and walked to Wast Hill Bridge on the Worcester and Birmingham Canal.
I've seen
yellowhammer
here before, but had no luck today. I noticed a group of ducks flying overhead and guessed they were probably
mallards
. Not that long ago I probably wouldn't have even bothered to check them out. Nowadays I usually do, especially when I'm on my patch. Good job too - they were
goosanders
! Another patch tick.
I thought I had a
stock dove
shortly afterwards, but I wasn't certain enough to count it, so I headed back to the owl tree. I couldn't see the owl with the naked eye, but checked carefully with the binoculars anyway. I was surprised to find myself looking straight at it. I fired off a picture, but I wasn't close enough and the light was all wrong. I've circled the owl, but you'll just have to take my word for it that that's what it is!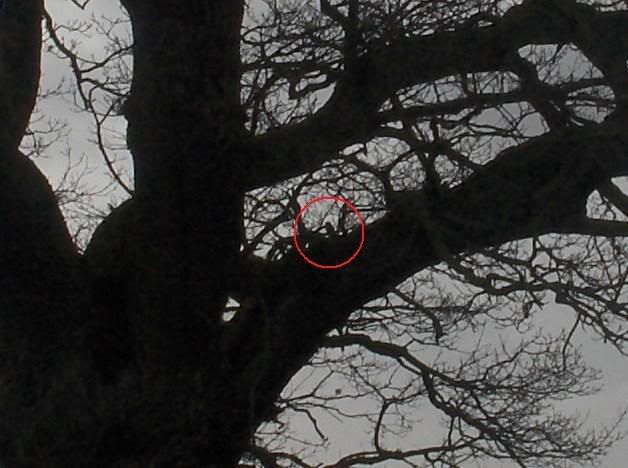 Whilst attempting to find a better angle from which to take more pictures, the owl took flight and landed in the trees on the other side of the field, flushing a
sparrowhawk
in the process. It was all going on! That was about the last bit of decent action for the day, however.
I discovered I had walked eight and a half miles when I got home. No wonder my legs felt like lead! Other good spots during my walk included
fieldfare
,
redwing
and
rook
, which was another patch tick. There were also a few counts of
great spotted woodpecker
and about five of
common buzzard
. Exhausting stuff, but very rewarding.
Birds Seen On Foot 2009: 53
Distance travelled: 25.0 miles
Wyre In The Blood
This morning I visited the Wyre Forest, which was as brilliant as ever. I took a stroll along the old railway track, spent about an hour at Lodge Hill Farm scanning the trees and bushes, then walked along Dowles Brook before heading back to the car park.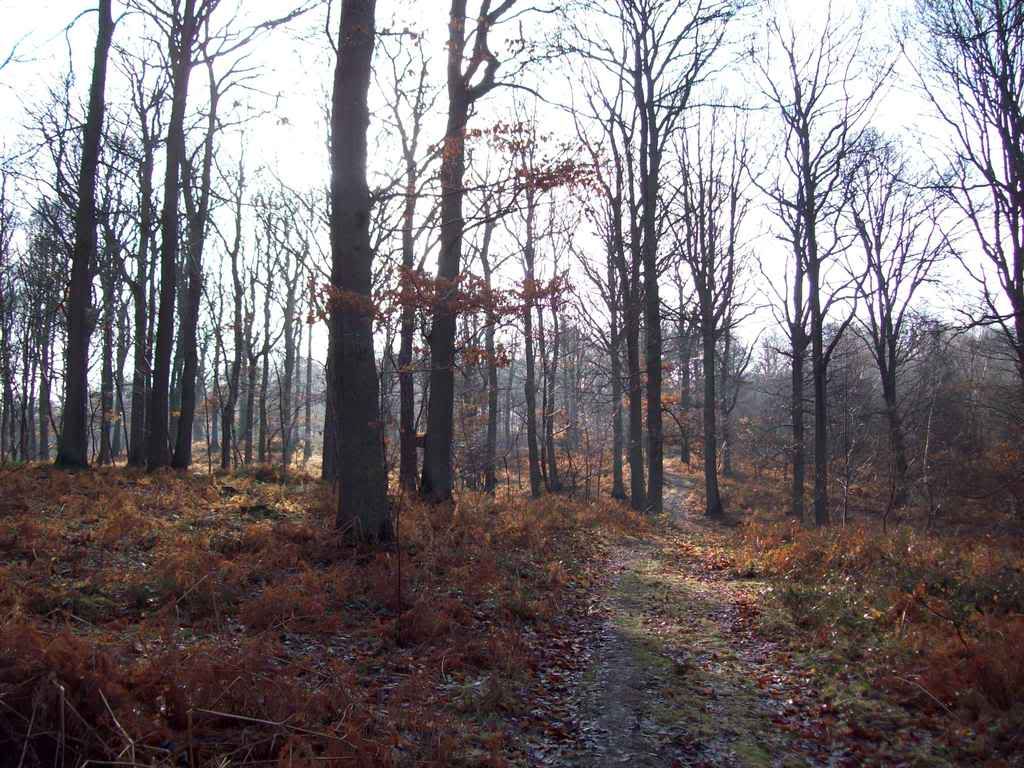 There were some excellent birds on offer, the best of which were
yellowhammer
,
bullfinch
,
lesser redpoll
,
great spotted woodpecker
,
green woodpecker
,
marsh tit
,
dipper
and
grey wagtail
. I was particularly pleased to find the
marsh tit
. I heard it calling initially, then located it with relative ease as it was quite active along the path leading down to Dowles Brook. The first one I have seen in the forest as it happens.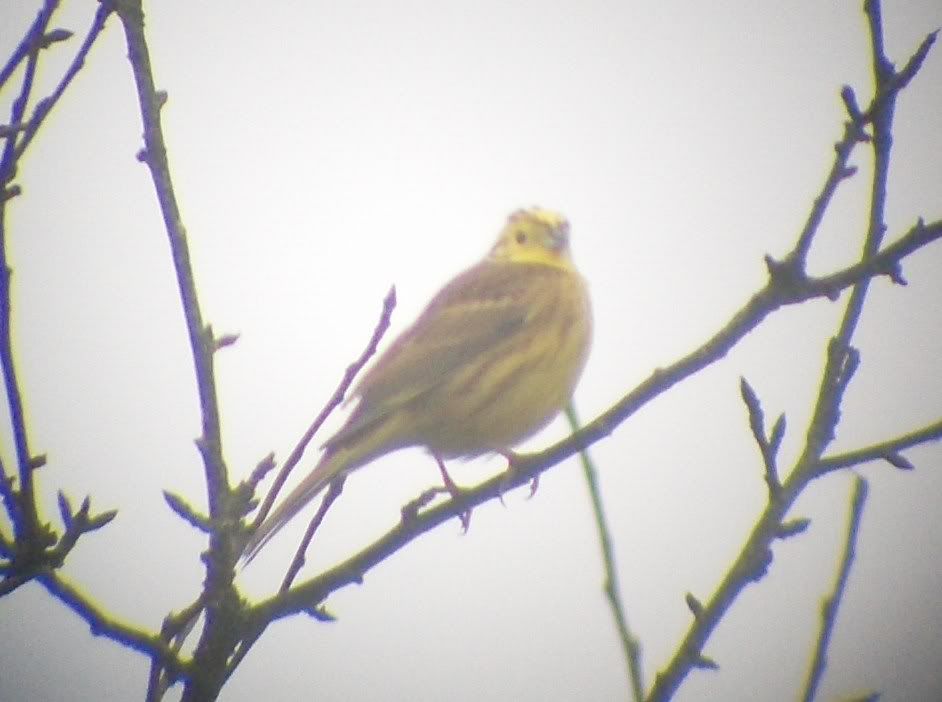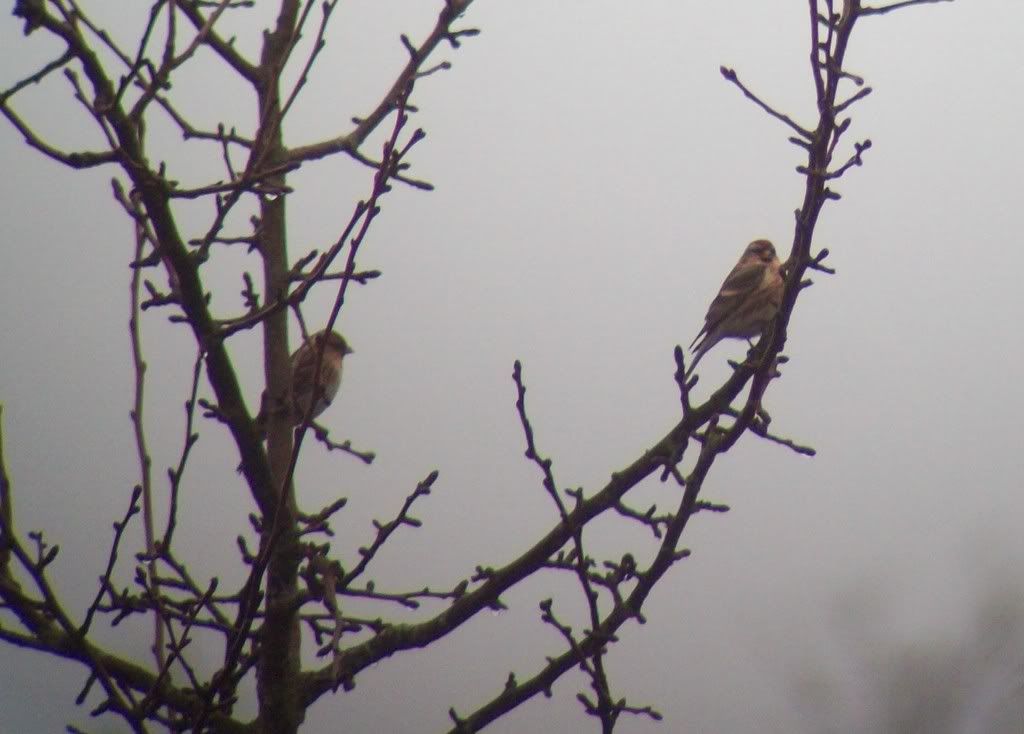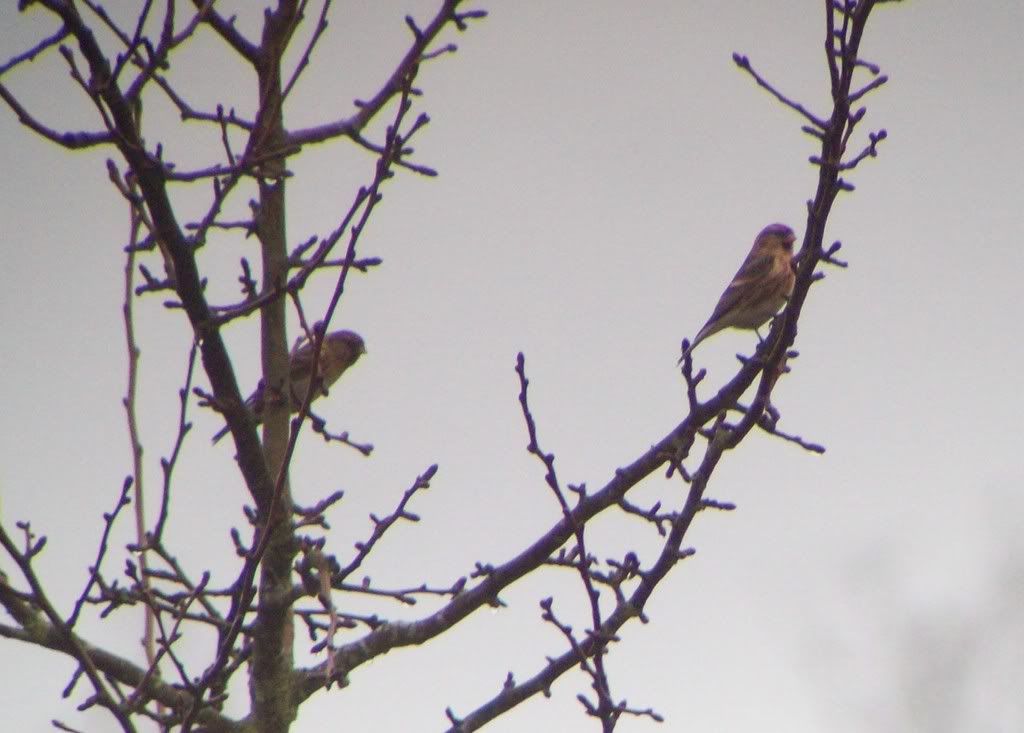 No patch birding next weekend - I'm off to Park Hall Country Park with fellow birders Richard, Kay, Max and Pete to look for
long-eared owls
, then Swallow Moss to see, well, whatever there is to see up there. This is a trip that has been in the planning for a while. Should be a humdinger of a day and I'll let you know how we got on in due course.