I'm loving this Twitter lark! For those who have been following my tweets via the blog, or directly on the Twitter site, you'll know that I've had some reasonable sightings at home and at work during the week. Twitter allows me to post brief details of these spots in real time, which means no one has to hang around waiting for a full blog entry in order to catch up with the news.
Today, I thought I'd provide a bit more detail regarding some of my tweets during the week, focussing mainly on the birding I have managed to squeeze in at work.
However, I'll start off with the presumed
lesser redpoll
that flew over the house on Tuesday morning. I say presumed because I am not overly familiar with the call. However, on Sunday morning I had the privilege of watching about half a dozen of these birds at Upton Warren. It was the first time I had really listened to their distinctive nasal chatterings. Anyway, that was the sound I believe I heard as this small bird flew over the house a couple of days later. Despite this, I wouldn't rule out the chances of the bird being a
siskin
, but as both species already feature on my patch list this year, I won't be losing any sleep over it!
The arrival of spring always results in one or two changes to my routine at work. For starters, I have begun parking around the back of the building each morning. Why? Well, this is where the first
chiffchaffs
turn up. I've heard
chiffchaff
at a couple of sites already this year, but it will still be a special moment when I get the first one at work.
Secondly, the rising temperatures make me more inclined to take a stroll through the grounds during my breaks. It's debatable whether I will still be in the same job this time next year, so I have to take advantage of the beautiful surroundings whilst I can.
This week my walks have produced
siskin
,
stock dove
,
song thrush
, a few
pied wagtails
, one
grey wagtail
and some
mistle thrush
. Okay, I don't think I need to ask anyone to contain their excitement here, and I don't expect the site to be inundated with twitchers anytime soon, but in the context of the work environment these spots cheer me up no end.
I noticed a few birds amongst the
pied wagtails
on Wednesday. I'm afraid to say that I couldn't clinch ID with the naked eye, but I'm inclined to think they were
meadow pipits
. This would be a site first, so I'm keen to find them again and sort them out once and for all. The binnies will be coming to work with me today, so watch this space!
For now though, I'll leave you with a few shots of the grounds that surround the office and one or two comments about the species that I've notched up over the last few years.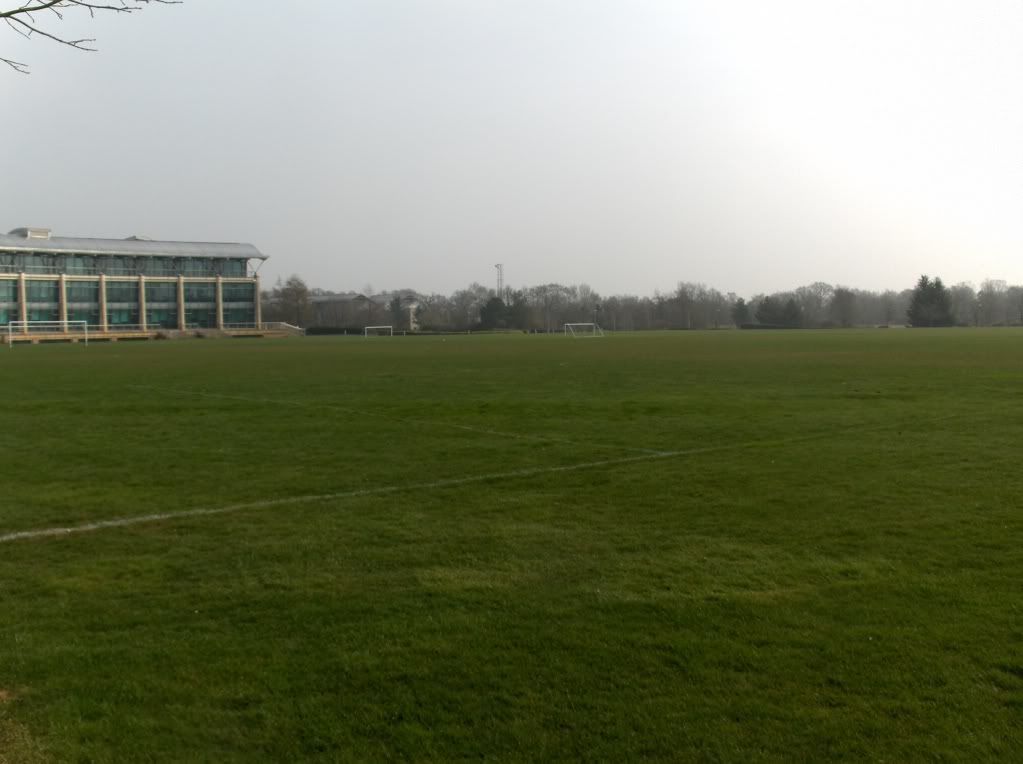 The football pitch - home to
pied wagtails
, the occasional
grey wagtail
,
mistle thrush
and
redwing
in the winter. A
kestrel
was regularly seen perching on the goal posts this winter.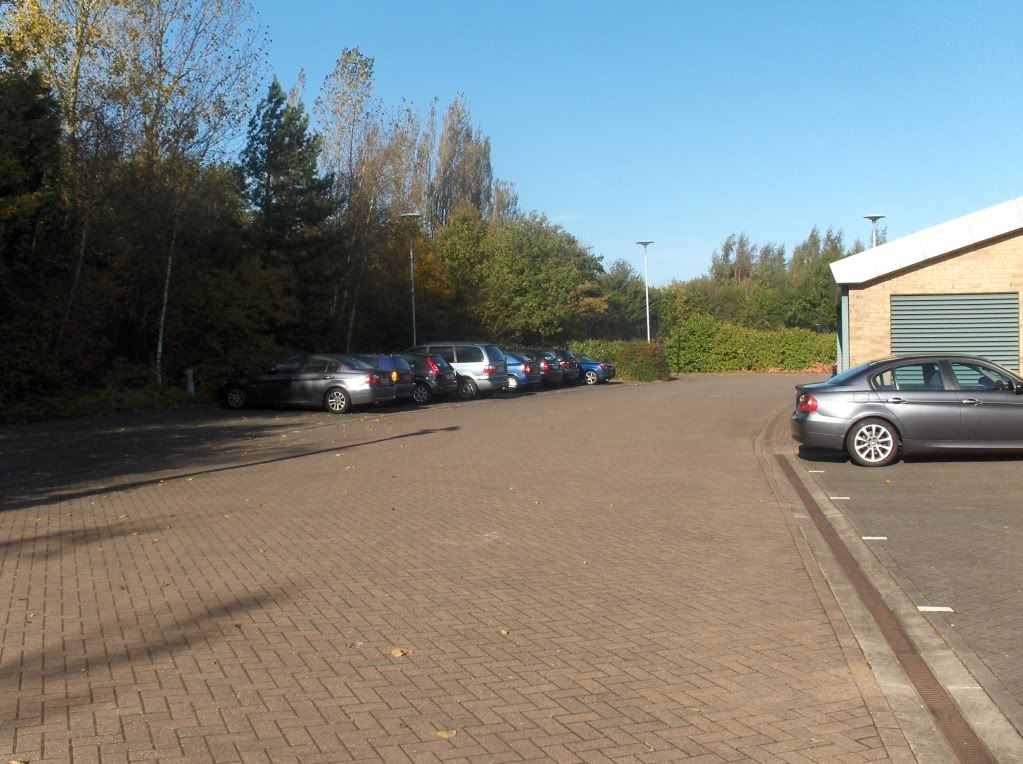 The pavilion car park - the best area for
chiffchaffs
, but other good records include
bullfinch
and
green woodpecker
.
The feeding station - best spots include
siskin
,
bullfinch
,
stock dove
,
goldfinch
,
nuthatch
and
great spotted woodpecker
. Good for the butterflies too.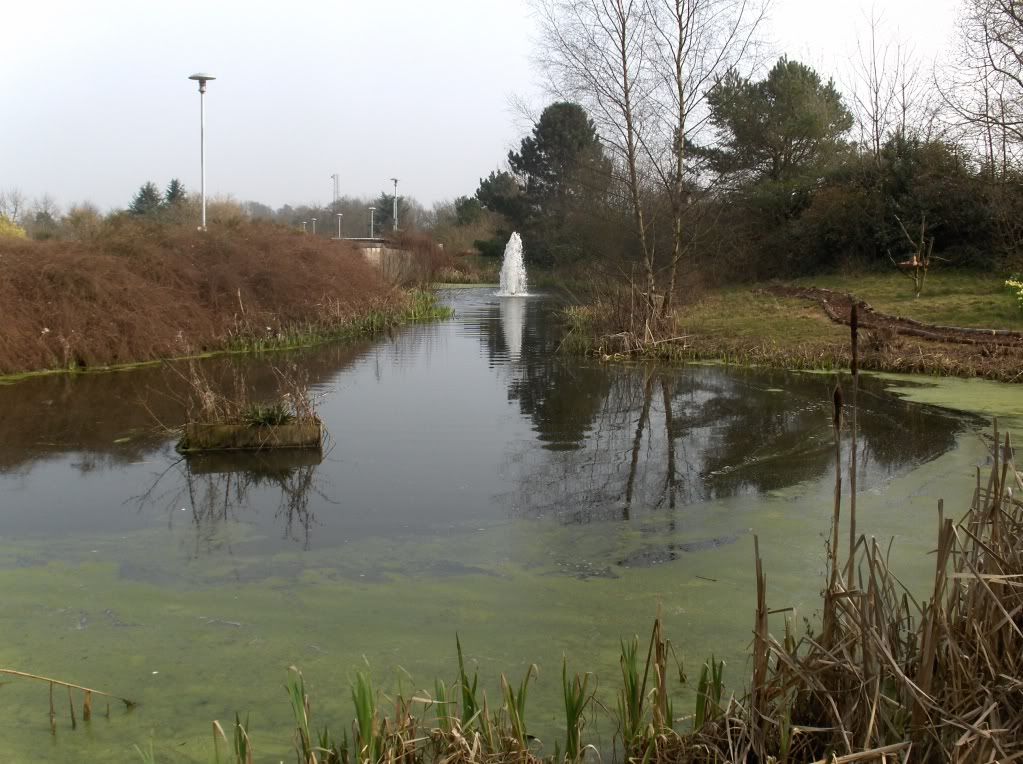 The small pond by the feeding station - good for the odd dragonfly or two.
The meadow -
jay
,
green woodpecker
and
kestrel
are all quite regular here. Excellent for butterflies, including
comma
,
speckled wood
,
small skipper
and
gatekeeper
. I'll be keeping a close eye on it this summer.
A
kingfisher
took up residence along this area about three years ago. It would be amazing if another one turned up.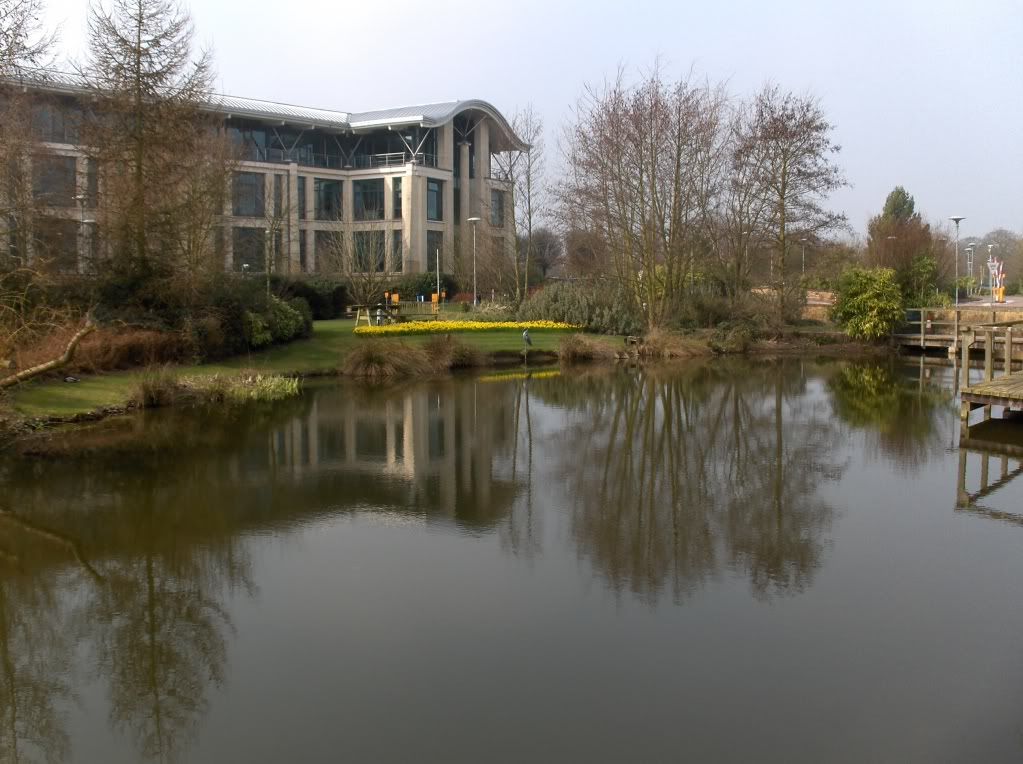 The wintering
kingfisher
was seen in this area too. During the summer,
brown hawker
and
common darter
dragonflies aren't uncommon here.
Other sightings of note over the past year include
sparrowhawk
,
common buzzard
,
raven
and
red kite
. Not a bad place to work, all things considered!