I was a little surprised to spot a fellow birder on the patch on Saturday afternoon. I was doubly surprised to find that it was Brian 'Uncle Brian' York, one of my birding mentors and a man with a life list as long as your arm. I was intrigued to know what he was looking at - had something special dropped in on my doorstep?
My excitement turned to horror when Brian's first words were, "Where are these
cattle egrets
then?", referring to my blog entry posted on the first day of April.
Oh cripes! I didn't think anybody would have really believed that three
cattle egrets
had been resident in Brick Kiln Lane for the last year, and I thought I'd dropped enough clues to indicate that it was a prank. As you can imagine, I felt rotten. Fortunately, Brian hadn't come far to see these non-existent birds. In fact, I think he had simply dropped in on the way back from picking up some new bins for his wife, Pat.
I can only offer my sincerest apologies to them both. Still, it'll give us something to chuckle about when we meet up in the Wyre Forest in early May. I think a bottle of wine might be coming Brian's way that morning!
Lapping It Up
Having bid Brian and Pat farewell, Mrs Reg and I continued around the patch. There were nine
lapwings
in the magic field, which is the largest number I have ever seen in there. A
yellowhammer
was heard in the area, and a
skylark
rose out of the neighbouring fields, climbing to an astonishing height before belting out its unmistakeable song. Another patch tick!
Aside from that, there was little else of note, save for a couple of butterflies. Both remained unidentified, though the first looked like a
large white
. I do hope I have a bit more success with the butterflies as the year progresses.
A few pictures from the patch follow, all of which were taken through the bins - my new favourite thing!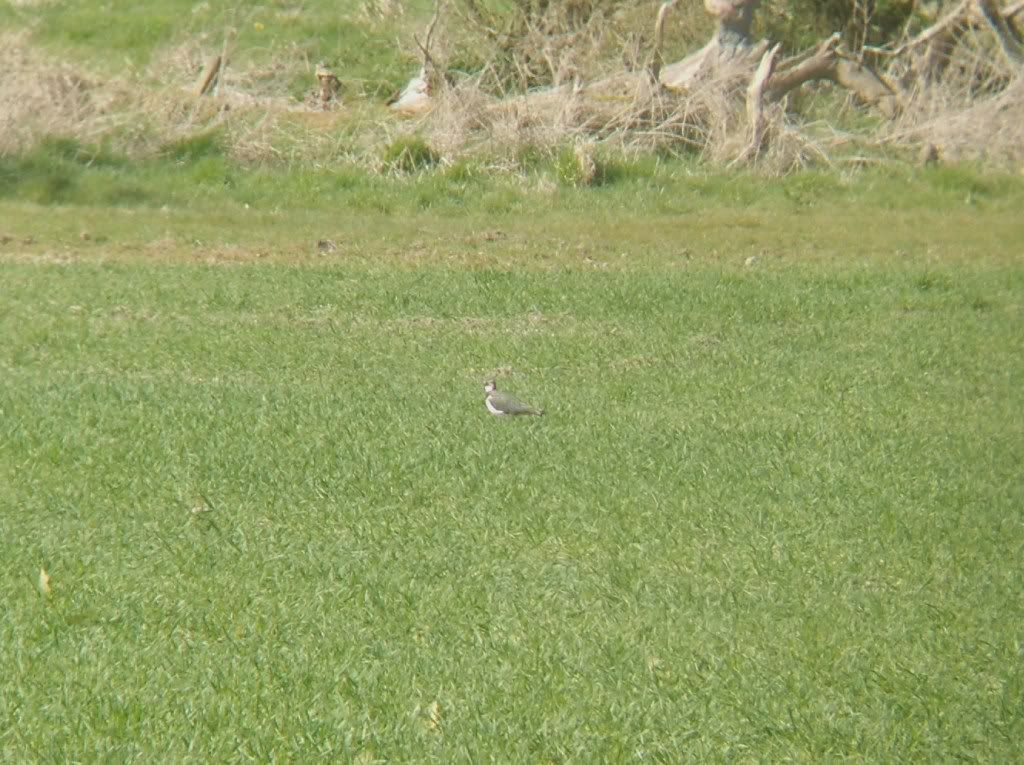 Birds Seen On Foot 2009: 62
Distance travelled: 55.9 miles
Mrs Reg Cleans Up
No, I haven't made her do the vacuuming again - I'm talking about the Grand National. We mistakenly thought the race was at 4:30pm, so we switched on just in time to see the field jump the last few fences.
As the horses came over the last, Mrs Reg was surprised to hear the name of the nag that she had drawn in the sweepstake at work. You've guessed it - it was Mon Mome. Cue much excitement and shrieking as her horse romped home by a country mile!
Earlier in the day, we had picked a few names out of the runners. Predictably, mine were faintly bird related - Snowy Morning and Golden Flight. The latter fell at the first and the former finished ninth. Just as well I didn't have a flutter then.
Draycote Water / Brandon Marsh
This morning I paid a visit to Draycote Water and Brandon Marsh with my father. The weather was superb and I don't think I've seen Draycote Water so still. The excellent conditions allowed us to scope two
great northern divers
on the opposite side of the reservoir from Farborough Bank.
A
white wagtail
and two
yellow wagtails
were noted on our way to Toft Bay, where we hoped to connect with the long-staying
red-necked grebe
and the fairly recently arrived
green-winged teal
. As it happened, we spotted the grebe along Farborough Bank with relative ease, but the teal proved to be a bit more elusive.
We spent not far off an hour in the hide searching for it. My dad wandered off to see if he could get better views along the road. Not long after he had disappeared, another birder entered the hide. Having given him a customary greeting, I realised it was photographer extraordinaire and old chum, Mr Pete Walkden.
Pete was keen to get some shots of the grebe, which had obligingly drifted into Toft Bay just a few minutes earlier. Sadly, the bird wasn't playing ball and had decided that it was time to have a nap. Resisting Pete's requests to chuck a stick at it to wake it up, I left the hide and joined my dad and some more birders on the bank. The
green-winged teal
emerged from the willows almost immediately, but remained too distant for any decent pictures.
I popped back into the hide to point Pete in the direction of the bird. Hopefully, he may have got some better shots than I managed. Frankly, he should be ashamed of himself if he didn't!
We didn't spend long at Brandon Marsh, but still managed to see our first
willow warblers
of the year.
Cetti's warbler
and
water rail
were both heard, and we also saw a male
blackcap
,
common buzzard
, yet another unidentified butterfly and either a mouse or shrew scuttling across one of the paths in front of us.
Brandon Marsh is a great place to see warblers, as well as butterflies and dragonflies, so I fully expect to be back before too long. I've only connected with
grasshopper warbler
once before and I would like to see another one this year. If last year is anything to go by, Brandon Marsh could well be the place to do it.
I'll close with a few photos of the
red-necked grebe
and a record shot of the
green-winged teal
. Keep an eye on
Pete's blog
for better pictures of these birds.