Yes, it's true, I did a spot of proper twitching this week, but no salivating despite the headline. I'm afraid I'm quoting again - this time it's the lyrics to Myxomatosis by Radiohead, from their criminally underrated 2003 album Hail To The Thief. Okay, trivia over - let's get back to the birding!
First of all, I should say that I like to think of myself as a birder first and a twitcher second. For me, twitching isn't quite as satisfactory as birding, but sometimes you have to accept that you have to do it if you want to see the best birds.
It was a strange set of circumstances that led up to me venturing out on Friday when I normally would have been at work. My cat, Barney, became ill during Wednesday night and we had to cart him off to the vets first thing on Thursday morning. I'm pleased to say he's on the mend now, but as the vet wanted to see him on Friday morning again, I decided to book the day off work. Birding chum Kay had suggested meeting up this weekend and she was keen to twitch the
Stilt Sandpiper
that had turned up at Coombe Hill Meadows earlier in the week.
I agreed that it would be nice to catch up, but regardless of whether there was any news of the
Stilt Sandpiper
on Friday morning, I was keen to head off to Coombe Hill Meadows anyway, as the
Red-Necked Phalarope
at Frampton On Severn was also in my sights and only a short hop down the M5 if I didn't strike lucky.
Kay had already seen the phalarope, so sensibly only planned to head my way if there was positive news regarding the sandpiper. She settled in at Upton Warren with other half Max, and friends Richard and Dean. I expect they were watching that pager with baited breath!
Still with me so far? Excellent ... then I'll continue.
I arrived at Coombe Hill Meadows just before 11:00am. I was glad I'd taken my wellies as it was extremely muddy. There were a number of butterflies and dragonflies along the canal and in the meadows. I took a picture of this butterfly thinking it was a
Large White
, but it turns out it is actually a
Green-Veined White
, which is way better in my opinion.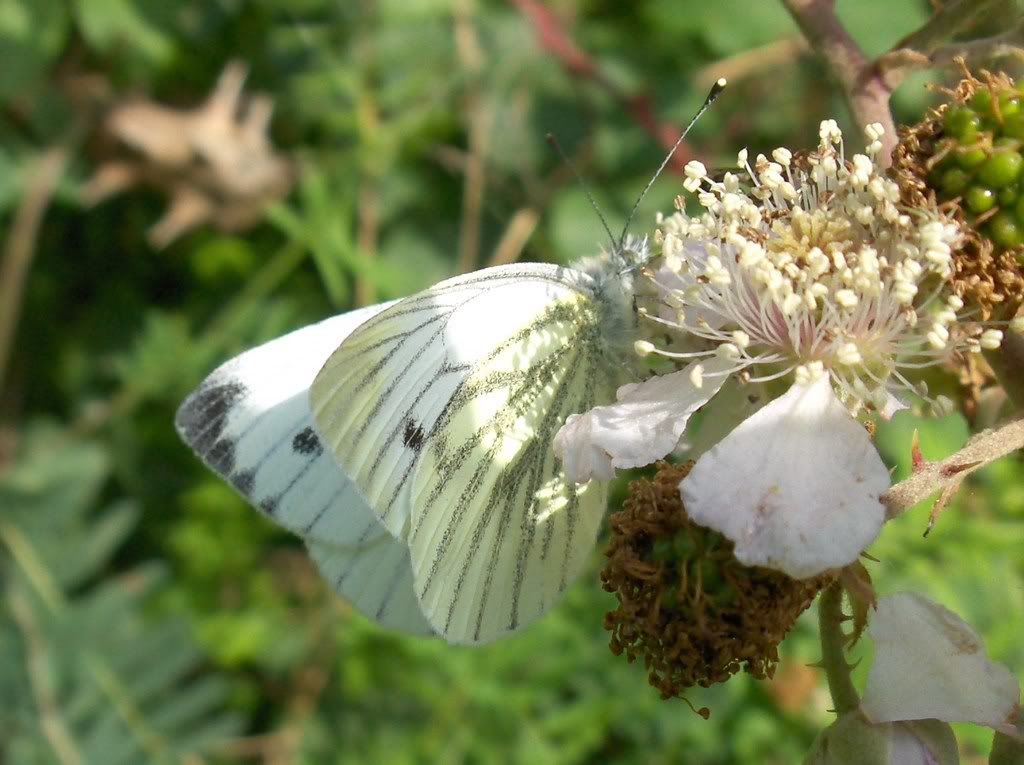 Next up, I managed to snap this
Southern Hawker
. I've seen a few of these recently.
Just before I got to the hide I noticed this little fellow.
Not being too hot on dragonfly identification, I hazarded a guess that it was a
Common Darter
, but when I got home and looked into it further, I suspected it was actually a
Ruddy Darter
. This has since been confirmed by a couple of people with more experience than I have. That's not actually very difficult though!
Once in the hide at Coombe Hill Meadows it was down to the serious issue of trying to find the
Stilt Sandpiper
. The hide was fairly quiet when I arrived, but within an hour or so it was pretty full. There was no positive news about the bird, but there was still plenty to look at including a
Wood Sandpiper
, four
Little Egrets
, a few presumed
Little-Ringed Plover
, one or two
Green Sandpipers
, a
Wheatear
and a
Curlew
, plus one or two other things.
I gave up on the
Stilt Sandpiper
after about an hour and a half, relaying the negative news to Kay via text. After another trudge through the mud, narrowly avoiding going arse over tit on at least two occasions, I got back to the car, had a munch on my BLT sandwich and had a quick nibble on a decidedly melty Snickers bar. Being out in the field rarely involves fine dining and today was no exception.
At this point Operation Phalarope came into action. I successfully negotiated Cheltenham and got back onto the M5 south - easier said than done, arriving in Frampton On Severn about 20 or so minutes later. I was pleased to find the miniscule pay and display car park half empty [or half full depending upon how you look at it] and took the brave decision to finish my sandwich and tackle the Snickers bar again. Once I had cleaned myself up, I set off down the towpath.
I was pleased to see another birder once I got to the correct spot. From what I had heard, finding the phalarope was going to be like looking for a needle in a haystack, or a
Little Stint
at Bittell if you prefer! The other birder was very friendly and helpful, and confirmed that he had seen the bird a short while ago. Within a short space of time he managed to locate it again and I got onto it fairly easily [lifer 226!] [year tick 211!]. It wasn't as far away as I had thought it might be, but a decent picture was out of the question unfortunately.
There were other good birds to be seen, but I didn't really have time to look at them properly. Amongst them were
Greenshank
,
Redshank
,
Common Snipe
, a pair of
Ravens
and a
Hobby
. The other birder mentioned
Wood Sandpiper
, but I didn't see it. I think there were a few
Black-Tailed Godwits
there too.
I headed for home, but decided to try for a
Red-Crested Pochard
at Pirton Pool on the way back. This turned out to be a disastrous decision. I hadn't planned this part of the day too thoroughly and I basically ended up driving round and round Pershore until I got dizzy. I lost count of the number of times I either went over or under the M5! I did eventually find Pirton, but could see no pool. It was probably a plastic duck anyway. At least that's what I kept telling myself as I desperately tried to find my way back to the M5 before the traffic got too bad.
I didn't manage to get out on Saturday. This dragonfly did turn up in the garden, however.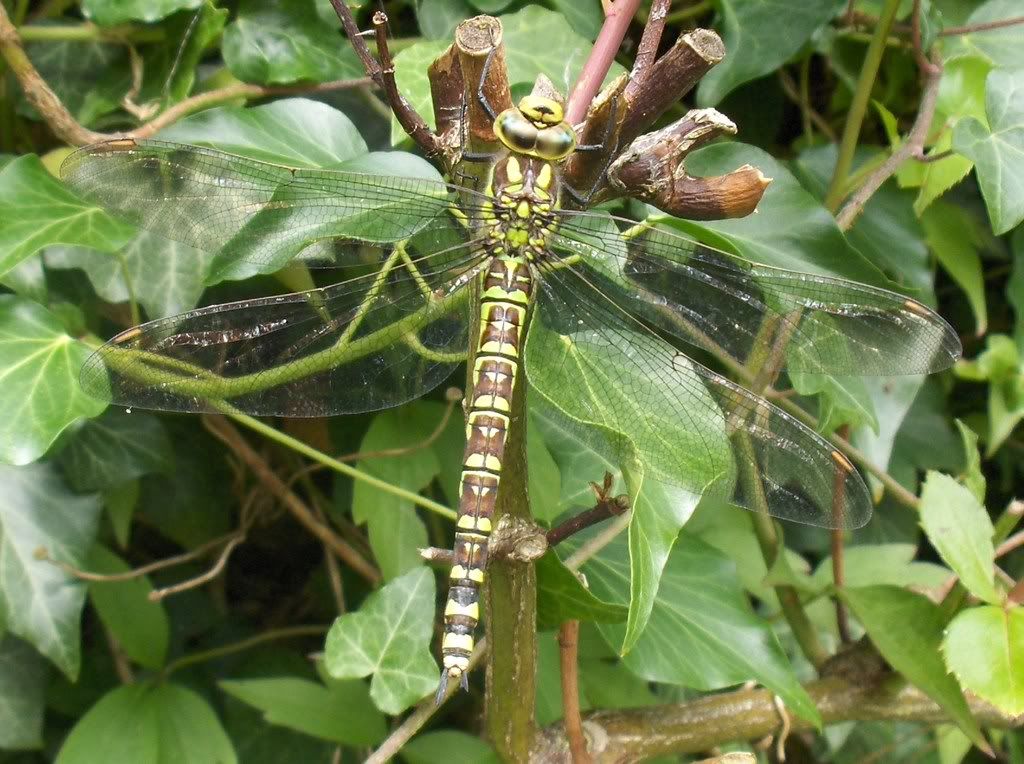 As far as I can see, it is another
Southern Hawker
, but I'm always happy to be corrected when necessary. It perched on our roses for well over an hour. When temptation finally got the better of me, I poked it and it flew onto the lawn, scaring Mrs Reg who fled into the kitchen. Another poke saw it fly off and land on the patio. It seemed a bit of out of sorts, but when I wasn't looking it must have flown away because I couldn't find it again.
I love dragonflies, me.