Yes, I'm afraid I have been to Gloucester again, though I did manage to avoid stepping in a puddle right up to my middle. I did tread in plenty of goose poo, however, as my destination was WWT Slimbridge.
Mrs Reg was out with her mother, which meant that I had a day to myself to do as I pleased. I hadn't been sure where to go, but when a
Kentish Plover
was reported from Slimbridge on Saturday, my mind was made up very quickly. The chance to finally life tick a
Yellow-Legged Gull
also helped to clinch the deal.
It was rather foggy as I headed down the M5 past Upton Warren. I couldn't help wondering whether the mist might have resulted in a mega wader dropping in over night. I managed to put the thought to the back of my mind, but made a mental note to text Kay later on to see if anything good had turned up.
I had a good run down the motorway, noting a
Sparrowhawk
over the carriageway near the Tewkesbury junction. It only took about 50 minutes to reach Slimbridge, just enough time to play the new album by Sigur Rós. If you think you've never heard any of these Icelandic naval-gazers' music, think again, because the BBC are always using it on their documentaries and stuff.
I resolved to head to the Holden Tower first of all and was quite prepared to put in a long spell of patient birdwatching, mainly because I thought it was my best chance of ticking the
Kentish Plover
if it showed up and also because I thought a
Yellow-Legged Gull
or two might present themselves on the estuary.
There were a number of good birds in the water near the hide. Namely
Black-Tailed Godwits
, three
Knots
, a
Dunlin
, a
Ringed Plover
and a couple of
Snipe
. Also present were a number of
Teal
and a few
Meadow Pipits
. Over the course of the next few hours I noted
Goldfinch
,
Whitethroat
,
Curlew
,
Common Buzzard
,
Peregrine
and the second
Sparrowhawk
of the day, and the first one I have ever managed to photograph.
I tried to sort out the gulls on the edge of the estuary and could make out
Greater Black-Backed Gull
,
Herring Gull
and
Black-Headed Gull
quite easily. I had a few contenders for
Yellow-Legged Gull
, but at that distance could never have been completely happy, assuming that they were
Lesser Black-Backed Gulls
instead. Although I was enjoying myself, it was beginning to look like I wasn't going to get a year tick, let alone a lifer. To amuse myself I concentrated on trying to add as many species as I could to my Holden Tower list. It wasn't long before I had added
Cormorant
,
Shelduck
,
Canada Goose
,
Oystercatcher
,
Grey Heron
,
Little Egret
, feral
Barnacle Goose
,
Moorhen
,
Woodpigeon
,
Mallard
,
Feral Pigeon
,
Coot
,
Rook
and
Mute Swan
to the list.
Eventually I decided to head off to a couple of the other hides, spotting
Chiffchaff
,
Blue Tit
,
Swallow
,
Greenfinch
,
Long-Tailed Tit
,
Blackcap
,
Greylag Goose
and
Jackdaw
on the way. From the Zeiss Hide I saw a
Kingfisher
, which I hoped to photograph, but it disappeared never to return. I took some consolation by getting a decent picture of a
Grey Heron
that was present.
From this hide I also spotted
Raven
and
Kestrel
, but generally it was pretty quiet, so I went to the South Lake where I thought there may be one or two more waders to look for.
I was surprised by the number of birds on the South Lake. There were many
Redshanks
, a few more
Black-Tailed Godwits
and lots of
Lapwing
. A lady present stated that there was a
Spotted Redshank
amongst the flock too. I decided to have a quick look at the other side of the lake, primarily just to add
Tufted Duck
to my list, but noticed a gull with a suspiciously dark mantle out on one of the little islands.
I was really sure it was a
Yellow-Legged Gull
, but it was sitting down and I felt I needed to see the legs to be absolutely certain. The bird wasn't playing ball, however, so I decided to refer to the Collin's book and see what other features might clinch the bird's identification. When I finally took my nose out of the book and put my eye back to the scope I couldn't help laughing, because the gull had stood up and was stretching its legs out behind itself - and they were as yellow as yellow can be [lifer 227!] [year tick 212!]!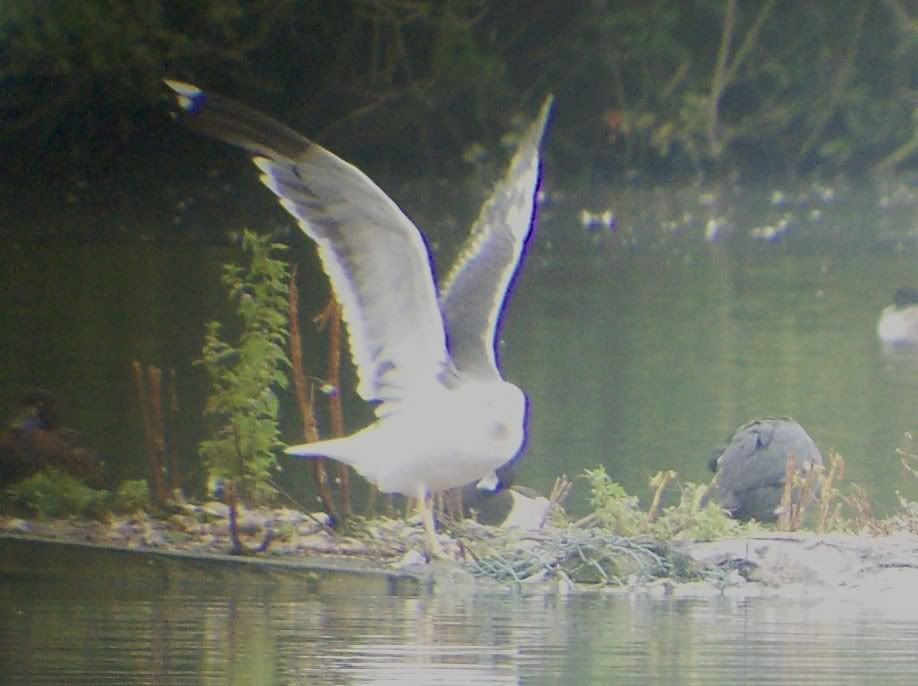 I got the
Spotted Redshank
shortly afterwards, then headed back to the car for lunch, unable to believe my luck. I had planned to go back to the Holden Tower afterwards, but I decided it probably wasn't worth it as I didn't think I'd see much else, so I headed for home.
I had thought Slimbridge might have yielded a few butterflies, but the only ones of note were
Speckled Wood
and
Red Admiral
. I will probably be out again tomorrow morning, so I am thinking of another trip to the Wyre Forest in the hope of photographing a
Silver-Washed Fritillary
.
A full report will follow in due course.