Sometimes, being a Midlands birder can be a tad frustrating. If you're a regular visitor to the BirdGuides BirdMap then you'll be familiar with their system of placing white and grey squares over a map of the UK to denote any bird sightings of note. Sadly, the centre of the map has been somewhat bare in recent weeks. By stark contrast, the south and east coasts seem to have had more squares than a Star Trek convention.
Well, maybe I'm exaggerating somewhat, but that's sometimes how it feels when you're slap bang in the middle of our green and pleasant land. On the other hand, this does have its advantages. When
Wilson's Phalarope
turns up on your doorstep, it feels like all of your Christmases have come at once. And when you finally make it to the seaside, the treasures on offer can make it feel like your birding in a different country.
That's why I'm not adverse to the odd twitch here and there, and that's why after a hastily drawn up battle plan, my Dad and I headed down the M40 to Calvert Lakes to see if we could find the
Ferruginous Duck
that has been around for a week or so. Calvert Lakes are about ten miles from Aylesbury as the crow flies, but close enough to excuse the waggish pun that is today's title, I think.
Things didn't look too good when we arrived. It was a bit misty this morning, and the intriguingly titled Crispin Fisher hide faces east, meaning the sun was in our faces first thing. A cluster of ducks formed a flotilla in the centre of the pool, most of which were impossible to identify. Fortunately, a few more were away to our left and these were quickly identified as
Pochards
. We understood that the
Ferruginous Duck
might be associating with the
Pochards
, but we failed to spot the odd quacker out despite a few sweeps of the scope.
A
Muntjac
passed in front of the hide, a welcome distraction during our surveillance. A few small dragonflies were zipping around too, but only a
Rudder Darter
was successfully identified. We stuck to our task, however, and over time more ducks made their way into view. Eventually, the
Ferruginous Duck
appeared as if from nowhere, much like the shopkeeper used to do in Mr Benn [lifer 228!] [year tick 214!].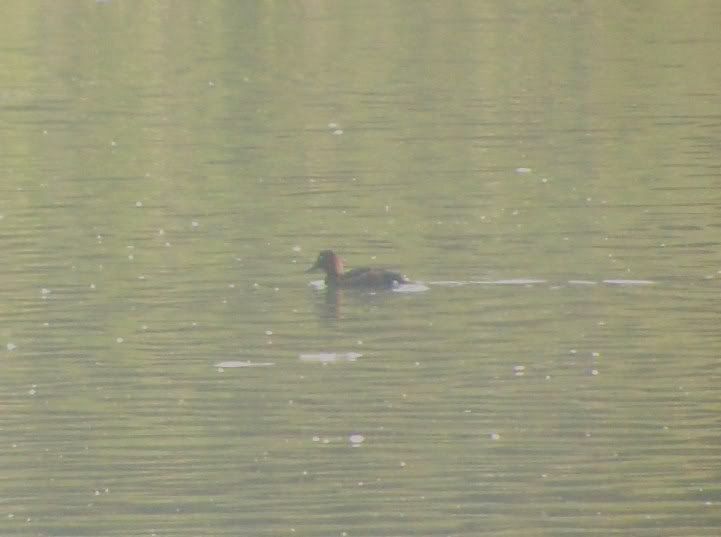 Once we were on the bird, we enjoyed good views for a further 15 minutes or more, but there was little else worth hanging around for so we headed off. There was a bonus on the way home when a flying raptor caught my eye. Something told me it was more than a
Buzzard
and we quickly identified it as a
Red Kite
, then my Dad spotted a second bird perched on a dead tree. The opportunity to get a decent photograph was too much to resist, so we parked up and went for it. Believe me, this is a great picture by my standards!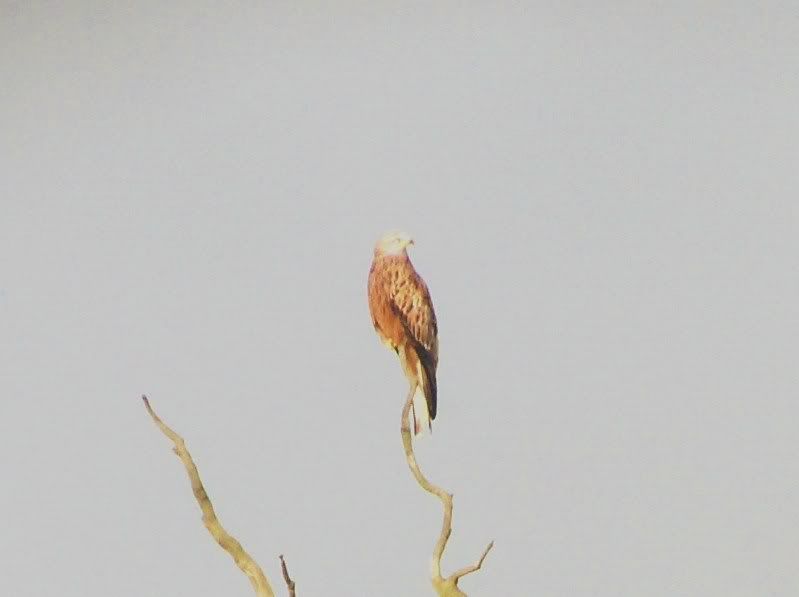 A
Kestrel
also flew into view and perched on the telegraph wires, but my attempts to capture this were sadly blurred and deemed worthy only for the Recycle Bin.
Well, I had thought the birding year was grinding to a halt, but suddenly things are looking up again. Plans are afoot to have a go for the
Caspian Gull
at Stubber's Green soon, followed by the possibility of the gull roost at Chasewater, and another trip to Wales is on the cards in November.
I've also seen that a couple of
Bitterns
have turned up at Upton Warren today. You know what? Being a Midlands birder ain't that bad after all.