Wednesday - Dunster Beach / Minehead
Wednesday morning saw Mrs Reg and I travelling south for a short break. We were to spend two nights in the Premier Inn at Taunton Deane services on the M5, followed by three nights in Dawlish Warren. It was never going to be an intensive birding holiday, but with trips to the north Devon coast, Bowling Green Marsh, Exminster Marshes and Dawlish Warren NNR planned, I was optimistic about adding at least a year tick to my list.
Frustration set in early on, when a series of Eddie Stobart trucks passed us on the motorway and I was unable to catch the names brandished on the fronts of their cabs. Potential lifers escaping my clutches - and we were barely an hour into our holiday! Finally, we passed one going in our direction and
Chloie Angelique
was added to my vehicular inventory.
We made good time and arrived at the Premier Inn before midday. Bags unloaded, we immediately set off for Dunster, a small village near Minehead. We had a pleasant walk along Dunster Beach and noted some decent birds.
Black-Headed Gulls
and
Herring Gulls
were the dominant species, but we also saw a few
Common Gulls
,
Oystercatchers
, sizeable flocks of
Linnet
, a
Wheatear
,
Curlew
and a raft of
Wigeon
on the sea. As we made our way back to the car, a small flock of waders flew past us. I think they were
Ringed Plover
.
Next we headed for Dunster itself. There was more frustration as a large dragonfly in the car park evaded identification. I had an inkling that it was a
Gold-Ringed Dragonfly
, but maybe that was blind optimism on my part. After Dunster, we travelled the short distance to Minehead.
Whisper it in hushed tones, but a childhood passion of mine was trainspotting, so I was pleased to see a steam engine standing in Minehead station. This line forms part of the West Somerset Railway, which runs from Minehead to Bishops Lydeard. We ventured onto the platform for a closer look at the engine and took a few photographs. Funnily enough, a
Great Spotted Woodpecker
flew over our heads and I couldn't help pointing it out. If anyone hadn't already earmarked me as a geek, then this moment probably clinched it!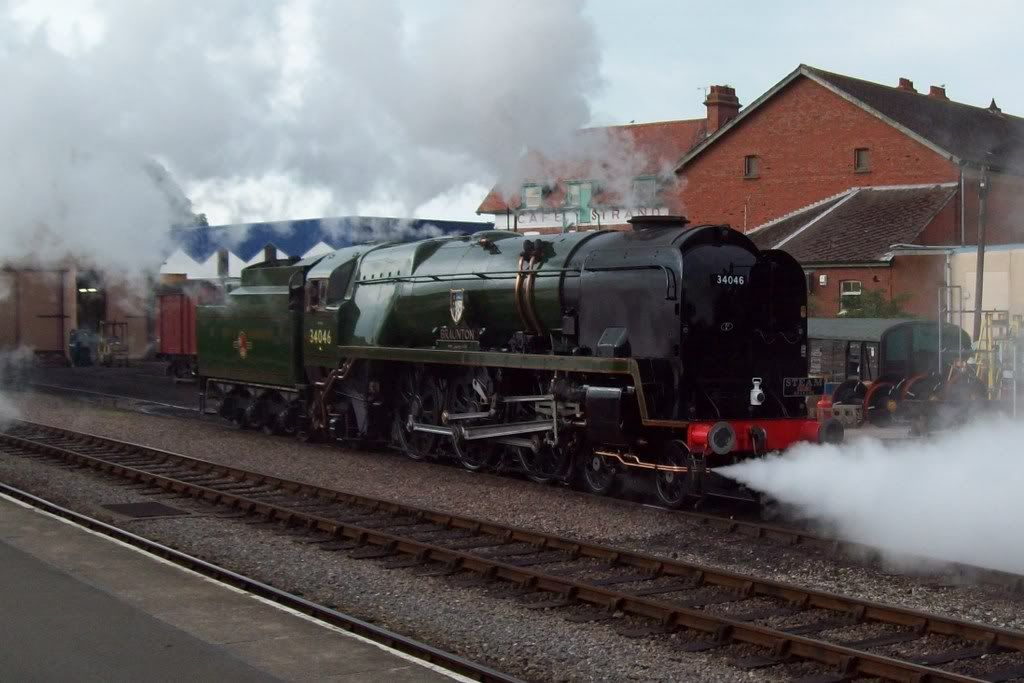 I was also pleased to see this old diesel engine, which curiously reminded me of a dog.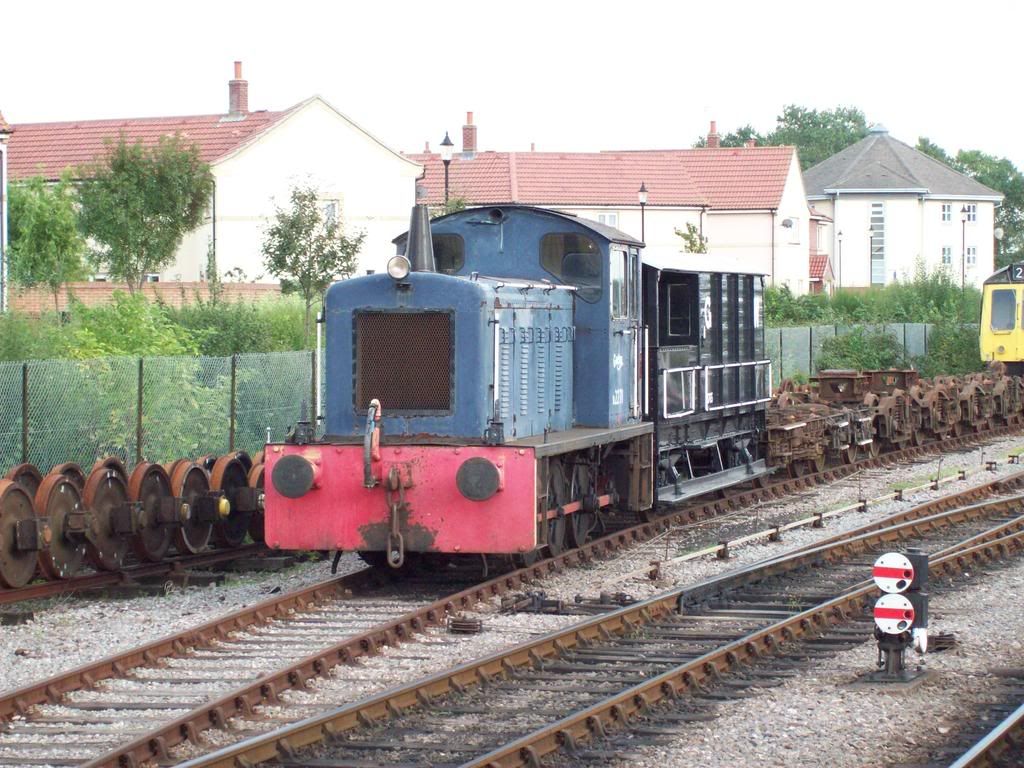 After some splendid chicken and chips we headed back to the Premier Inn.
Thursday - Horner Woods / Allerford / Dunkery Beacon
I was up early on Thursday morning to see if there were any Eddie Stobarts on site at Taunton Deane services, but my search was unsuccessful. After a hearty breakfast we headed back up towards Minehead, stopping off at Horner Woods. We had a short walk along the river and saw a
Marsh Tit
,
Dipper
,
Goldcrest
and a few
Grey Wagtails
among the more regular woodland species. A beautiful little spot and well worth the visit.
After a cup of tea and a slice of cake in the village of Porlock, we went to the bird of prey centre at Allerford. We turned up about 15 minutes into the flying display, but decided it was worth paying the admission price to catch the remainder of the show. Whilst we were there we saw a
Snowy Owl
,
Eagle Owl
and a
Saker
being flown. The owls were particularly impressive. The wingspan of the
Eagle Owl
was simply overwhelming.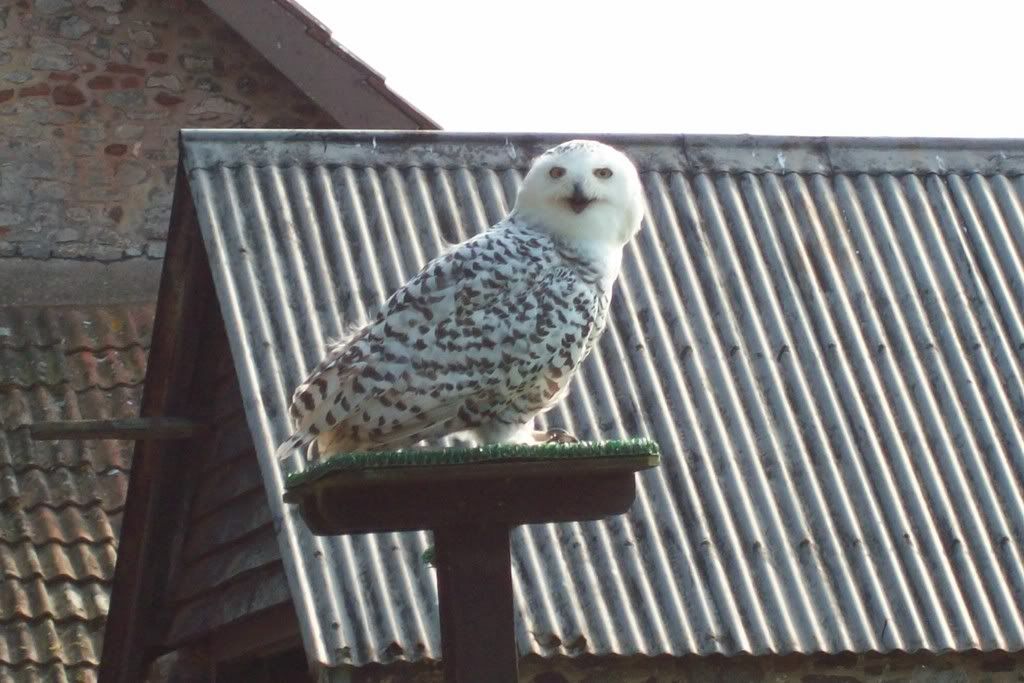 Next on the agenda was Dunkery Beacon, to see if we could latch onto a
Dartford Warbler
. We parked the car and took a stroll across the moorland, but this yielded nothing. I had more luck further down the road, however, finding an immature bird in the gorse bushes. A bit of pishing brought the curious youngster into view, but it disappeared again before I could take a picture. With our tummies rumbling we headed off for a meal back at Dunster, before returning to Taunton Deane.
A good start to the trip, and with Dawlish Warren beckoning there was plenty more to look forward to ...