Day 2 of 4 - Dawlish Warren / Broadsands / Exminster
I woke up with a thumping headache on Saturday morning. We had tucked a fair bit of wine and whisky away the night before and I was paying the price. Still, there was birding to be done, so I popped a couple of Ibuprofen and washed them down with a cup of tea.
We headed to Dawlish Warren first. We quickly ticked a
Rock Pipit
[year tick 93!], before noticing a small group of fellow birders by the sea wall. They kindly pointed out what was around, mentioning that the long-staying
Surf Scoter
had been seen off Langstone Rock that morning. We set up the scopes and picked up
Slavonian Grebe
,
Common Scoter
,
Eider
and
Red-Throated Diver
[year ticks 94, 95, 96 & 97!] without too much difficulty.
After much scoping, Leapy finally thought he had a contender for the
Surf Scoter
in his sights. It was quite distant, so we upped scopes and headed further down towards Langstone Rock, where we could get better views. The bird eventually showed well enough to confirm that it was indeed the
Surf Scoter
[lifer 197!] [year tick 98!]. Sadly, my attempts to digiscope this bird failed. I was still feeling pretty rough at this point, but the combination of another lifer and a slug of whisky from my Dad's hip flask perked me up no end!
A walk through the reserve revealed it to be fairly quiet. Once we were on the dunes, however, we were greeted by the welcome sight of many waders in the bay adjacent to the golf course.
Grey Plover
,
Dunlin
and
Bar-Tailed Godwit
[year ticks 99, 100 & 101!] were duly recorded, along with
Knot
[year tick 102!], a bird that I dipped on in 2007. Nice to get that one under the belt. Finally, a pair of
Stonechats
[year tick 103!] revealed themselves on the walk back to the car.
Next up, we travelled down the coast to Broadsands. The target birds here were
Black-Necked Grebe
and
Cirl Bunting
. More seawatching ensued. First up was one of my all time favourites; a fine
Gannet
[year tick 104!] cruising over the water. Then I picked up something far out to sea. It certainly looked grebe-like, but it was diving frequently and travelling some distance under the waves, which made it hard to keep tabs on. I was almost certain that it was a
Black-Necked Grebe
, but I was wary of letting my heart rule my head.
I took a break from the scope and had an unexpected surprise when I noticed a
Shag
[year tick 105!] in the bay below us. I had previously dismissed this bird as a
Cormorant
without looking at it properly. A lesson to be learned there, I'm sure.
Back on the scope, I was still struggling to identify the speck on the horizon, but I did pick up a
Razorbill
[year tick 106!] for my troubles. Then we realised there was something else just in front of us. No need for scopes with this one. Binoculars revealed it to be a
Black-Necked Grebe
[lifer 198!] [year tick 107!]. The hip flask was produced once more.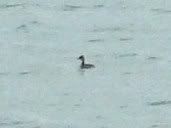 We had no idea where to start looking for
Cirl Bunting
, so we asked a fellow birder if he had any gen. He told us to head for the car park, where a canny birder had put down some seed, which the birds were reportedly happily tucking into. Sure enough, once we got down there, there were the birders, there was the seed and there were the
Cirl Buntings
[lifer 199!] [year tick 108!].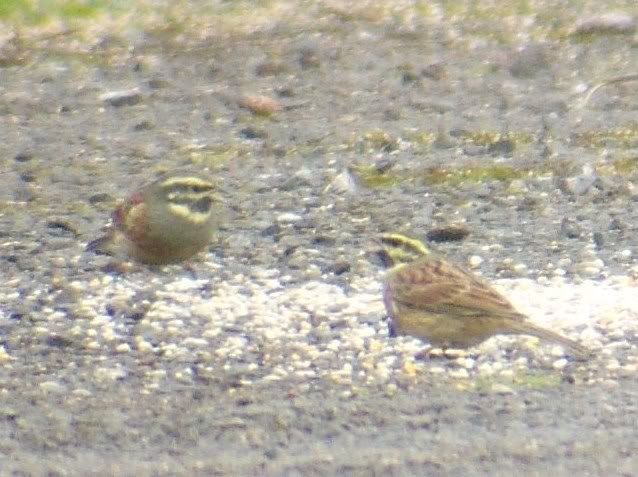 These little beauties were both me and my Dad's 199th lifer. We had hoped to hit 200 together, but had thought that we would have to wait until a trip to Scotland in May to achieve this. With our next port of call being Exminster Marshes, plus the fact that he needed
Cattle Egret
and I didn't, it looked like he might just pip me to it.
Exminster Marshes was reasonably quiet, save for a few trip birds. Certainly no
Cattle Egrets
about, though a
Cetti's Warbler
was worthy of mention. Scanning the Exe estuary got us our first
Avocet
of the trip [year tick 109!] and plenty more waders, but it was the bird that appeared as we made our way along the canal and back to the car that took first prize. Ivor thought it was a
House Martin
. Leapy said it was more likely to be a
Sand Martin
, but when it flew back in front of us, it revealed itself to be an extremely early
Swallow
[year tick 110!]. A fitting finale to a memorable day ...