Phew, what a scorcher! The weathermen got it wrong again and Sunday turned out to be the hottest day of the year so far. We had decided to press on with our proposed trip to the Forest of Dean whatever the weather and I'm so glad we did.
Our first foray was to Brierley for the
Hawfinch
. Things didn't quite go to plan here. As I made my way down the track, quite slowly and carefully I hasten to add, I flushed a huge flock of
Chaffinch
from the woodland floor. There were certainly some
Brambling
amongst them as I spotted them in the trees shortly afterwards, but I have no idea whether there were any
Hawfinch
present. We waited for them to regroup, but they never came back.
We decided to stroll further into the woods, thereby giving the birds the opportunity to return undisturbed. We heard a
Marsh Tit
call to our left, then were pretty sure we had one at the top of a tree further along. I wasn't entirely happy to tick it though and knew we would probably get better views later in the day.
Sadly, the finch flock did not return and after an hour we decided to press on. We had intended to stop off at Cannop Ponds, but we ended up at New Fancy View more by luck than judgement. As it was such a clear, warm morning we were optimistic about our chances of seeing a displaying
Goshawk
. A couple of other birders were up there and it only took a minute or two before we spotted a
Goshawk
soaring high over Cinderford [lifer 205!] [year tick 134!].
The views were far better than I had expected. You could tell that these were big birds as we had several
Buzzards
in the vicinity for comparison. Whilst scanning the area, I heard the familiar call of a
Raven
and we had several over during the short period we spent there [year tick 135!]. A singing
Chiffchaff
to our right was also a welcome sight.
We had another unsuccessful search for
Hawfinch
at Parkend, before finally locating Cannop Ponds. We tracked down a pair of
Mandarin
here, a lifer for my Dad, then had excellent views of a pair of
Marsh Tits
[year tick 136!] on the feeding station next to the road. We felt it was worth one last shot at
Hawfinch
, so we went back to Brierley for fifteen minutes, but we were again unsuccessful and finally conceded defeat.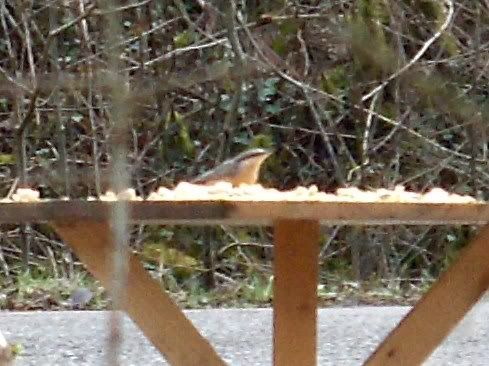 The second half of our day was spent in and around Frampton On Severn. We were keen to locate the
Cattle Egret
that had been reported and a gentleman at Brierley had given us some information about a viewing platform further down the canal.
We bumped into a fellow birder scanning the flashes adjacent to the canal. I greeted him and asked if he had seen much. To my delight he told us that there was a
Garganey
in the water. I got the scope up and it didn't take too long to locate the bird [year tick 137!]. An incredible stroke of fortune.
I had been getting really excited about the prospects of seeing this relatively scarce duck over the next few weeks and feel privileged to have ticked it in March. Unfortunately, despite rattling off a dozen photographs, none of the pictures showed the bird in its full glory. This was the best I could manage.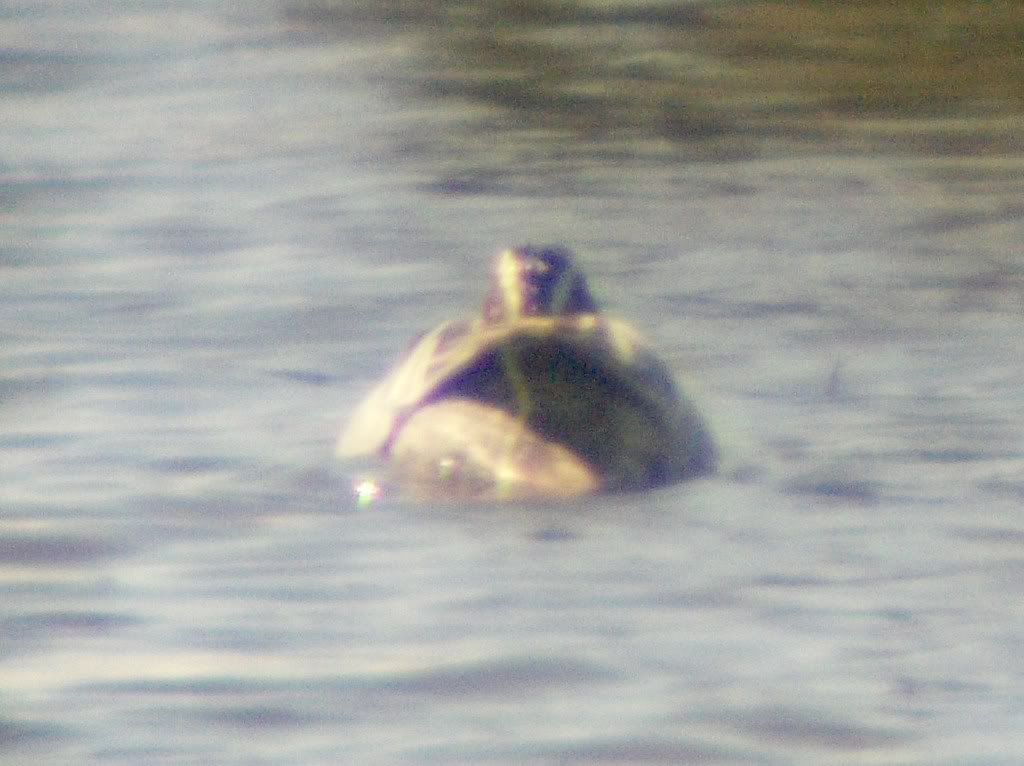 We spent the next hour or two with this chap, who hails from the Isle of Wight. After a decent walk along the canal we eventually reached the viewing platform, which was about the size of a postage stamp! Another birder was already present and we somehow managed to squeeze three scopes into the available space.
The first thing we spotted was something that the gentleman at Brierley had mentioned, a
Green-Winged Teal
[lifer 206!] [year tick 138!]. I was fortunate to drop onto it almost immediately. There was a bit of debate as to whether this was an escapee from nearby Slimbridge. I suppose you can't be certain, but if there is evidence to suggest it is I will duly strike it from the list. I notice, however, that Slimbridge itself is reporting a
Green-Winged Teal
on its website. I wonder if this is the same bird?
Shortly afterwards we had another unexpected fillip in the shape of a
Spotted Redshank
[year tick 139!]. I think these are amazing birds. With due respect to my lifers, I can't decide whether this or the
Garganey
was the tick of the day. Another good spot here was a
Ruff
, which my Dad picked up. He's getting better at his waders. We had been told that
Little Stint
were also present, but we didn't see any. Similarly, the
Cattle Egret
had been seen from the platform earlier in the day, but it didn't show.
A search for
Little Owls
a mile or so on from Frampton on Severn didn't reap dividends, but we did have excellent views of a
Sparrowhawk
perched in a tree in this area. Other nice sightings during the day included
Kestrel
,
Little Egret
,
Grey Wagtail
,
Great Spotted Woodpecker
and some
Common Gulls
[year tick 140!], which flew over our heads as we enjoyed a pint at the Bell Inn.
This week's amusing anecdote concerns pork pie. Traditionally, we take out a Dickinson & Morris pork pie when we go birding, which we affectionately refer to as Dicko. My Dad had instead picked up a pie from the Tesco's finest range. It was good pie and I wondered whether Tesco should rename it I Can't Believe It's Not Dicko. Well, I found it amusing anyway.
Finally, I would like to thank Dan Pointon and Kay for their excellent gen, which enabled us to find our way around without too much difficulty and led to some great spots. Couldn't have done it without you.