Day 3 of 4 - Bowling Green Marsh / Beer / Woodbury Common
Before I begin waxing lyrical about Sunday's birding, I should mention our close encounter with another potential lifer on Saturday night. Ivor had told us that
Tawny Owls
had been calling from the trees near his house, and as we were heading into Budleigh Salterton for a few pints and some food that evening, we were sure to listen out for them.
Sure enough, one called from the branches of a tree just as we passed underneath it. It couldn't have been more than 10 to 20 feet above us. I have certainly never heard them call as clearly as that before. Unsurprisingly, we couldn't locate it in the dark and a shameful attempt to flush it with the flash from my camera proved ineffective.
Sunday morning didn't start too well. The first thing I did was crack my head on the sloped ceiling above my sleeping bag, leaving me with a red mark on my forehead and a passing resemblance to Harry Potter. Undeterred by this blunder and a spot of resultant dizziness, I headed for the shower. Unfortunately, Leapy's decision to take a steaming hot bath the previous night meant there was no hot water, so I was forced to wash beneath an icy torrent. Needless to say, I was in and out within a minute. My nipples are still recovering.
After a quick breakfast, me and my Dad headed off to Bowling Green Marsh. In our opinion, the early tide meant getting there before 8:00am, which we managed, but Leapy and Ivor had elected to join us later on. There were many birds present including
Dunlin
,
Wigeon
,
Snipe
,
Avocet
,
Knot
and
Bar-Tailed Godwit
. I also picked up
Black-Tailed Godwit
[year tick 111!] in good numbers.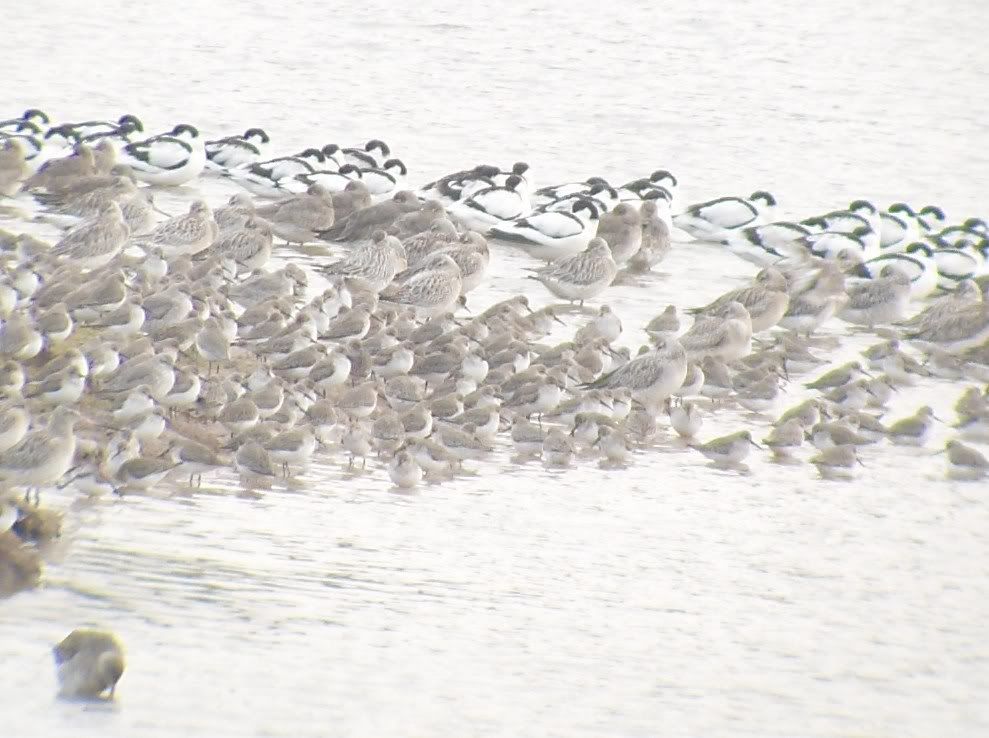 We were, of course, looking out for the
Long-Billed Dowitcher
that has been frequenting the estuary for some weeks now. There was no sign of it over high tide, and as the waders began to move back down the estuary, we felt that we might be better off at the viewing platform further down the road. Leapy and Ivor had arrived by this point and we were within minutes of heading off, when a chap to our left suddenly spotted the
Long-Billed Dowitcher
at the rear of the marsh [lifer 200!] [year tick 112!].
We'd done it! 200 birds on the life list! There were a few slaps on the back and, needless to say, a few more swigs from the hip flask. It was a lifer for Ivor too, but Leapy had twitched the bird at Bittell Reservoir in Autumn 2006. Nevertheless he was suitably pleased for us, being the top bloke that he is.
Next up, we headed to Beer. One of the birders at Broadsands on Saturday had told us that there were three
Black Redstarts
there. It sounded too good to be true and unfortunately it was. We were there for over an hour and saw no sign of them. On a more positive note, several
Fulmar
[year tick 113!] and a
Peregrine
[year tick 114!] found their way onto my year list, the latter powering over the waves, before perching on the cliff face. A fine sight.
Last, but by no means least, we paid a visit to Woodbury Common in the hope of finding a
Dartford Warbler
. It took us about two minutes to track one down [year tick 115!], mirroring the success I had with these great little birds on Aylesbeare Common last April.
Although we managed a walk down the Otter Estuary afterwards, there were no more year ticks or lifers to be had. The rain closed in and we pronounced the birding over for another day, one that I will remember for a long time to come.