The arrival of the Spring migrants meant that some kind of birding excursion was imperative this weekend. However, when I awoke on Sunday morning and saw that it was snowing, I immediately feared the worst. Realising that the roads were clear and knowing that the forecast wasn't too bad, I rang my Dad and we agreed that we would press on despite the weather.
Our plan was to visit Grimley first, before heading to Hartlebury to see if we could track down the
Iceland Gull
that was seen on the trading estate there on Friday. I was also keen to pop into Shenstone as it was fairly nearby and we had planned to pay a brief visit to Upton Warren, mainly for the
Little Ringed Plover
that arrived during the week.
We arrived at Grimley shortly after 8:00am. Our main target here was the juvenile
Black Redstart
, which had been spotted a few days earlier. We scanned the north end of the site for twenty minutes or more, but couldn't see anything. Eventually, we decided to get back in the car and park in the traditional spot by the hay barn. From here we had a walk along the main pool, noting a few
Oystercatchers
and a
Redshank
along the way.
As we approached the north end again, we ran into another birder who told us that he had not seen the
Black Redstart
either. He did, however, mention the
littoralis
Rock Pipit
, a Scandinavian sub-species of the bird we normally see in this country, which had arrived at Grimley on Saturday.
We had a quick look with him for the bird and were lucky enough to get onto it within a minute or two. Birders tend not to treat sub-species as separate ticks, though everyone has their own rules. I go along with the theory that they should not be added to the life list, but I will certainly make a note of it for my own records. I had seen some pictures of this bird on Brian Stretch's excellent Worcester birding website, but they did not really do it justice. In the field, the bird had a beautiful pinkish wash to its underparts and I would recommend that you go and have a look at it for yourself if you can.
Whilst we were looking at the
Rock Pipit
, we also spotted a pair of
Little Ringed Plover
[year tick 130!], which made the proposed trip to Upton Warren obsolete.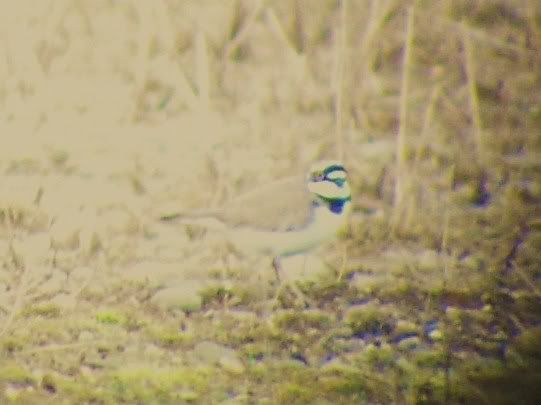 Shortly afterwards, we managed to track down the three
Wheatear
[year tick 131!] that had been around for a few days. They are beautiful birds and I never seem to run into them as often as I would like. After a bite to eat we resumed our search for the
Black Redstart
, but there was still no sign of it. We decided to head off to try our luck elsewhere. We did pick up a
Green Sandpiper
[year tick 132!] on the way back to the car, however.
Firstly, we payed a brief visit to Hartlebury, but the search for the
Iceland Gull
bore no fruit. It was always a long shot to be honest. We then continued to Shenstone. My Dad still needs
Grey Partridge
for his year list, but again we could not find any. Probably better early in the morning. That's when I flushed a pair here a couple of weeks ago.
Shenstone was untypically quiet, but there's always something to see here. True to form, we had a
Sparrowhawk
cruising low over the field with the
Bramblings
in it. Our pulses raced when we initially thought it was a
Merlin
, but common sense prevailed. There was no sign of any
Corn Bunting
or
Yellowhammer
, but plenty of
Skylarks
and a few
Meadow Pipits
were dotted around.
We felt it was worth one last stab at the
Black Redstart
, so we headed back to Grimley, noting a presumed
Weasel
dicing with death on the A449 on the way! My only previous encounter with a
Weasel
resulted in its untimely death beneath the wheels of my car, an experience that left me feeling pretty wretched. Somebody needs to tell them that playing chicken on a busy road is not a good idea.
Back at Grimley we were encouraged by the sight of several cars parked on the verge. Had there been a positive report whilst we were gone? It turned out that it had been seen, but had once again disappeared. After some more unsuccessful scanning, we took a walk along the cliff. Still no sign. Back with the small group of birders that had formed, we gave it one last shot and were just about to concede defeat, when I spotted something on the deck in front of us.
As I was getting the scope on this bird, I thought I heard someone confirm my suspicions. I was just beginning to congratulate myself, when I realised everyone else had their scopes pointing in a different direction. Sure enough, there it was, the
Black Redstart
[lifer 204!] [year tick 133!] and I never did find out what my mystery bird was. I had a swig from my hip flask, swiftly followed by a second from my Dad's. We've decided that lifers are worth two nips now that we've joined the 200 club! If we ever get to 300, we'll be catching the bus home!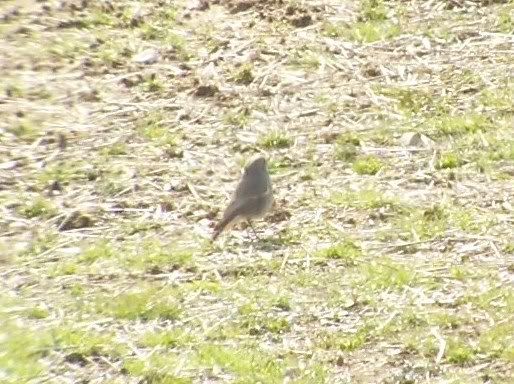 Next week, I'm hoping to go to the Forest of Dean to see if I can get hold of a
Goshawk
amongst other things and I have my eye on a
Garganey
that has turned up in Hereford this week. Read about it here in due course.