It's been an exciting week for birds in the garden and around the neighbouring area. As mentioned last week, a pair of
Lesser Redpolls
showed up in the damson tree on Sunday, albeit for a matter of seconds. As if this wasn't good enough, a female
Brambling
turned up on Monday. This is the first record of this species in the garden. The bird hung around for 10 minutes or more, allowing me to take a few photos.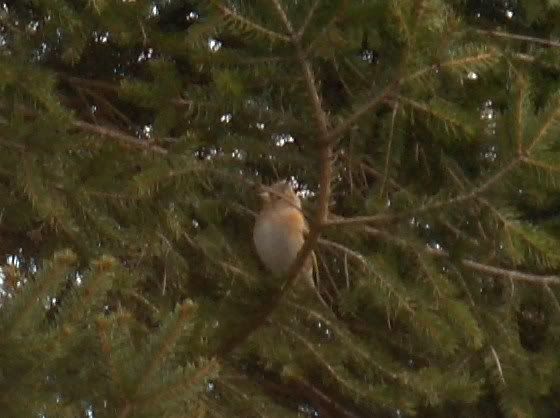 On Thursday afternoon, I noticed Chalky, the white-winged
Jackdaw
, perched on top of the oak tree opposite the house, with another of his kind and a pair of
Mistle Thrush
. He has been spotted in the field today too.
Another individual who stands out from the crowd is Wing, the lame
Chaffinch
. Sadly, Wing is not very good on his feet and has a habit of fluttering about on the ground using his wings to support him. I remember seeing a female
Chaffinch
at Whitacre Heath a few weeks back with a similar problem.
Wing tends to sit for long periods in 'Seed Valley', the area underneath the damson tree where seed falls from the feeders. He seems to be able to fly alright, but he just has trouble perching anywhere. Poor thing.
Another tick from the house this week was a male
Pheasant
in the field on Friday morning. My neighbour told me that he had had a
Pheasant
in his back garden recently. Maybe it was the same one. You don't see too many around here.
I'm planning a trip to the Wyre Forest in the morning and will report back in due course.
Until then, happy birding!