Day 4 of 4 - Cheddar Reservoir / Slimbridge
The last day of the trip, but there was still birding-a-plenty to be getting on with. A phone call to the long-suffering Mrs Telescope on Sunday evening confirmed that there was a
Red-Necked Grebe
at Cheddar Reservoir. The
King Eider
in North Devon was a twitch too far, but the reservoir would only involve a minor detour, so we thought it was worth a shot. There was talk of trying for a
Short-Eared Owl
at Aust Warth, but eventually we came to the decision that a few hours at Slimbridge would pay greater dividends.
Before all of this, however, my Dad and I made an early morning visit to Exminster to try for a
Woodlark
. It was a long shot and, somewhat predictably, there was no sign of them. To be fair, I think they breed in this location and they may still be on their wintering grounds. Either way, they weren't there so far as we could see. We had a pleasant surprise, however, when we picked up a pair of
Chiffchaffs
merrily singing away [year tick 116!]. Another reasonable tick so early in the year.
We left Budleigh Salterton at 10:15am and arrived at Cheddar Reservoir about an hour later. It's a two mile walk around the reservoir, which isn't too bad when compared to the veritable behemoth that is Draycote Water. The sun was in our eyes at first, which made scanning tricky, but having sifted through a number of
Great Crested Grebes
we felt happy that its rarer relative was not amongst them.
As we made our way around the water's edge, I suddenly noticed something that got my birding senses working overtime. It looked like a diver, but disappeared from view very quickly. When it broke the water again I was able to identify it as a
Great Northern Diver
. Not a year tick, but it was a great moment. We had no idea that it was there, although I later found out that it had been around for a couple of weeks. Self-found birds! You just can't beat 'em!
Further round I picked up four
Scaup
[year tick 117!], two drakes and two females, plus a pair of
Goldeneye
. Birds like divers and the rarer ducks used to have to be pointed out to me, so it was personally very pleasing to be picking them up on my own. Without wishing to sound big-headed, I reckoned I must be getting the hang of this birding lark.
They say pride comes before a fall, so you can guess what happened next - a birder travelling in the opposite direction told us that the
Red-Necked Grebe
had been seen on the opposite side of the reservoir about an hour ago. Of course, that was where we had started our search, so we hot-footed it around the path until we could get a decent view of the appropriate area.
Almost instantly, I had a grebe in my sights that looked promising. It was still a bit distant, though, so there was another mad dash to get a better vantage point. Then there was no doubt.
Red-Necked Grebe
[lifer 201!] [year tick 118!] fell, meaning that we had bagged five grebe species on the trip. Nice work!
Onwards and upwards to Slimbridge, where we got easy ticks in the shape of
Bewick's Swan
,
White-Fronted Goose
,
Golden Plover
and
Barnacle Goose
[year ticks 119, 120, 121 & 122!], plus a
Water Rail
and the second
Peregrine
of the trip. Sadly, my camera had packed up at this point so I have none of my famously blurred record shots with which to illustrate these sightings.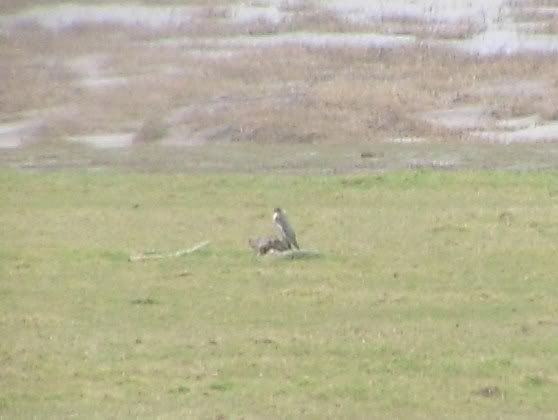 A quick dash to the Zeiss Hide got us nothing better than a
Gadwall
for the trip list, so we made our way back towards the Holden Tower. It was from the hides along the path to the tower that we picked up a couple of
Ruff
[year tick 123!], before beginning the daunting task of picking out the
Bean Goose
amongst the sizeable flock of
White-Fronted Geese
.
Ten minutes in, we were joined by a youngish lad, who almost immediately claimed to have located the lone goose. We were able to get in the right area fairly easily due to the fact that the bird was only about twelve geese or so in from the right. After an agonising ten minutes or more, the goose stuck its head up and we finally got good enough views to see that it was indeed the
Bean Goose
[lifer 202!] [year tick 124!]. The hides were closing at this point so we packed our scopes away for the final time and headed for home, not before we'd had our last swig of whisky though!
Looking back, it was an amazing weekend. I knew three lifers in some shape or form would surely fall, maybe even four or five if we were really lucky, but to get seven was incredible. Passing 200 lifers courtesy of the
Long-Billed Dowitcher
was a special moment. Although there are a few relatively common species that I still need to see, it is inevitable that any lifers now are going to be pretty good birds. Equally, lifers are going to become more and more scarce in accordance with the law of diminishing returns, but I'm looking forward to the birding challenges ahead with nothing other than excitement.
Until next time, happy birding!