No, I haven't been picking my nose again, I finally spotted a
Little Owl
[lifer 207!] [year tick 148!] last night. I got soaked in the process, but boy was it worth it! I think it is in the best interests of the bird that the location should be kept hush hush, but I will say that it wasn't too far from home. Many thanks to the chap that shared this information with me. I owe you one!
A quick visit to Shenstone and Upton Warren on Monday also added a
Linnet
[year tick 147!] to the year list. And yes, I know I'm recounting these tales out of sequence, but I couldn't wait to tell you about that owl!
Other birds at Shenstone included
Chiffchaff
, a single
Fieldfare
, which caused me some confusion for a few minutes,
Yellowhammer
and
Song Thrush
. I didn't manage to find any
Yellow Wagtails
. I then visited Upton Warren and had more
Linnets
, plus the usual suspects, including
Avocet
,
Little Ringed Plover
,
Blackcap
,
Reed Bunting
and a
Kingfisher
on the sailing pool.
On arriving back home, a
Lesser Redpoll
turned up in the garden. When it returned later on, I was able to get a picture, albeit a rather blurred one taken through the window.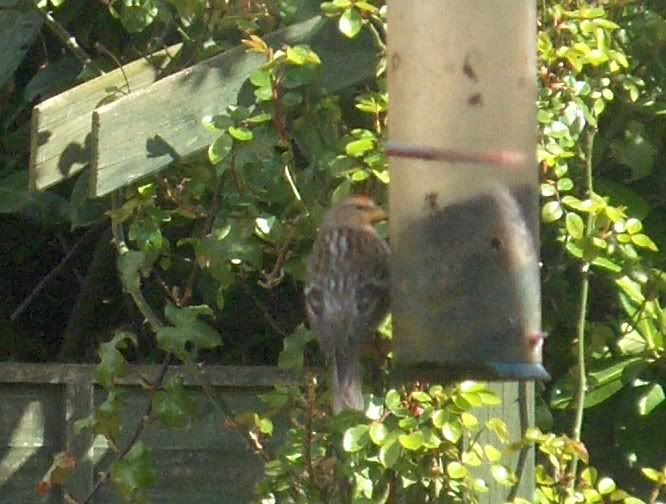 The Mistle Epistle
The
Mistle Thrushes
are still on the nest. The female has now laid four eggs, one each day since Saturday. They are doing an excellent job, seeing off any
Jackdaw
or
Jay
that wanders a bit too near the nest. I'm off to Suffolk tomorrow for four nights, then I'm spending three nights in Norfolk, so sadly I'm going to miss out on anything that happens over the next week. I'm sure they'll be alright. The first thing I'll do when I get back is check up on them. Look out for an update on or around 25 April.