First up, news of another year tick. It came on Friday night at 11:05pm when a
Barn Owl
[year tick 144!] flew past the house. There was another good spot from the house this afternoon, when another
Raven
turned up in the field opposite. This time I was armed and ready with my camera and the scope, so I was able to get some better pictures.
This morning I put a bit of time and effort in at two of my local patches, Bittell and Earlswood Lakes. My Dad had seen a
Tawny Owl
at Bittell yesterday morning and although I suspected my chances of latching onto one were remote, I thought I'd give it a go and see what else I could find whilst I was there.
Things kicked off with a couple of
Pheasants
poking around in the verges, whilst I took shelter from the torrential rain in my car. Fortunately, the rain stopped after 10 minutes or so and I was able to make my way up the path through the woods. Here I had a
Chiffchaff
, a
Blackcap
and a male
Bullfinch
in quick succession. I couldn't find any
Lesser Spotted Woodpeckers
today and, needless to say, the owl didn't show.
At the upper reservoir there were many
Sand Martins
, perhaps a few hundred , though I didn't count them all! A reasonable number of
Swallows
were also present. Then I picked up a
Common Sandpiper
[year tick 145!] on the water's edge along the causeway.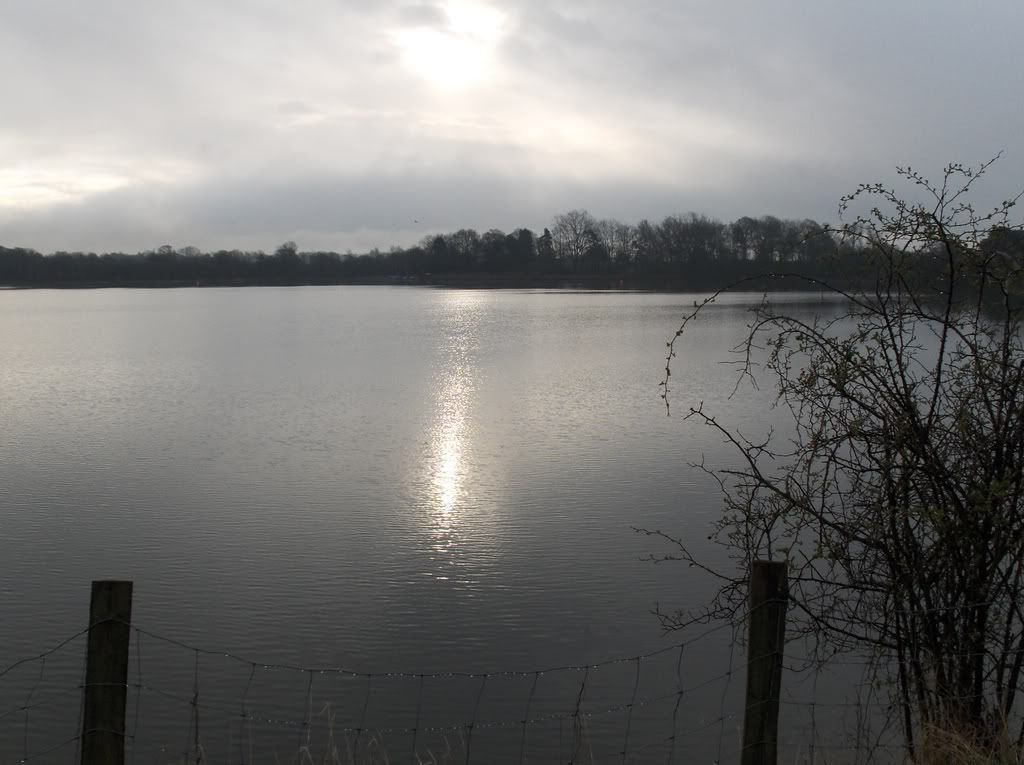 Making my way across the field at the back of the reservoir, I heard my first
Willow Warbler
of the year, but was unable to locate it. However, as I made my way back to the car I had another in a tree right by the side of the road [year tick 146!]. Other birds of note at Bittell were a
Treecreeper
, several
Stock Doves
, a
Great Spotted Woodpecker
and a pair of
Green Woodpeckers
.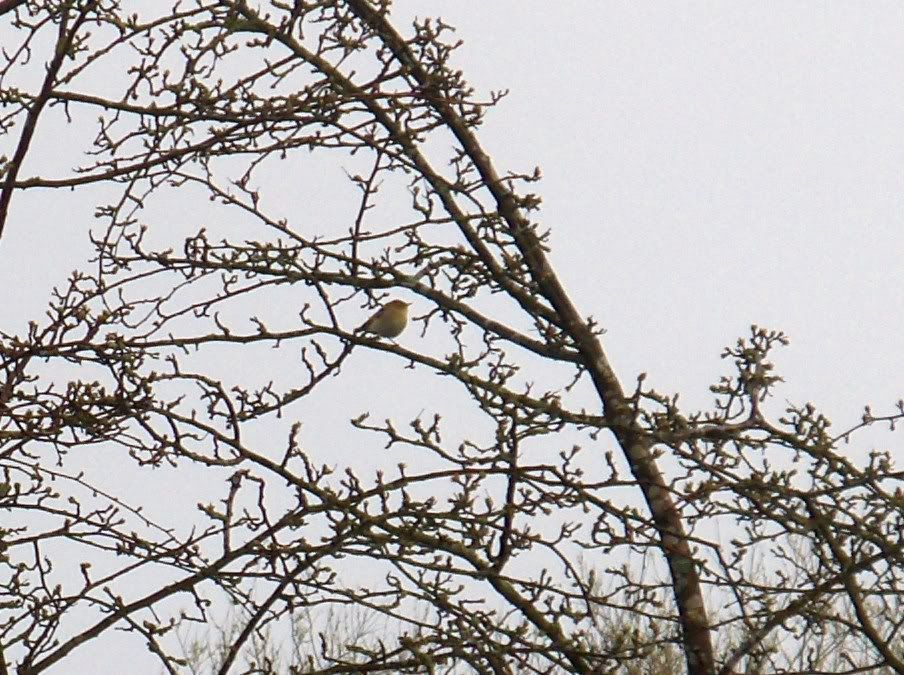 On to Earlswood Lakes. I spent about three hours here, taking in both pools, New Fallings Coppice and Clowes Wood. Many
Chiffchaffs
and
Great Crested Grebes
were noted, a few more
Willow Warblers
and two or three
Blackcaps
, plus a female
Reed Bunting
.
Great Spotted Woodpecker
was seen again on a couple of occasions, along with
Nuthatch
, another
Treecreeper
, several rowdy
Jays
and more
Sand Martins
and
Swallows
. The highlight was the second
Common Sandpiper
of the day, back at the entrance to the car park.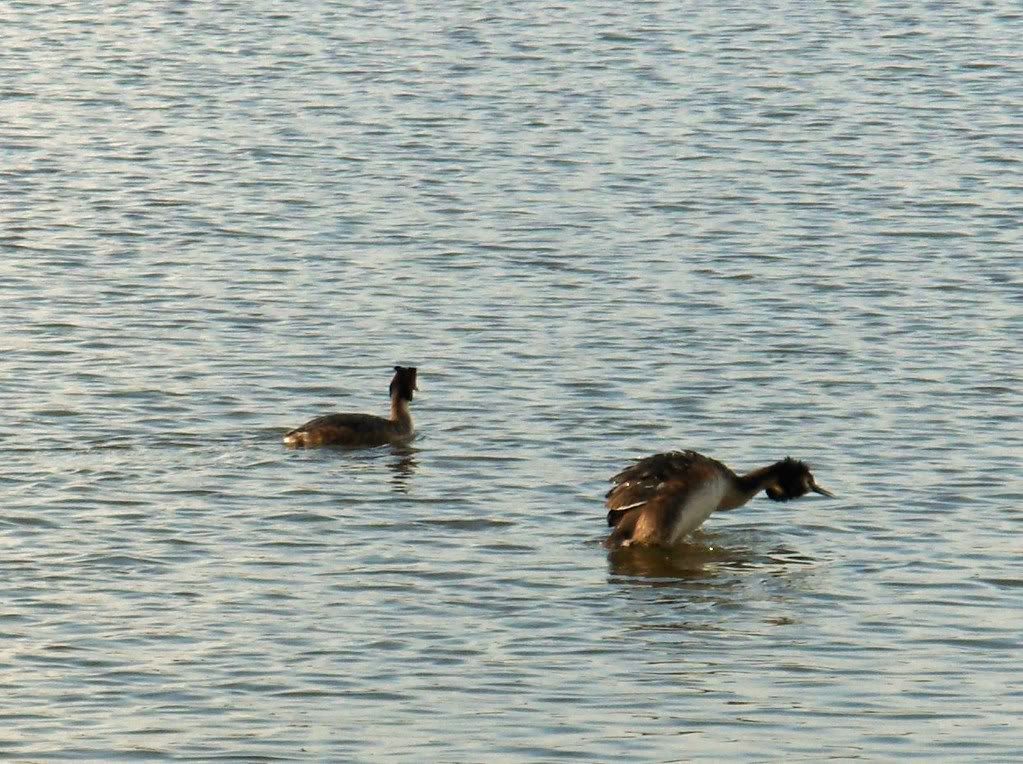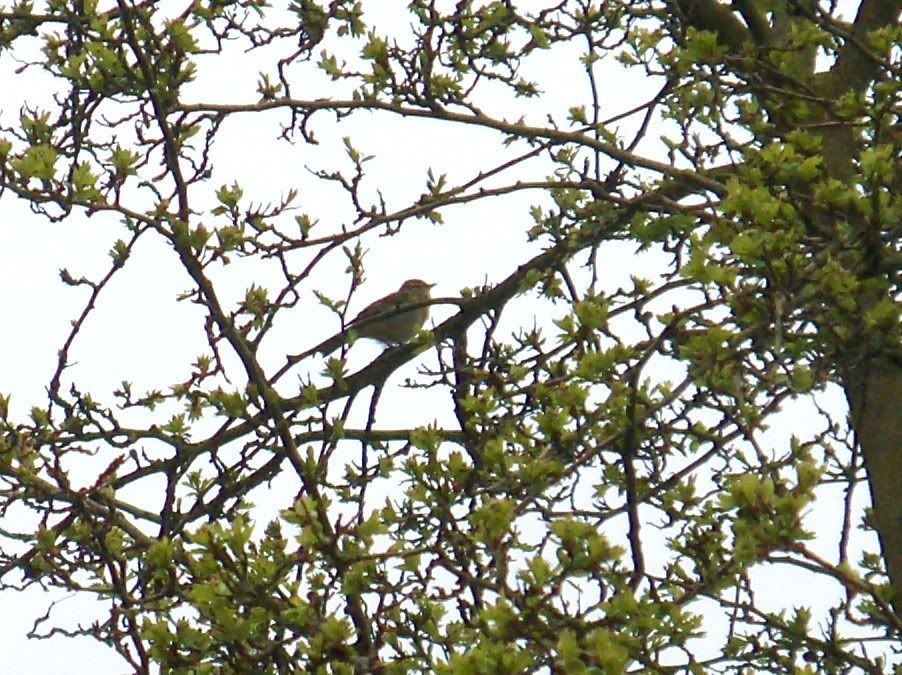 The Mistle Epistle
Time to catch up with my nesting
Mistle Thrushes
. I finally managed to get a snap of the empty nest on Saturday morning. To my delight, when I took a peek at it on Saturday evening, there was a single egg in there! I'm not sure whether the female has laid any more, but I will try to have another look later today or tomorrow.
My books tell me that they normally lay between 3 to 5 eggs. Mind you, they also say that the nest is a big, loose cup of roots, leaves, twigs and grass, often quite exposed on a tree branch. This nest doesn't really seem to fit that description.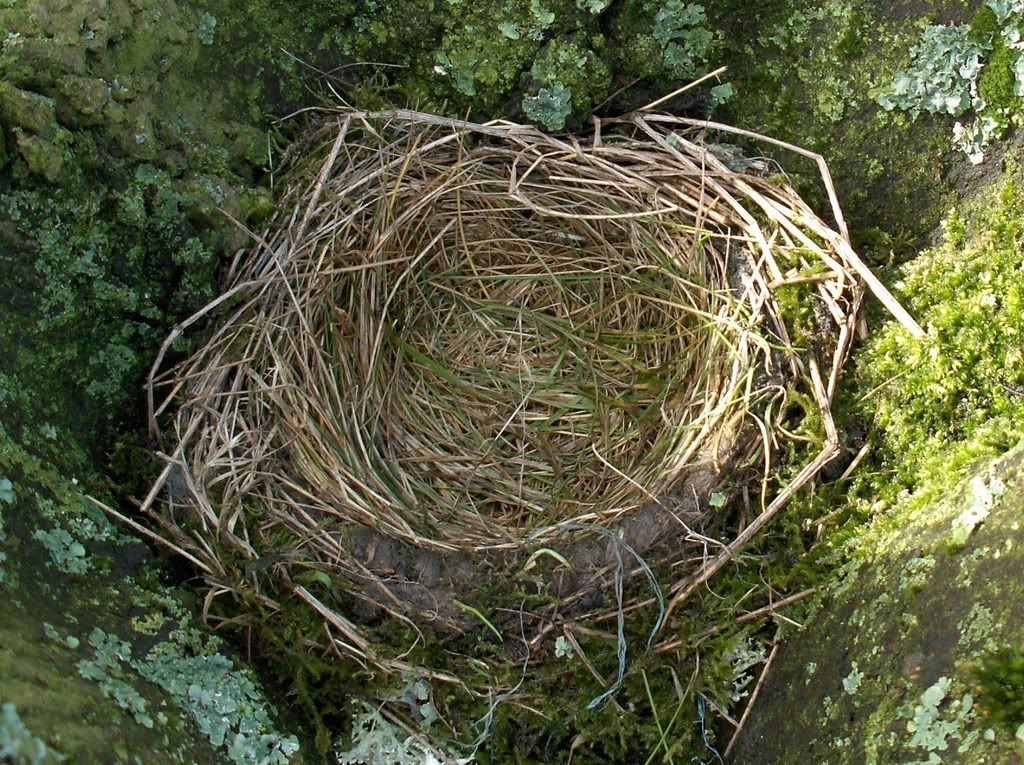 The heavy rain on Friday night doesn't seem to have caused them a problem. I'll keep a close eye on their progress over the next few days, but then I will be away for a week or so. At least my cat, Barney, will be at the cattery, so that's one less thing for them to worry about!
As I was writing this, I noticed that both birds were in the branches of the tree, so I was able to sneak another look in the nest. Good news! There are now two eggs in there.
I plan to do a bit more birding tomorrow morning, so I will post details of that on my return.