Well, I've woken up to a beautiful carpet of snow here in Wythall, so any birding plans have been put on the back burner for the moment.
I thought I would take this opportunity to post a piece about my trip to Islay a couple of years ago, an event that changed my whole outlook on birding. Writing up this summary brought back some brilliant memories. I hope you enjoy it.
Memories of Islay
In May 2006 we spent a week on Islay, off the west coast of Scotland. At the time the trip was organised my Dad and I were still to be fully initiated in the art of birding. We had both been interested in birds for a number of years, but our knowledge extended only so far as being able to identify the more common species that we had come across in our gardens or during holidays by the sea.
Among our group were Dave Lyons, Dave Thomas and Brian York, all of whom had much more experience than the two of us. Making up the group were Steve Jones, Matt Bailey and David Chalmers. With so many Daves and Davids on board, I will from this point on use nicknames where appropriate. For the record, Dave Lyons is more commonly known as Leapy, whilst Dave Thomas is generally referred to as Ivor.
After an overnight stop on the mainland in Crianlarich, we headed down to Tarbert to catch the ferry on Saturday morning. I remember Brian pointing out a few
Guillemots
as we waited for the ferry. Birds like this were completely new to me and I was immediately fascinated. Once we were on the ferry we had more new and exciting sightings such as
Black Guillemot
,
Manx Shearwater
and
Great Northern Diver
. I don't think I had a life list at this point, but the names of all these weird and wonderful creatures were duly noted. When I returned home I listed as many as I could remember.
Once on Islay itself, the rest of the party immediately headed off to the open day at the Lagavulin distillery. I elected to stay behind and familiarise myself with the house, which was situated within walking distance of Port Ellen. I remember stepping outside and wandering down the lane, before taking a few snaps of the bay. Later on, I took a walk with Leapy and Brian and recall seeing my first ever
Willow Warbler
. I remember thinking what a rare bird it must be. I'd never even heard of it!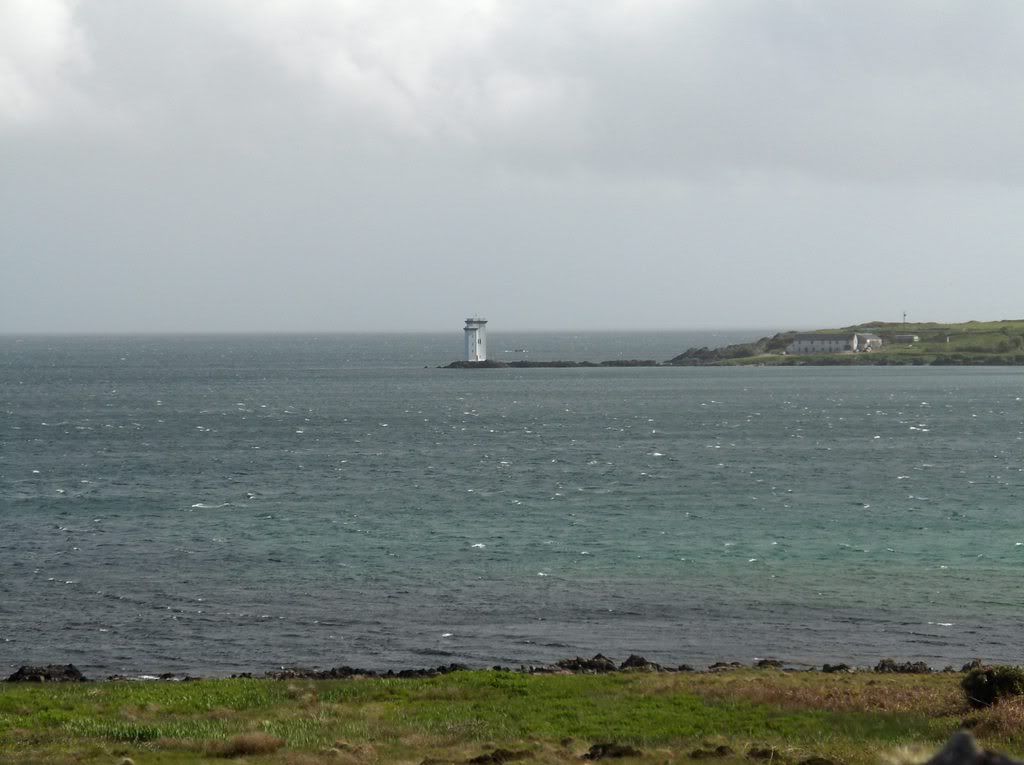 On Sunday, it was my Dad's 60th birthday. We spent the first part of the day at the Bruichladdich distillery, sampling whisky and oysters, along with other local produce. We also paid a brief visit to Loch Gruinart that day. We saw a
Sedge Warbler
here and more
Willow Warblers
, one of which was kind enough to pose for the camera. There was a bit of excitement when a couple of the group heard a
Corncrake
calling in the area, but we never saw it.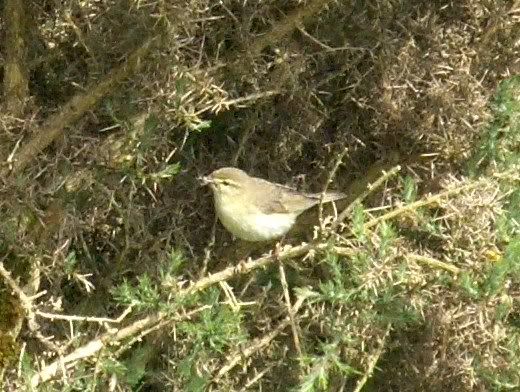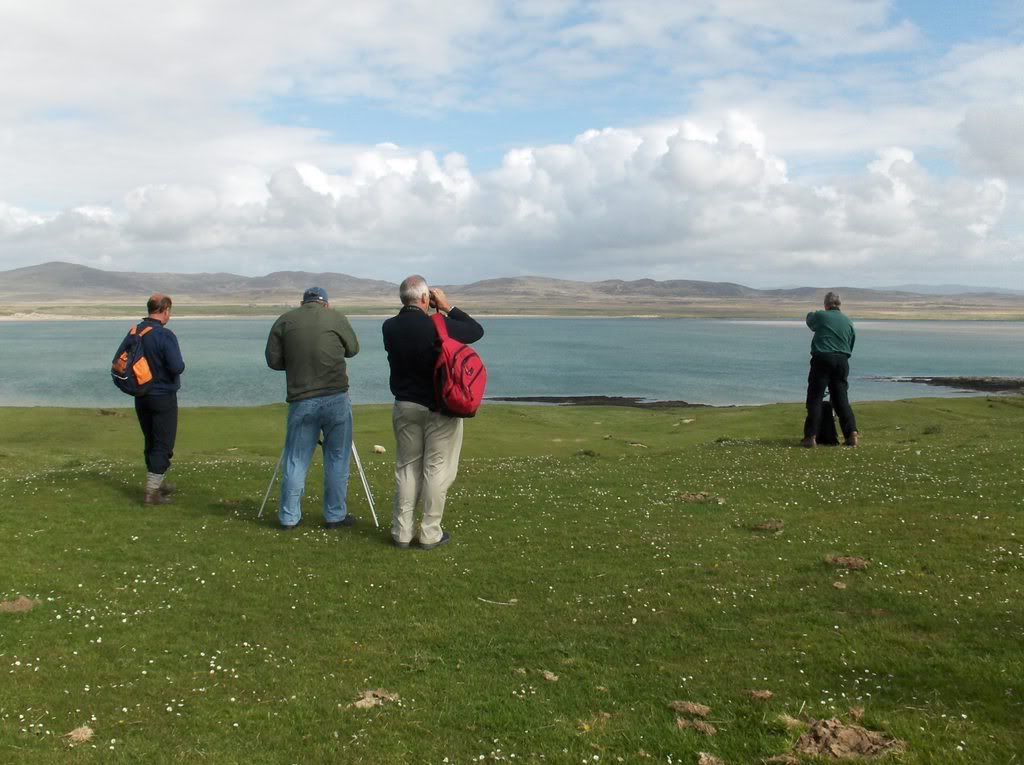 The Monday was a brilliant day that lives long in the memory. It started with a bit of birding by Brian, Leapy and I. A
Cuckoo
had been heard around the cottage on Sunday morning and after catching up with a few of the more regular species, Leapy thought he'd spotted the
Cuckoo
perched on overhead wires. Before we could get a really close look at it, it dropped down and disappeared from view.
To his credit, Brian likes to be meticulous about his birding, so politely challenged Leapy as to why he thought it was the
Cuckoo
. Quick as a flash, Leapy began listing the bird's features. He mentioned its long wings, which projected below the body, the bill, which looked right for a
Cuckoo
and the barring on its chest, before stating, "And the bloody thing was going 'cuckoo' for heaven's sake!"
After a priceless start to the day like that, surely it was going to be downhill all the way, but no. First up, we paid a visit to the Caol Ila distillery. Dad, Leapy and I were in one car with Script For A Jester's Tear by Marillion blasting out of the stereo, whilst Ivor drove Steve, Matt and Brian. Once at the distillery, we watched several
Gannets
at close hand, fishing along the stretch of water between Islay and Jura.
After the distillery tour, there was a tasting. Everyone had been given a small number of bottle tops and these could be exchanged for a dram of 12 or 18 year old Caol Ila, or a rather potent cask-strength edition. We duly had our samples and declared the 18 year old as a rather fine drop. It is still my favourite tipple to this day.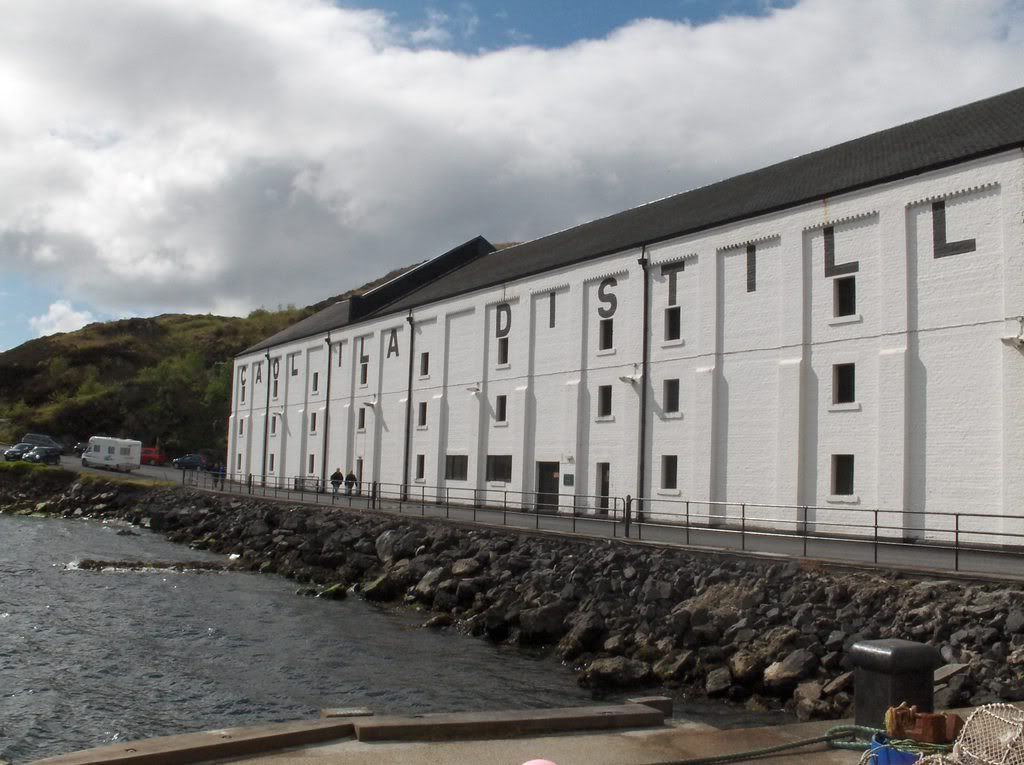 I remember being outside talking to Steve and wondering where everyone else had got to. It turned out that these token bottle tops meant nothing and they were simply giving the whisky to anyone who wanted it. Consequently, we headed back inside and proceeded to enjoy rather too much of the hard stuff. My Dad and Ivor were driving so we cunningly smuggled an empty water bottle in and filled it with Caol Ila's finest. There must have been about £15 worth of whisky in that bottle by the time we'd finished!
Brian was a little worse for wear when we arrived back at Cairn Cottage, but we had booked ourselves into the Port Ellen maltings tour, so we had to head off once more, this time on foot! After a few more drams, we suddenly realised we were a bit peckish. Right on cue, plate after plate of sandwiches arrived and were quickly snaffled. It was only once we were back at the cottage that Brian realised that his camera was missing. He wasn't sure whether he'd left it at Caol Ila or the maltings, but there was little he could do about it.
That evening we went to the ceilidh at Port Ellen, a traditional Scottish celebration of music, dance and, yes, you've guessed it, whisky! Thankfully, Brian was reunited with his camera here. Someone had found it at the maltings and deduced that the owner might well be amongst the revellers at the ceilidh.
Towards the end of the evening, a chap that looked curiously like Michael Winner stood up and sang a traditional gaelic mantra that seemed to last for about two hours! David Chalmers, being Scottish himself, offered to translate for us. We looked on intently as David told the tale of a man who travelled to Islay and visited Port Ellen, before getting drunk and losing his camera at the distillery. He did it in such a dead-pan style that we were all taken in, right until the point where the story became ever so slightly familiar.
On Tuesday we resolved to do some slightly more intense birding. Having said that, we still visited the Laphroaig distillery via a scenic walk along the coast. Brian, whose nickname is Corky, had not yet seen a
Wheatear
, but everyone else had. Every time one popped up we'd shout out to Brian, but they seemed to disappear just before he could get his binoculars onto them. In the end, we decided they must be a sub-species,
Corky's Wheatear
, thus named because Brian was doomed never to see one!
That afternoon we walked on the Mull Of Oa. It was supposed to be reliable for
Choughs
, but we didn't see any. I recall seeing
Kittiwakes
,
Fulmar
,
Ravens
and plenty of
Meadow Pipits
and
Skylarks
. A stunning male
Wheatear
also presented itself. Even Brian got onto this one!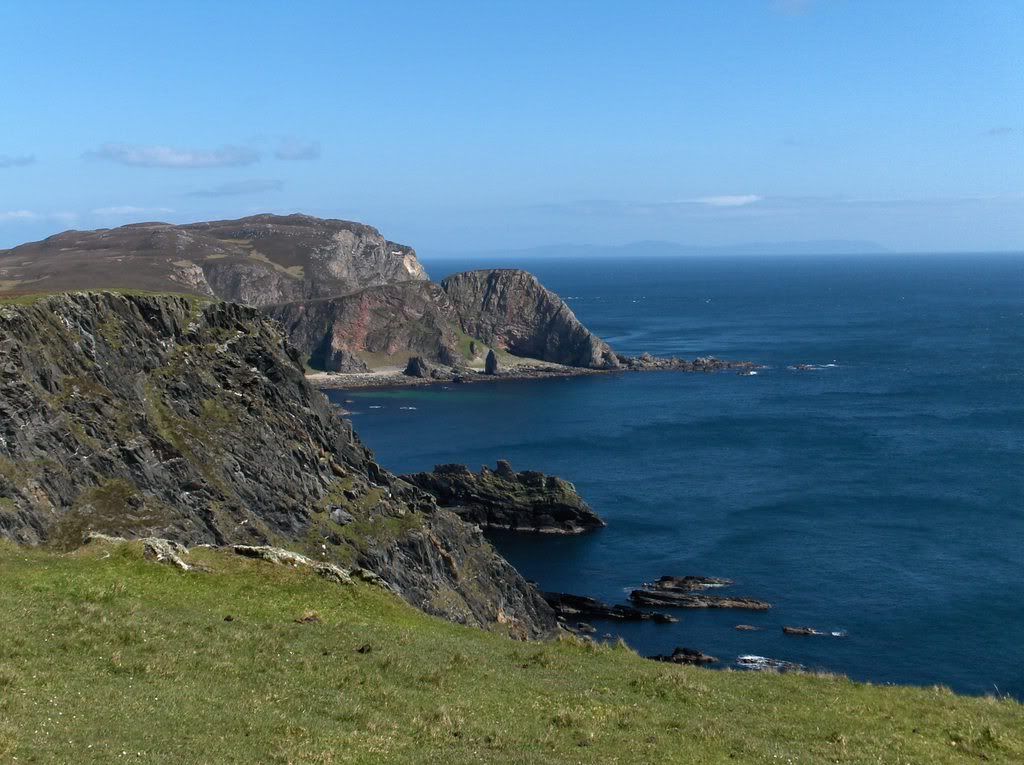 On the way back in the car, my Dad slammed on the brakes when he spotted something at the side of the road. We thought it was a raptor and immediately fired off a few photographs. The bird took off and we sighed in disappointment as we decided it was just a gull. It was only when we got back to the cottage and I blew up the picture that we saw it was a male
Hen Harrier
. Seriously bad ID skills all round!
On Thursday we were finally treated to excellent views of a
Golden Eagle
as it patrolled the area behind the Ardbeg distillery. Of an evening there would often be two or three people cooking in the kitchen, whilst the others were sea-watching from the comfort of the conservatory. We would often see divers,
Eider
,
Gannets
,
Arctic Tern
and
Black Guillemots
on these vigils.
One evening, Leapy got a diver in his scope, but it was distant. He thought it was a
Black-Throated Diver
, but I wasn't too sure. I reckoned it was a
Red-Throated Diver
. Considering my woeful lack of experience, I'm not sure why I chose to disagree with him, but either way, he launched himself into a passionate narrative on the subject of diver identification, which ended with him declaring that the
Black-Throated Diver
has got a bill like a piece of shit! Whenever we come across divers these days, they are invariably referred to as shit-bills!
After hearing
Corncrake
at Loch Gruinart earlier in the week, we resolved to go back and have another try. In the end, I think it was just Ivor, Brian, Steve, Leapy and I that made it. As soon as we got there we could hear them calling. One individual appeared to be in a small patch of nettles not too far away. Slowly, but surely, we crept closer and closer to it over the course of an hour. Every few minutes we would hear its cry coming from the thicket, but could we see it? Could we heck as like!
A bit later, a mother and her daughter came by. Brian wasn't too impressed as the girl was making a bit of a racket. She didn't help proceedings by saying that she had seen our intended target a short while ago, even though we suspected it was a load of tripe. Eventually, they disappeared leaving us to stake out our elusive quarry. In the end, we were almost on top of our prey. Somewhat out of character, Leapy was very nearly tempted to trample through the nettles in order to flush it, but thankfully, common sense prevailed and we admitted defeat.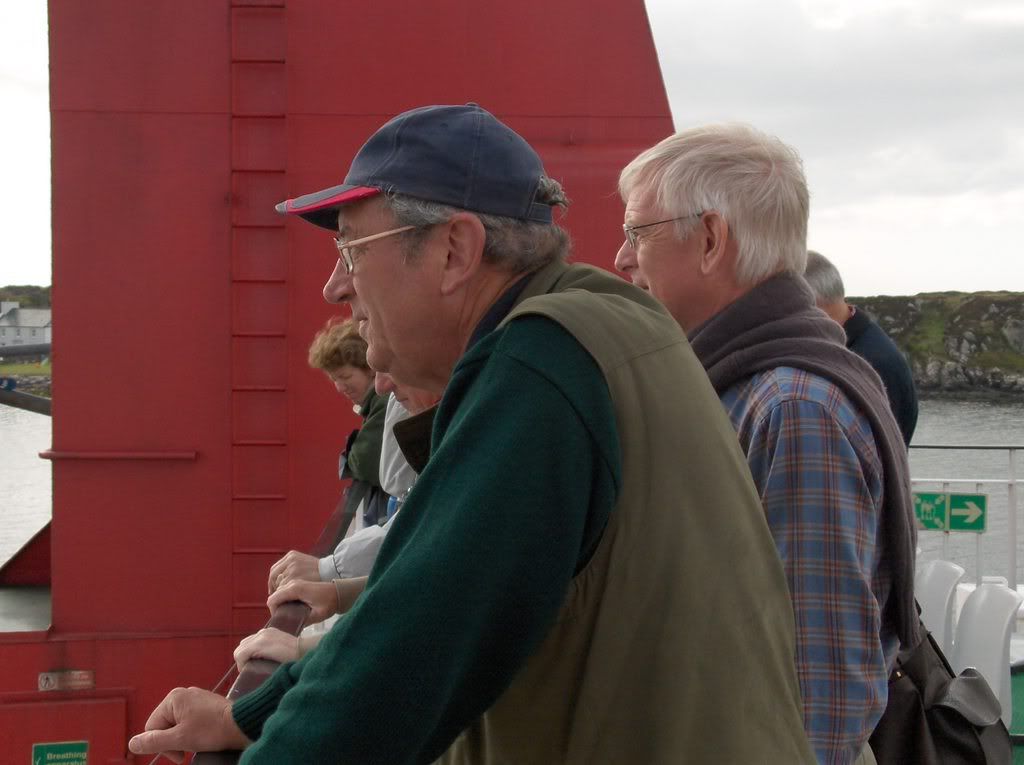 During the trip I picked up 22 lifers, but more importantly than that it made me want to go out and do more birding. Later that year I got some proper binoculars and went halves on a scope with my Dad. I haven't looked back since. My records show that I only had 72 birds on the trip. I'm sure there were more than that, but I just wasn't able to take it all in. When we go back, which we intend to do in 2009, I'm certain that the birding may take precedence over the whisky. But only just!