Rock 'n Roll - Monday 25 May 2009
The rain was coming down on Monday morning, but this wasn't a problem as we were off to the Caol Ila distillery. One of the birds I had been really keen to see on Islay was the pure
rock dove
- none of your feral nonsense that litter our towns and cities, although I must confess I do tick these each year!
As we neared the distillery, we spotted a ploughed field, which contained a good number of
rock doves
. It was quite odd to see these birds all sporting the same, smart finery. After a hastily snatched record shot, we continued to Caol Ila.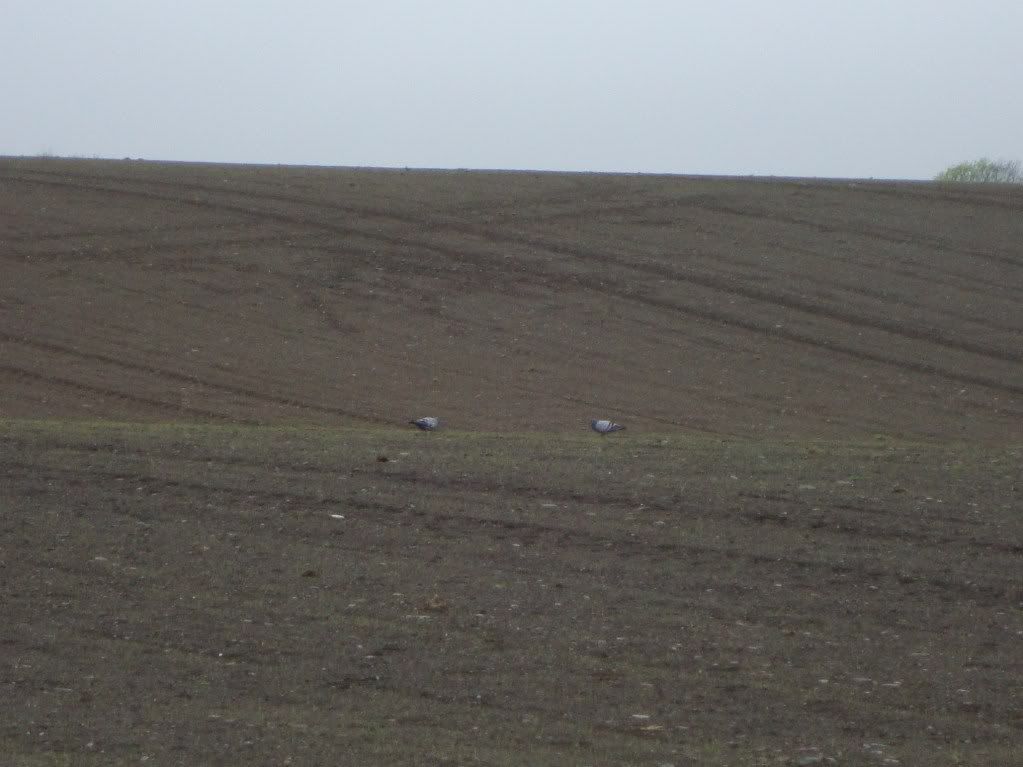 A couple of rock doves
Once at the distillery, we were greeted by a pair of camera-friendly
black guillemots
- no scope required for these two.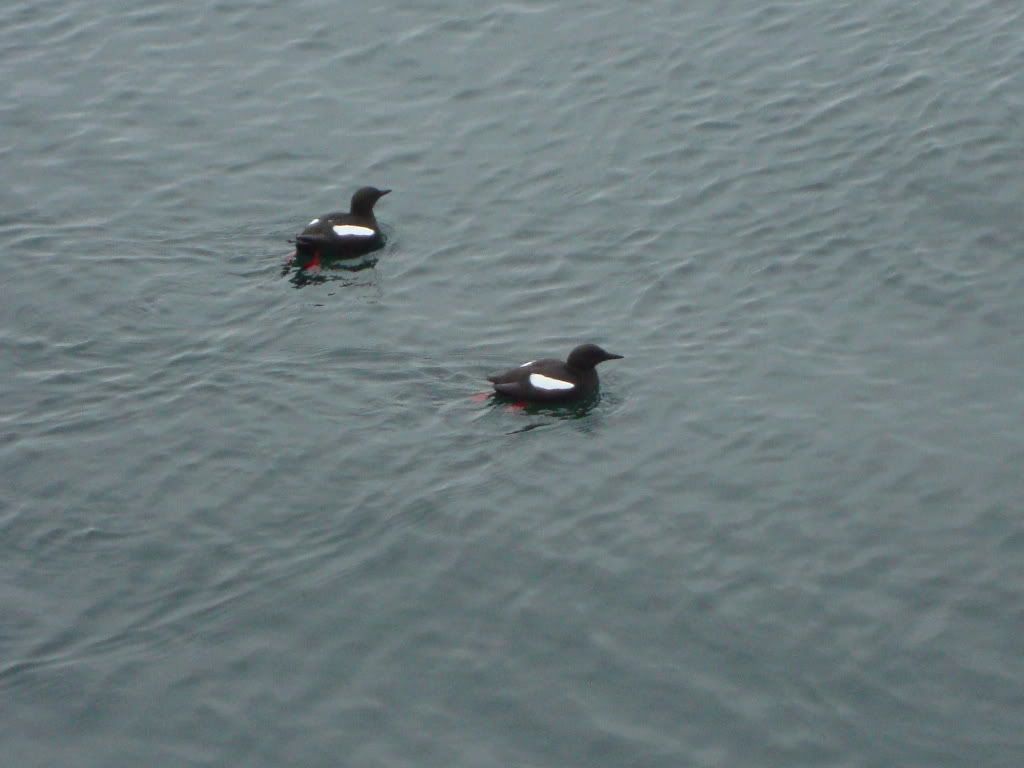 Black guillemots at Caol Ila
After an enjoyable tour of the distillery, led by the charming Hazel, we headed to a room to sample some of the distillery's wares. Although you could effectively drink as much as you wanted, we exercised a bit more caution than we had at Lagavulin. I was so impressed by one of the cask-strength bottlings that I made my first purchase of the holiday.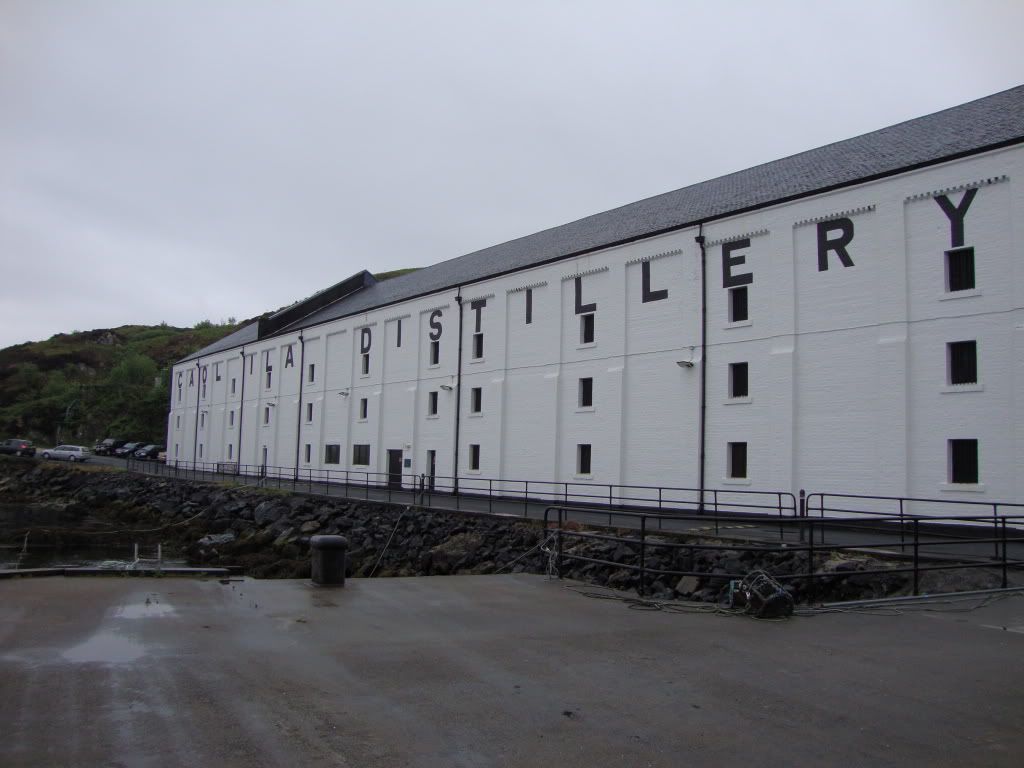 Caol Ila distillery
On the way back we had more
rock doves
, then a
willow warbler
in Bridgend woods. A scan of the northen shore of Loch Indaal produced
common gull
,
dunlin
,
ringed plover
, a pair of
wigeon
and a few terns, possibly arctic, possibly common - we weren't sure. A pair of
grey wagtails
were spotted on the river that runs through the village.
We spent the evening at the ceilidh in Port Ellen, where we enjoyed an evening of traditional Scottish song and dance.
Hare Today, Gone Tomorrow - Tuesday 26 May 2009
A pleasant start to the day meant the first opportunity to look for the
corncrake
near the cottage. We found out later in the week that finding birds on this part of the island is quite unusual. Mind you, hearing them is one thing - seeing one is a different matter. Our bird was calling readily, but it was impossible to tell exactly where it was and we never spotted it.
Not to worry - we enjoyed good views of the local
brown hares
as they charged around the fields. Also seen that morning were more
hooded crows
,
siskin
,
wheatear
and the
spotted flycatcher
in nearby Cairnmore Woods.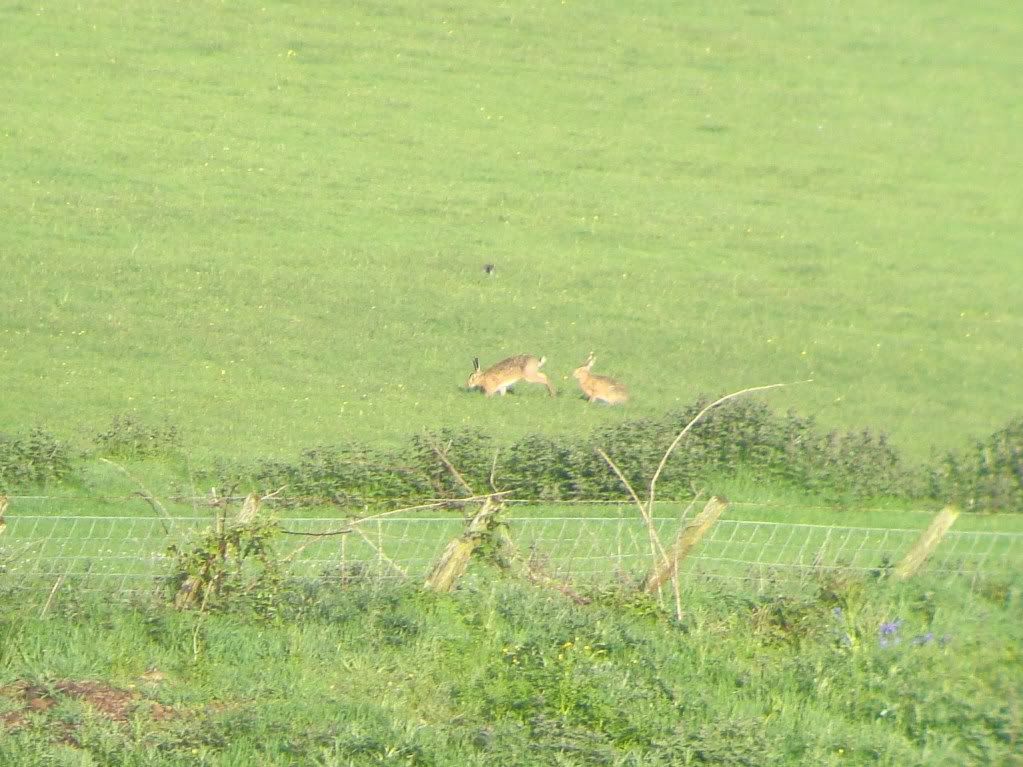 Hares - bonkers
Continuing our run of distillery visits, we walked to Laphroaig later that morning. Dad and I fell behind the others on the way there, which turned out to be a good thing. As we approached the distillery, I had a scan of the hills to our left and noticed what appeared to be a large raptor in the sky. After careful deliberation we realised this was our first
golden eagle
of the trip, and it was quickly joined by another. The views were distant, but the size and power of the birds was quite distinct.
More drams at the distillery, where once again the staff were quite happy to pour out as much whisky as you wanted. Again though, we showed an incredible amount of restraint. I'm not even sure if I hit double figures.
Reg outside Laphroaig
As a Friend of Laphroaig, I actually own a square foot of land near the distillery, so was able to collect my rent from them - a miniature bottle of Laphroaig Quarter Cask - one of my very favourite tipples, no less!
Before leaving, I made another purchase - a bottle of cask-strength Laphroaig. A snip at £30.00.
That evening we saw the
spotted flycatcher
again and spent some time photographing the local
siskins
as they fed from next door's feeder.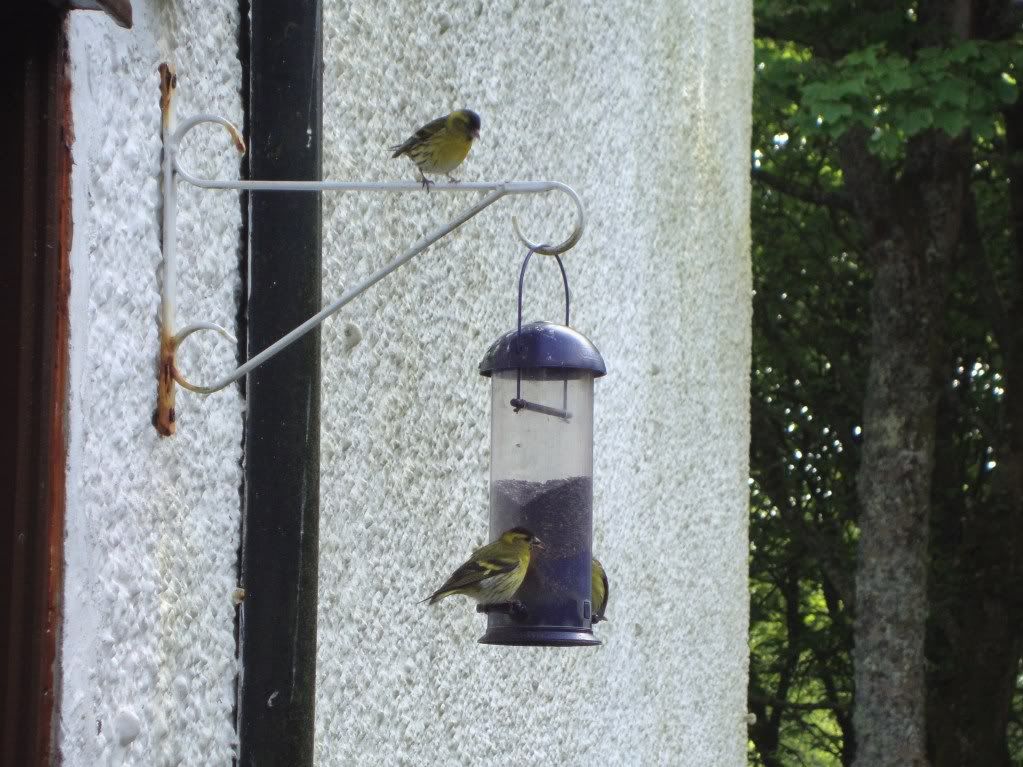 Siskins
A Whin Whin Situation - Wednesday 27 May 2009
Believe it or not, we didn't visit a distillery on Wednesday. Instead, we planned to go hill walking near the Ardbeg distillery - a hot spot for
golden eagles
. Whilst we didn't encounter any eagles, we did have a single
red grouse
, which was flushed by Matt as he ploughed a lonely furrow away to our left, a pair of
whinchats
and a few
stonechats
. A
cuckoo
was heard in the valley too.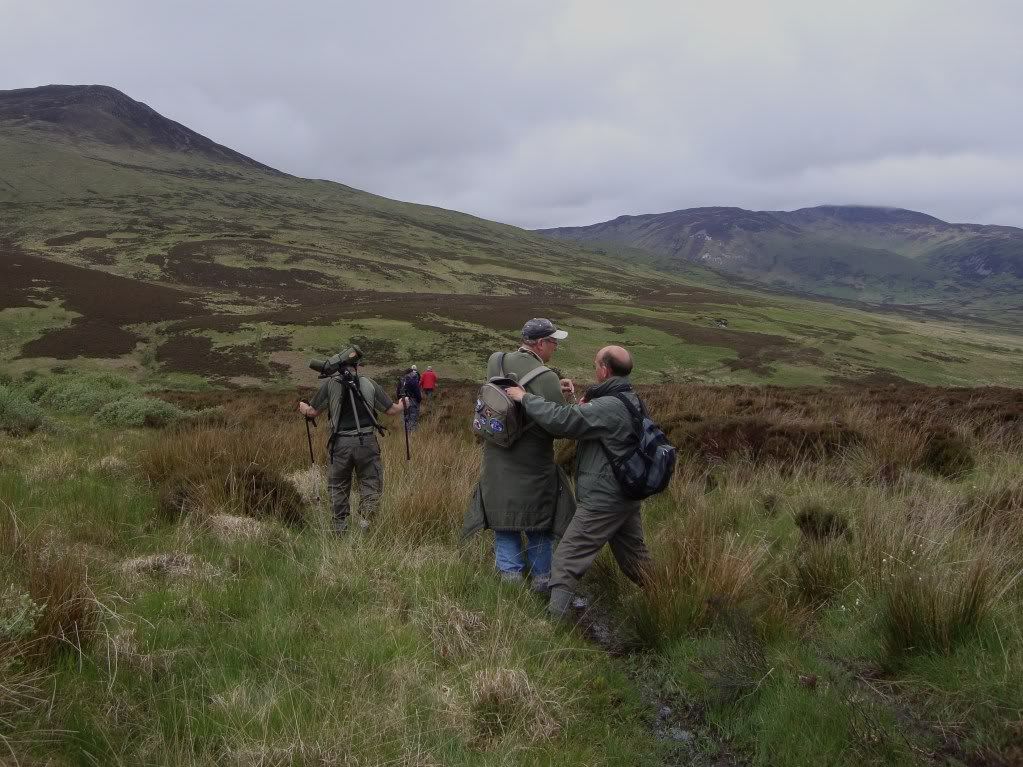 Hill walking near Ardbeg
An orchid spotted by Ivor during our walk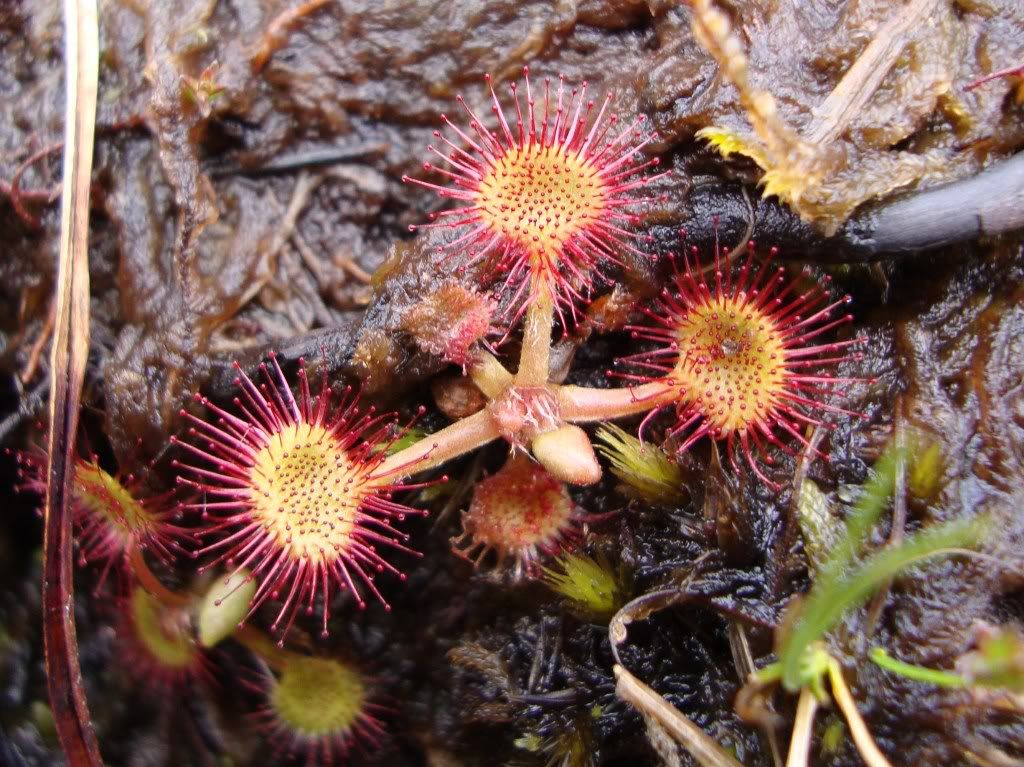 Weird bog plant
After a full day's walking, most people were happy to kick back once we returned to the cottage. Not me though - I took a stroll around the beach and the lanes. It felt a bit like patch birding, but the prizes on offer far outweighed anything I see in Wythall -
black-throated diver
,
eider
,
shag
,
razorbill
,
guillemot
,
red-breasted merganser
and
sand martin
were all spotted from the beach.
Up the lanes I had
wheatear
,
meadow pipit
,
stonechat
,
curlew
,
hooded crow
,
common buzzard
and the
spotted flycatcher
, plus I got some good gen from a fellow birder who had spent the day on the Mull of Oa. We were off there the next day, so this was of particular interest.
Stonechat
More about that in the next instalment, plus news of our big
corncrake
adventure, sickness in the camp, and an eventful ferry trip back to the mainland ...