Asides from the
painted ladies
captured in Wales, I also picked up a couple of butterfly lifers during the trip -
small white
and
wall brown
. Other species seen included
large white
,
speckled wood
,
green-veined white
and a single
orange-tip
.
I didn't do a lot of birding during the trip, but still saw some great species. On the journey up, I stopped on the Berwyns and had a munch on my prawn baguette. Whilst chewing away, I heard, then spotted a splendid male
common crossbill
in the trees in front of us. A very unexpected year tick, and a lifer for Mrs Reg. Crippling views too.
On arriving in Llangybi, we all had a walk up the lane to the
magic field
- a beautiful spot for birding and home to a wide variety of species, including a
merlin
that my father spotted during the winter months. Methinks I shall have to do some winter birding in Wales next year!
A leisurely walk produced some nice birds, but nothing exceptional. This is where I spotted my
wall brown
butterflies, which I identified from photographs when I got home.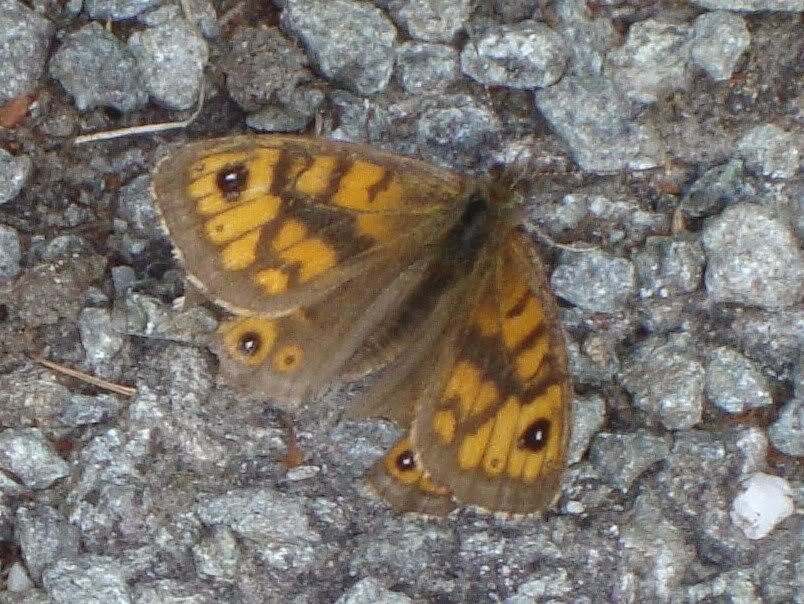 Wall brown butterfly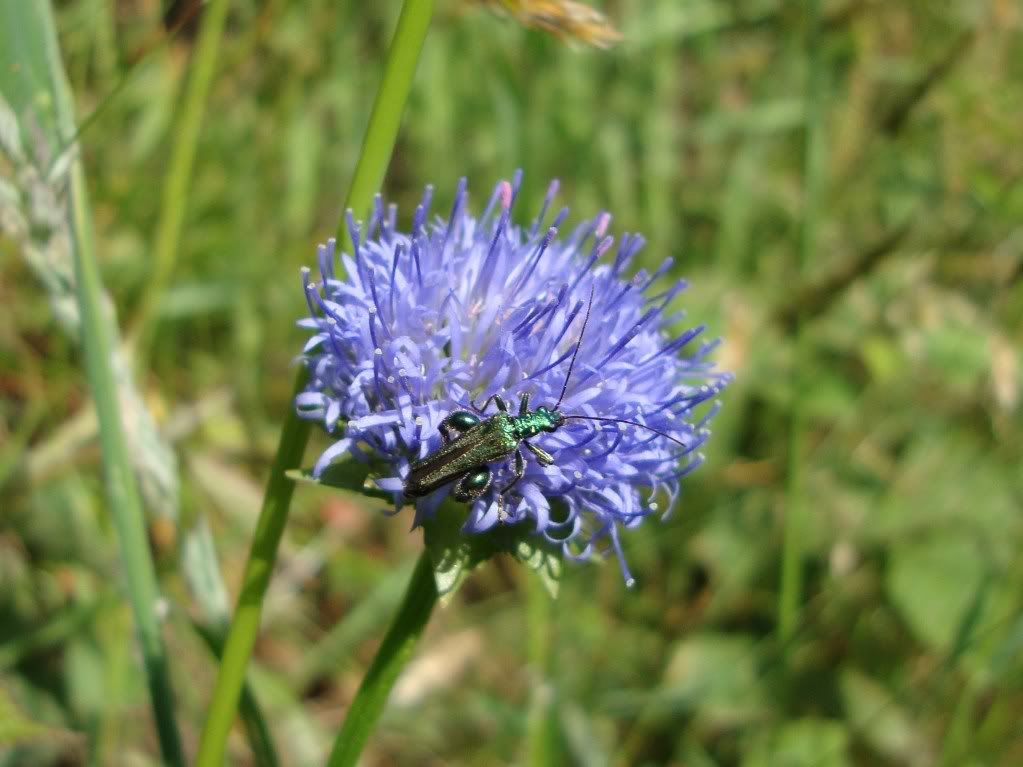 Green beetle on sheep's bit scabius
On Sunday we did a few jobs in the garden, though I was a little distracted by the
painted ladies
that had taken up residence in the front garden. Later on, a
large red damselfly
turned up in the pond, then what was almost certainly a
four-spotted chaser
dragonfly appeared momentarily, before shooting off never to be seen again. The damselfly was a lifer, as would have been the dragonfly, but I was reluctant to tick it without being absolutely sure about its identity.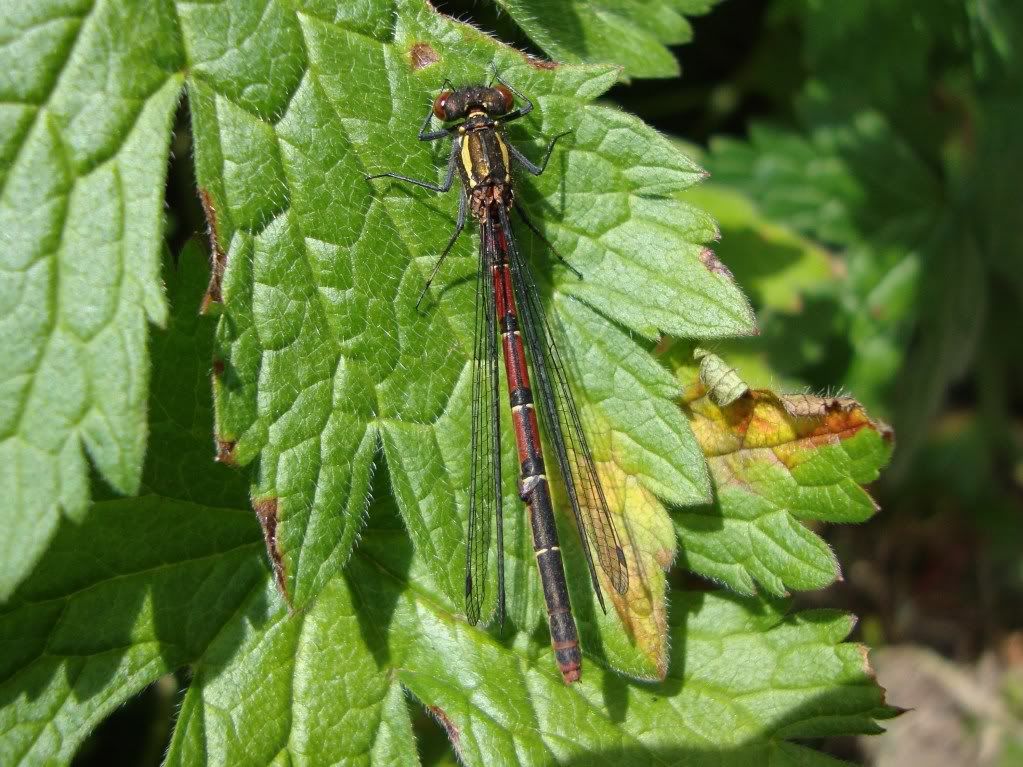 Large red damselfly
After ice-creams in Criccieth, I trawled the rock pools on the beach. I was hoping to find a starfish and it wasn't long before I discovered this little chap.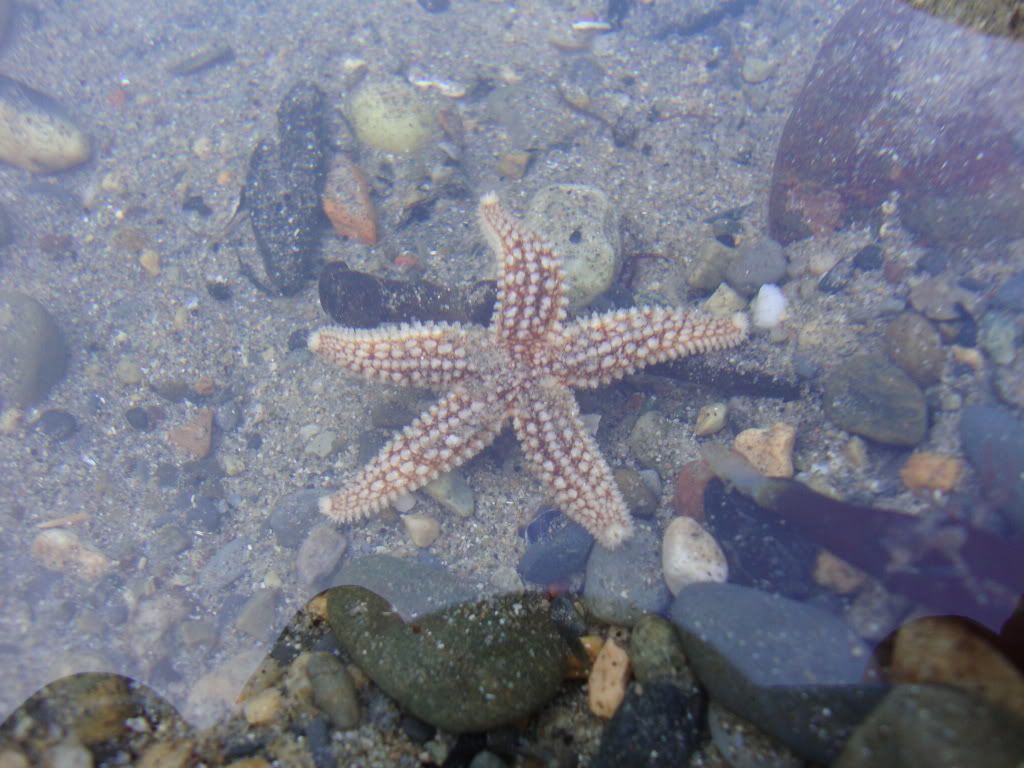 Starfish found on Criccieth beach
A scan of the sea didn't produce anything. I had hoped to see
Manx shearwaters
and
gannets
, but none were present.
Our luck changed that evening though when my Mum, Dad and I took an evening stroll up to the magic field. Several
grasshopper warblers
were reeling away in the grass, and after about half an hour we were treated to the best ever views I have had of this elusive species. Much better than the fleeting glimpse I had in Islay recently.
On Monday we stumbled upon several
pied flycatchers
in woodland near Tan-Y-Bwlch, plus
common blue damselflies
in huge numbers. Two
wood warblers
were heard, but remained out of sight. Another
large red damselfly
was seen, plus an unidentified dragonfly, that looked like it might have been a
common hawker
.
Common blue damselfly
On Tuesday we headed up the coast to Coed Aber. This produced several
redstarts
, a
garden warbler
, and lifers in the shape of a
golden-ringed dragonfly
and the aforementioned
small white
butterfly. On returning to the bungalow, I sat by the pond for a couple of hours in the hope that a few more damselflies or dragonflies would reappear, but it remained quiet.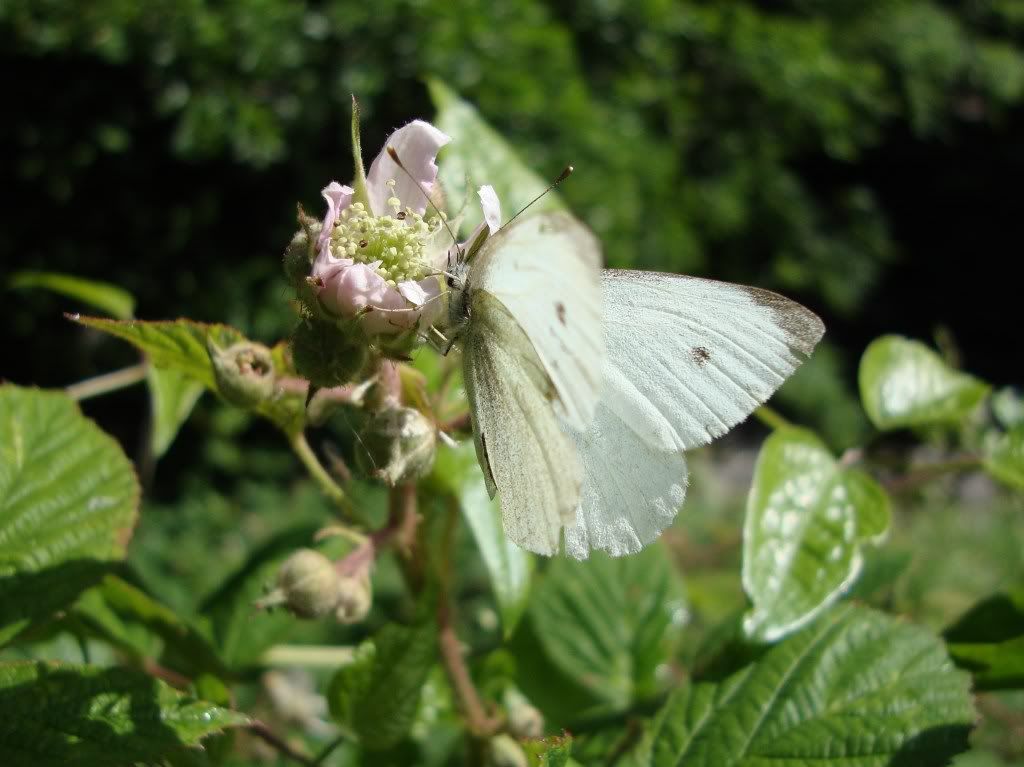 Small white butterfly
News of a
royal tern
in the area resulted in us having another scan of the sea on Tuesday evening, but this only produced a few distant
gannets
.
I'm off to Devon in a couple of weeks, so I really must get out on the patch before then. The weather doesn't look too bad this weekend, so I hope to be out looking for a few butterflies, damselflies and dragonflies a bit closer to home.