Owling Mad - Thursday 28 May 2009
Our destination today was the Mull of Oa. This is a beautiful bit of headland, situated at the southern tip of Islay, so just a short drive from our base camp in Port Ellen.
Birds of note included
fulmar
,
raven
,
rock dove
,
black guillemot
and
hooded crow
. On Wednesday evening, however, I had garnered a bit of information regarding nesting
golden eagles
and it wasn't long before we were enjoying cracking views of one of these majestic birds as it rose into the sky, harrassed by a number of corvids, some of which looked suspiciously like
choughs
.
After an enjoyable walk and a packed lunch, we drove in the direction of nearby Kintra Bay, spotting a male
hen harrier
and a
whinchat
on the way.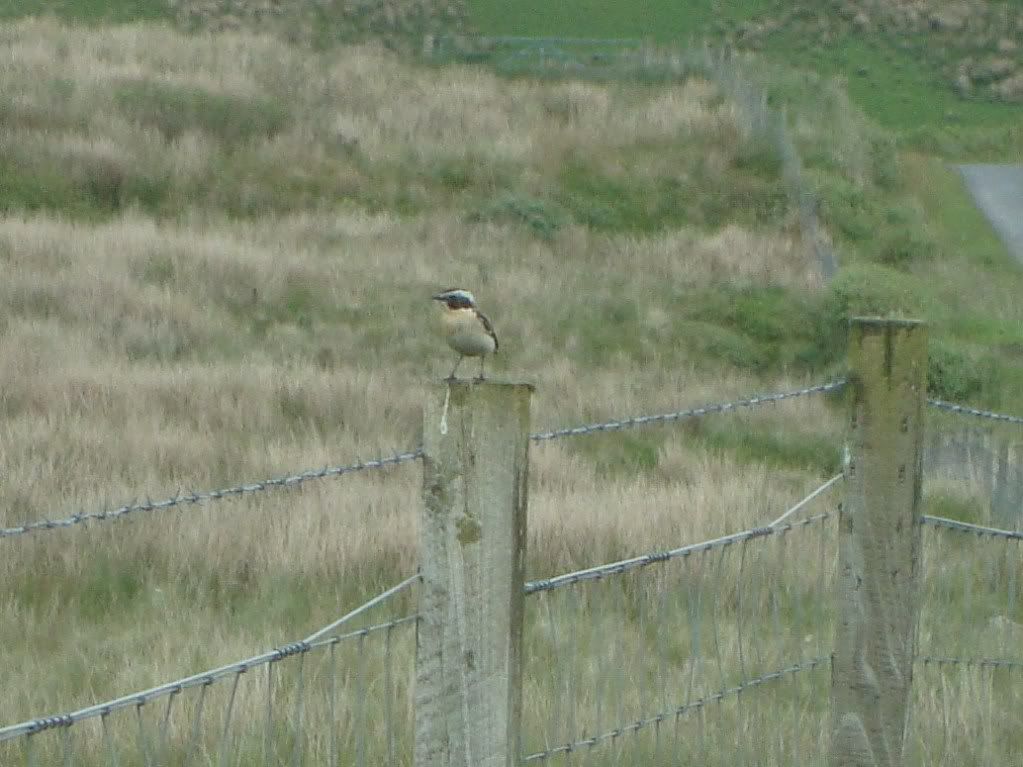 Whinchat
Kintra Bay was very pretty, but didn't offer too much in the way of birds, though a decent flock of
common gulls
was notable. However, on the way to Kintra Bay, Ivor was certain that he had spotted a
short-eared owl
. Some of the others put in a few minutes looking for this bird on the way back and were fairly sure they had latched onto it near the golf course.
We were heading up that way later on to drop David Chalmers off at the airport, so a few of us convened at the golf course and had a look for the owl. When Dad and I arrived, Brian had already spotted what he thought might be the owl on a post. After some deliberation, I was satisfied that this was indeed the
short-eared owl
, though the views could not be described as crippling. Still, a splendid trip bird.
Another Slice Of Crake - Friday 29 May 2009
More intense birding followed on Friday. Following up on some of the gen I had received earlier in the week, we headed to Kilchoman, where we understood
corncrakes
might be a bit easier to see.
On the way there, we saw a
barnacle goose
on the shores of Loch Indaal, then a pair of
common scoter
at Loch Gorm. Sadly, a biting, relentless wind put paid to any hopes of finding a
corncrake
once we arrive at Kilchoman.
Moving swiftly on, we picked up a number of
choughs
at Machir Bay, then headed down to Portnahaven, adding
white-fronted goose
to the trip list on the way.
Portnahaven itself was beautiful. A superb
Arctic tern
was fishing in the bay, where a number of
common seals
were loafing on the rocks.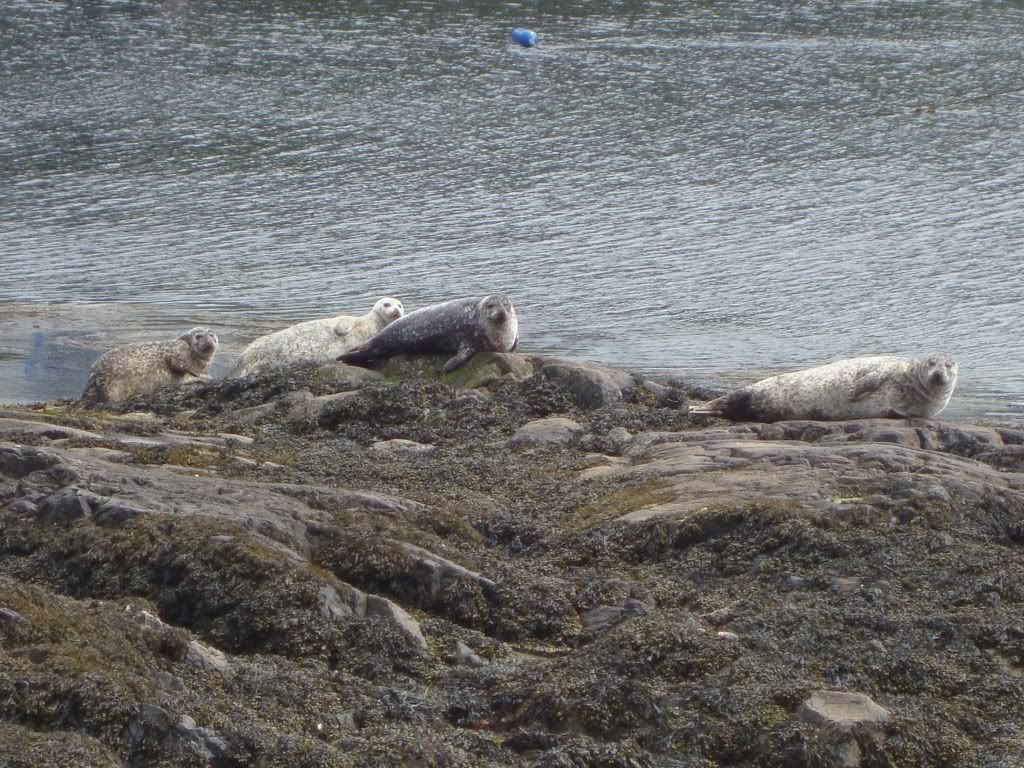 Common seals at Portnahaven
Driving around the coast, we saw another male
hen harrier
. Soon afterwards we decided to stop the cars and have a scan around. Over the next half hour we were treated to exceptional views of a pair of
golden eagles
as they patrolled the area, occasionally being mobbed by the
hooded crows
. The
hen harrier
also reappeared, making it one of the best birding moments of the trip.
As we headed back across The Rhinns to Port Charlotte, we had views of another
golden eagle
, plus a couple of
white wagtails
and another
whinchat
.
With the weather somewhat improved, we had another stab at
corncrake
back at Kilchoman. We could hear a bird calling, but as we were trying to pinpoint where it was, there was excitement from Ivor and Steve, who believed they had seen one of the birds fly over the wall and into the field.
Panic struck as everyone tried to get directions as to where this bird had come down. We found ourselves staring at a small patch of vegetation. Suddenly, there was movement and yet more panic as we all tried to get our bins on the bird that was bobbing about just out of sight. Imagine our disappointment when a thrush hopped into view!
Ivor and Steve maintain that they did indeed see a
corncrake
and I have no reason to doubt them, but we failed in our quest to relocate the bird, despite the help of a lady from the RSPB who kindly allowed us onto the land and attempted to sort out access for us the following evening. More about that later.
That evening I had a walk along the road to Kintra Bay on my own. I was hoping for owls, which I didn't see, but a few deer and a reeling
grasshopper warbler
were nice surprises.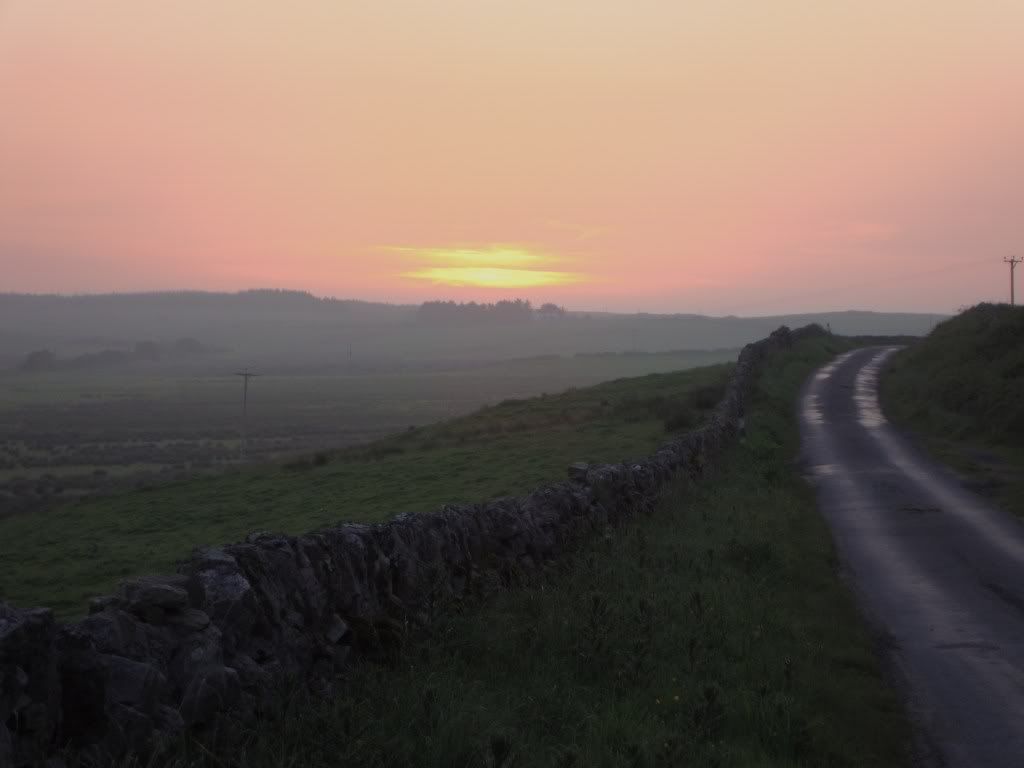 Sunset along the lane
I Seafood And I Eat It - Saturday 30 May 2009
Saturday saw us back on the whisky trail at the Ardbeg distillery. It was something of a scorcher too, and after three days of fairly intensive birding it was great to soak up a few rays and do nothing in particular.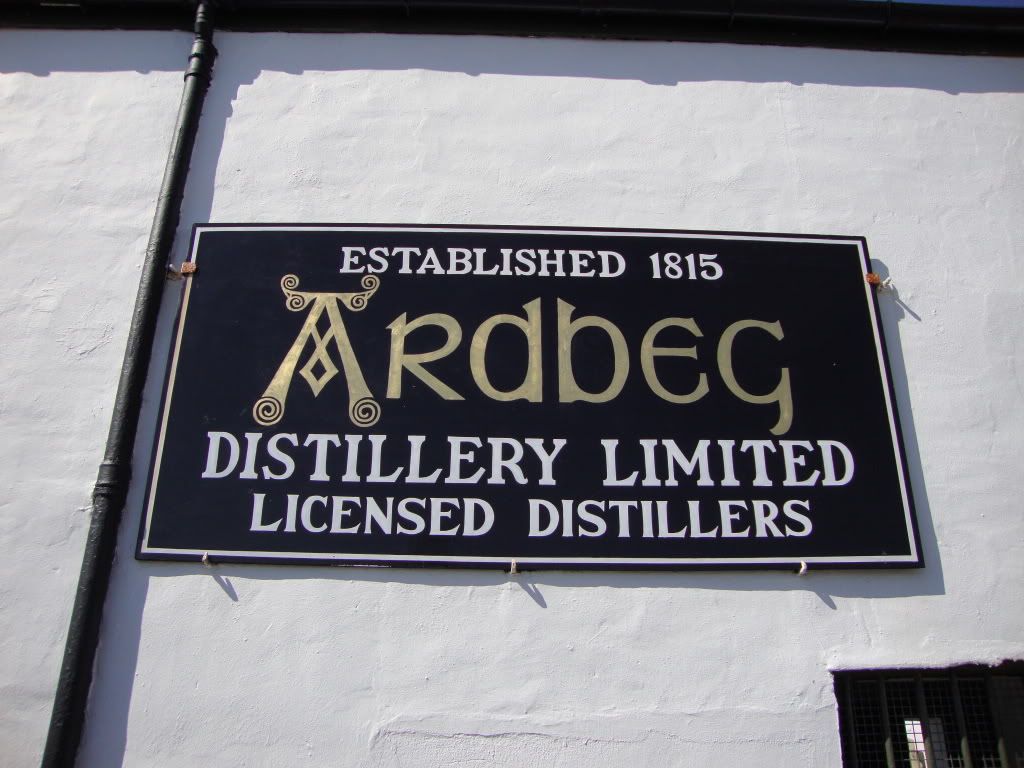 Ardbeg distillery
We planned to have one final go for the
corncrakes
that evening, so not too much whisky was consumed, though I couldn't resist a few more oysters. This turned out to be a very bad idea indeed!
Having returned to the cottage, we were just preparing to head into Port Ellen for a meal, when I came over all queasy. Thinking I may have just had a bit too much sun, I put on a brave face and travelled down to the restaurant. Once there, however, I quickly realised that I was not very well at all.
Taking the house keys, I started walking back to Cairn Cottage, but only made it to the public toilets in Port Ellen before I was violently ill. Yep - that'll be the oysters then! Must have had a dodgy one.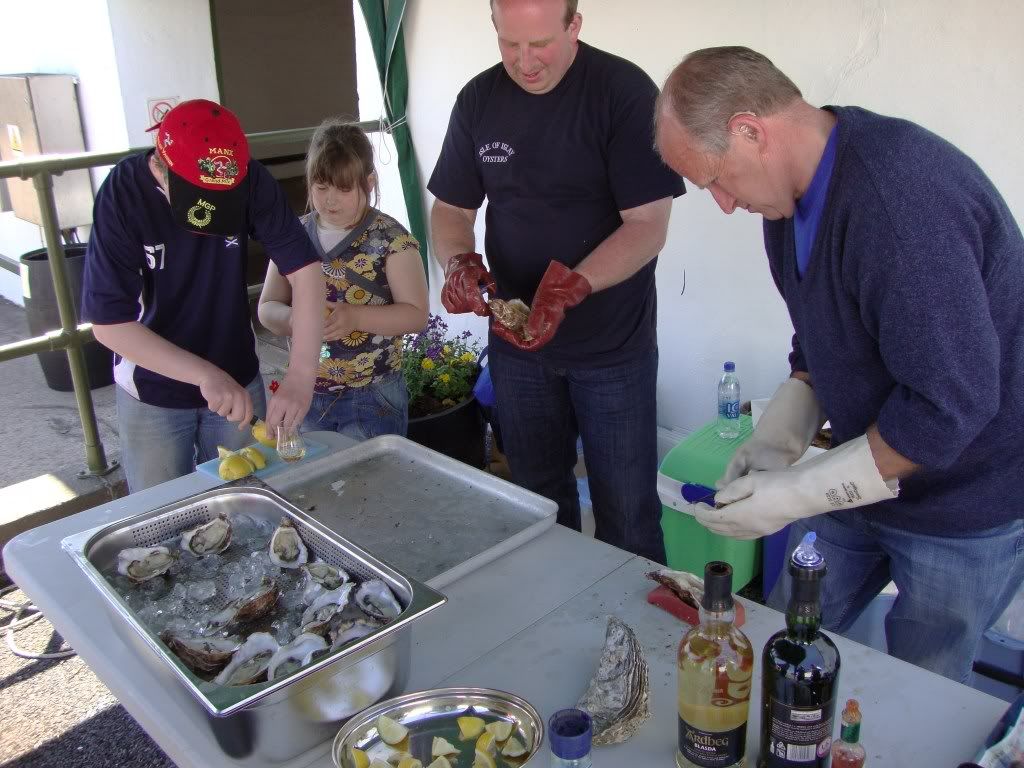 Which one do you think made me ill?
Stopping only once more on the way back to the cottage to dry-heave at the side of the road, I made it back with my dignity still relatively intact. Within minutes though I was slumped on the toilet. I'll spare you the gory details readers, but let's just say the words
ends
and
both
spring to mind. Finally, devoid of my stomach lining and probably a stone lighter, I went to bed.
A bit later, the others returned. Dad came in to see me and asked if I was still up for a bit of corncraking. To be honest, if he'd said a
corncrake
was downstairs watching Britain's Got Talent, I don't think I would have made it.
Anyway, they set off and I fell asleep, but was delighted to wake up two hours later feeling much improved. Hell, by 11:00pm I was out in the lane looking for
cockchafer beetles
! I guess my body must have rejected that bad oyster before it really did me any serious harm. With a 13 hour journey ahead of us on Sunday, it came as something of a relief, I can tell you!
Oh, and the others dipped on the
corncrake
again, so I hadn't missed anything important!
Homeward Bound - Sunday 31 May 2009
The ferry trip back produced a similar list to the one we had accumulated on the way to Islay, with the notable exceptions of a possible
kittiwake
, a possible
Manx shearwater
, a
great skua
and an
otter
. Sadly, Leapy was not on deck when the skua was spotted. A pity - it would have been a British lifer for him, and he doesn't get many of them nowadays.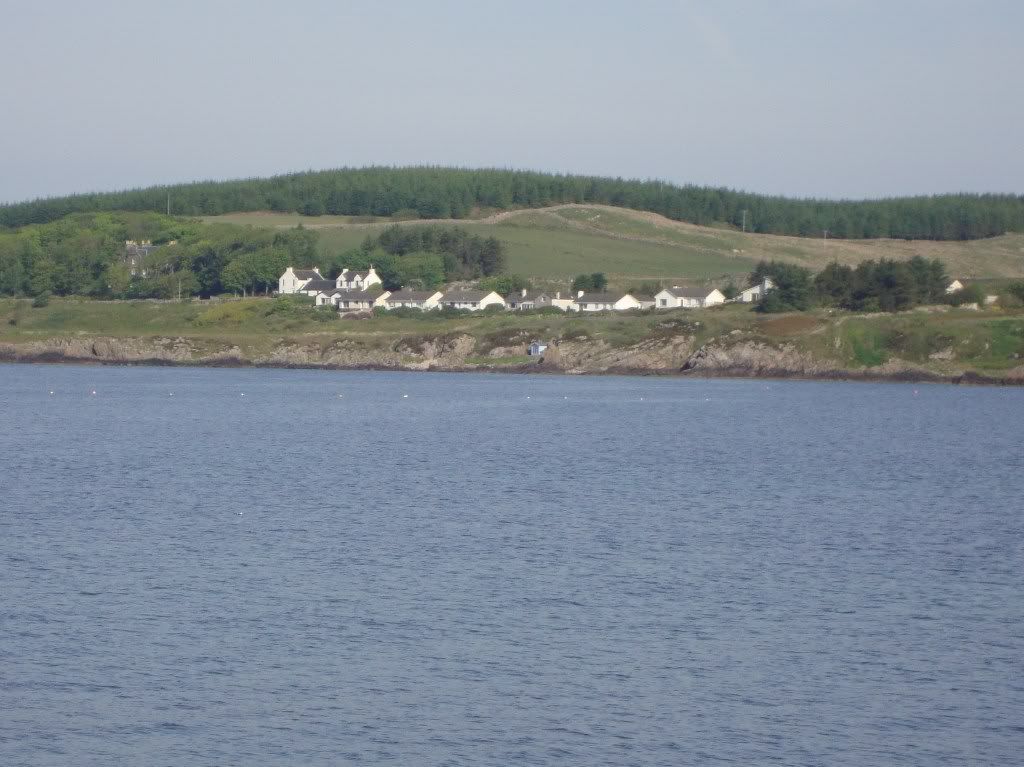 Cairn Cottage as seen from the ferry
An unidentified butterfly was flitting around the deck too. Steve said that as we were on a boat, it must be a
red admiral
. Quick as a flash, I replied, "Or a skipper!"
The roads and motorways brought us another haul of Eddie Stobarts, though nothing like as many as the journey up. Around 100 lorries for the whole trip in total, I think.
Also, a few more trip birds, namely
swift
,
great spotted woodpecker
and
sparrowhawk
.
Finally after a full day's travelling I was reunited with Mrs Reg. It had been an amazing trip, with some great banter, good food, good company and of course, some exceptional birding.
A pity about the
corncrakes
. Still, it gives me at least one reason to head back there someday, doesn't it?